Chelsea was a mess Jose Mourinho couldn't fix once he lost the players
Jose Mourinho almost never speaks to his players immediately after games, but once his side had been beaten 1-0 by Bournemouth at Stamford Bridge to put him on the brink of the sack, he felt he had to. It was a situation that summed up just how bad things had got for Mourinho; another illustration that he just didn't know what to do next. He was exasperated.
"Are you trying to kill me?" the now ex-Chelsea manager asked his players. He was met with silence, but that spoke volumes about everything that has gone wrong.
Then again, current Manchester City chief executive Ferran Soriano has previously said it all about Mourinho's entire career. Soriano was a director at Barcelona before City, and a few years ago, he spoke about why the Catalan club had taken the fateful decision in 2008 to reject the Portuguese for Pep Guardiola. "Mourinho is a winner," Soriano began. "But in order to win, he generates a level of tension that becomes a problem."
It was a problem that, in the words of one source close to the Chelsea dressing room, became "unfixable" at Stamford Bridge. It is genuinely remarkable just how much Soriano's 19-word quote nails Mourinho's 15-year managerial career so far, particularly this final spell at Chelsea. The intensity he generated helped the side seal the 2014-15 title, but it also played a huge part in what now must go down as one of the most spectacular collapses in football history.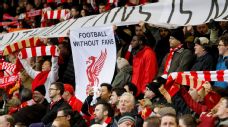 This particular problem dates back to February 2015, and it is not a complete coincidence that it was precisely the point when Chelsea stopped playing expansive football and started to have big issues with their defence and their general energy. Up to that point, the squad had admired Mourinho's motivational abilities, and it led to a physical power throughout the side. The players respected the way he seemed to offer himself as a lightning rod, taking every criticism of the squad on himself.
Then, they began to realise this went way beyond a tactic. Sources say that many in the squad found it "odd" that he became so "obsessed" with the criticism from pundits like Jamie Redknapp. They were surprised he was so intensely concerned by it all and it caused a subtle, but hugely significant, change in their attitude toward him. It meant they no longer saw him as a genius motivator; they saw him as a man with the same hang-ups as everyone else.
Naturally, this realisation meant they were no longer as receptive to his messages. It meant he couldn't generate the intensity he used to because that intensity had a flip side. It meant they stopped listening.
The communication breakdown explains why Mourinho felt he had to try everything this season -- abrupt team changes, public criticism, private criticism, public praise, private discussions -- but none of it worked. And as so frequently happens, what made him great also began to prove a weakness.
Things reached their peak with his final public statement as Chelsea boss, an illustration that he'd had enough too. Following the 2-1 defeat at Leicester City, he accused his players -- in three separate interviews -- of "betrayal."
The reactions to this, relayed from dressing room sources, say even more. That comment should have been the kind that enraged the players and really turned them against the manager. The problem is too many were past that point.
Sources have told ESPN FC that the majority "were not bothered," but that response wasn't unanimous. A minority of players were still with Mourinho, and one even thought his comments were absolutely correct. Some feel that there aren't enough "leaders" in the dressing room, that there are too many who "don't care enough." That is reflected by the fact there were never any huge arguments in the dressing room and no massive revolt. One source said the squad were more like a group of schoolkids grumbling behind the teacher's back rather than a group of men confronting big issues in their professional career.
This is a mitigating point in any arguments that Mourinho completely failed, but it also points to a bigger issue. Just as a manager's great strength eventually becomes his great weakness, that in itself partly becomes the case because they are overtaken by wider changes in the game itself.
A number of people close to Chelsea say that one reason Mourinho never formed the unbreakable bond with the current players that he did with the 2005 generation of Didier Drogba and Frank Lampard was because he was never as attuned to the millennials, those born from 1990 on and who came up through modern youth academies. He wanted angry aggression from players never suited to angry aggression, even though he had forensically restructured the squad.
A further problem was that the early part of 2014-15 aside, Mourinho kept playing the same style of football in a new era. It's difficult to overstate just how influential Barcelona's appointment of Guardiola (rather than Mourinho) was in the context of the global game. It changed the sport and caused the spread of attacking football again. Average goals per game in the Champions League shot up from 2.5 to 2.9.
Meanwhile, Mourinho was still trying to play a constrained style in an open era. It was what he instantly reverted to when problems first arose even in the title-winning season. This season, they badly struggled to even create chances and Mourinho badly struggled to deal with it, among many other things.
And that's the key. Those problems, as Soriano first pointed out a few years ago, became inevitable. And now Roman Abramovich has finally done the inevitable too.
Miguel Delaney covers the Premier League and Champions League for ESPN FC. Twitter: @MiguelDelaney.