Dirk Kuyt's excellent return to Feyenoord sparks improbable title run
Dirk Kuyt has scored more league goals than Liverpool this season. This is not a joke. The Reds have found the net nine times in 10 Premier League matches, while the 35-year-old Dutch legend is leading the charts in Eredivisie with 10 goals in 10 games, following two consecutive hat tricks.
Ten days ago, Kuyt netted three times in just 39 minutes, helping Feyenoord to thrash Heerenveen 5-2. That was his first hat trick since March 2011 when Liverpool famously demolished Manchester United 3-1 at Anfield, and fittingly that was the scoreline last Sunday when the Rotterdamers crushed AZ Alkmaar to remain level with Ajax at the top of the table with 25 points.
Suddenly, Feyenoord's sacred dreams of winning the first title championship title since 1999 are looking more realistic than ever before. The drought hasn't reached Liverpool's proportions yet, but 16 years is a very long time for a proud club of great traditions like Feyenoord. Kuyt sounded optimistic on Sunday, claiming in a TV interview: "I believe in this team. This is what I said when I signed in the summer, and really think we can achieve something."
For Feyenoord supporters, Kuyt's emotional comeback was the best present imaginable. When the local idol signed for Liverpool in the summer of 2006, after scoring 83 goals in all competitions in just three seasons at the club, he publically promised to return to his beloved De Kuip stadium one day. Many believed that he should have done so in 2012, when his highly successful spell at Anfield came to an end, but the Dutchman chose to move to Fenerbahce instead.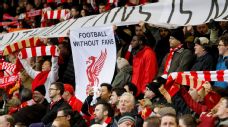 He instantly became hugely popular in the yellow-and-blue part of Istanbul, and won the first championship title of his career in 2014. Having enjoyed his three years in Turkey immensely, Kuyt felt that it was time to settle in his homeland, and there was only one destination for him. He was true to his word, as always. His old club greeted him with open arms.
The love story between Kuyt and Feyenoord is natural and pure. Dirk was born in a fishing village of Katwijk aan Zee, and his father was a sailor. At the age of 12, Kuyt had to choose between fishing and football, and preferred the latter -- even though it wasn't an obvious decision at the time.
Kuyt has never been the most gifted player, and didn't think that he could earn more money on the pitch than out in the sea. He just followed his heart, and made the best possible effort to improve and be a team player. That background and that character made him the perfect fit for the blue-collar Feyenoord fans. Kuyt is not a typical Dutch star with delicate touches and eye-catching dribbling skills. He is all about hard work and total dedication.
Working hard earned him a move from the amateur side of Quick Boys in his hometown to Utrecht at the age of 18. The club originally intended to send him to the second team, but the youngster found himself in the first squad within weeks, and never looked back. He just kept training and running after every ball, and within five years was crowned the top scorer in Eredivisie.
That's when Feyenoord came calling, and the contract was signed before the Cup final in May 2003, where Utrecht quite ironically faced his future team at De Kuip stadium. Kuyt scored in an emphatic and sensational 4-1 win, stating: "I had to give everything for Utrecht for the last time, so that Feyenoord fans will know that I will give everything for them."
And so he did. That's what made him such a popular player wherever he went. Kuyt may be a living legend for some Liverpool and Fenerbahce supporters but he is much more important to the Feyenoord faithful, who see him as their perfect role model.
Kuyt embodies Feyenoord spirit, and he knew that immediately. That is why he promised to return. His only regret upon joining Liverpool in 2006 was that he failed to win any silverware in the red-and-white halved shirt. He wanted to come back and fix that. Earlier this year he signed a one-year contract, but intends to remain at the club for five seasons.
You only have to take a look at the way Kuyt announced the decision to join Feyenoord to his four children, presenting them all with Feyenoord shirts. Noelle, Kuyt's daughter, was born in 2004. The younger boys never lived in Holland permanently. And yet, they have all been Feyenoord fans since they remember themselves, and their joy was truly heart-warming. Nowadays, the happy family attends all the home games at De Kuip, celebrating win after win.
They were at the stadium when Kuyt was presented to more than 50,000 fans who came to see their hero arriving in a red-and-white helicopter. The new coach, Giovanni van Bronckhorst, a Feyenoord soul through and through, is a good friend of Dirk from their years in the national team, and he immediately named the veteran his captain.
Kuyt was evidently very emotional when he led the team out for his home debut on the opening day of the season. Symbolically, Utrecht were the rivals. Even more symbolically, Feyenoord showed character and won 3-2 despite playing with 10 men in the second half. Kuyt scored a penalty and celebrated wildly. He couldn't have been more thrilled.
Among those who are not closely attached to Feyenoord, it was possible to sense some scepticism at first. Would Kuyt be good enough at his age? Are the Rotterdamers right to abandon their long standing philosophy of promoting youngsters from the excellent academy? In addition to the new captain, the club also signed the likes of 28-year-old Southampton reject Eljero Elia, 27-year-old Vitesse centre-back Jan-Arie van der Heijden, 28-year-old Brazilian stopper Eric Botteghin and 26-year-old prolific striker Michiel Kramer. Many of the purists -- even the former Feyenoord great Willem van Hanegem -- didn't really like that approach.
In fact, Kuyt's first three games proved to be rather disappointing. Granted, he scored penalties in all of them, but his overall contribution on the right wing in a 4-3-3 formation was poor -- he didn't deliver a single quality cross and didn't shoot on target even once from open play.
Then Van Bronckhorst changed the system a little, allowing Kuyt to move inside at will, act as a second striker and leave the right flank to the full-back. The result was promising in the extreme, and the captain became much more involved in the game, leading by example.
Those leadership qualities and the never-say-die attitude made some feel that Kuyt might have prevented the catastrophic downfall of the national team in Euro 2016 qualifiers. The veteran, who played in so many positions for Louis van Gaal at the World Cup in 2014 didn't intend to retire with 104 caps to his name, but Guus Hiddink made it clear that his services were no longer needed.
Kuyt sat on the bench when Netherlands lost in Prague in September 2014, and then announced his departure:
"I wanted to be important for the national team, but the coach explained me that he no longer can offer me a role that I would have liked," he explained, claiming that he will always be available if needed.
Neither Hiddink, nor Danny Blind who succeeded him in the summer made such a call, and we will never know whether that specific decision was crucial for Holland who miserably failed to qualify.
Saving energy for his club at the age of 35 is not a bad idea, though. Feyenoord have only lost once since the beginning of the season, winning eight of their league games, and thrashing Dutch Cup specialists Zwolle in the second round. That prompted Zwolle coach Ron Jans to state: "I think that Feyenoord can win the league. This team has great quality."
Feyenoord Rotterdam
Ajax Amsterdam
Game Details
However, even the biggest of optimists couldn't possibly have predicted that Kuyt would score six times in two games. The first goal against Alkmaar was the best of them all, an elegant curved volley. Kuyt knew little about the second when the ball was deflected off him into the net, and the third was a penalty, but that didn't really matter.
Expectations have risen accordingly, and RTL pundit Leo Driessen has predicted that Feyenoord will win the title: "They can't go wrong with Kuyt as their leader."
Van Hanegem tried to put everything into proportion, claiming that the captain will be unable to play for the full 90 minutes in each and every game. "If Kuyt gets injured, Feyenoord will be finished," he said, but that only highlights Dirk's extreme importance to the team.
The coming weeks will be monumental as Feyenoord host their bitter rivals Ajax twice in a space of ten days, in the great Dutch derby known as De Klassieker.
On Wednesday, De Kuip will be full for the Cup fixture, and next Sunday they will meet again in the league. If Kuyt continues scoring at will against the Amserdamers and wins on both occasions, Feyenoord will start seriously thinking that the historic double is possible. Liverpool fans can only watch in envy.
Michael Yokhin is ESPN FC's European football writer. Follow him on Twitter: @Yokhin