Leeds United's struggles under Massimo Cellino continue to get worse
Last Saturday marked the 15th anniversary of Barcelona salvaging a draw with a 90th minute equaliser from Rivaldo in a Champions League group stage game. Their failure to win that match, along with under-performance elsewhere, ensured they came third in their group and had to settle for a place in the UEFA Cup. Things have certainly changed in Catalunya, but not nearly as much as they have for their opponents that night.
After finishing second in Barcelona's group, Leeds United reached the semifinals of the competition that year, losing to Valencia 3-0 on aggregate, but it was their failure to qualify for the Champions League the following year that set into motion the financial catastrophe that, to cut a very long story very short, sees them where they are now.
Leeds are in something of a mess; if you thought your club was in chaos, teetering on the edge of sanity and oblivion, the chances are it's got nothing on Leeds.
Last week, Leeds owner Massimo Cellino sacked manager Uwe Rosler after 11 games in charge and appointed Steve Evans, himself sacked by Rotherham earlier this season, as the club's new boss. Shortly after Evans was officially confirmed in the job, it was announced that Cellino had been banned from running a football club for the rest of the season, the second time this has happened.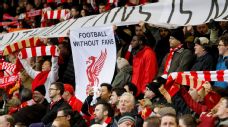 Like his first suspension, this ban was imposed after Cellino was found guilty of failing to pay tax on an imported vehicle; last time it was a yacht, this time it was a Range Rover. Football League rules state that anyone convicted of a crime involving a "dishonest act" cannot have any involvement in running a club. Like his first suspension, Cellino plans to appeal. By coincidence, the man he had appointed as the club's new manager has also been in trouble for tax evasion while he was manager of Boston United in 2006.
All of this overshadowed another brewing furor at Elland Road after Cellino threatened to limit the number of away tickets sold to their fans, in protest at the number of times their games had been rescheduled for television purposes. "We understand that this means a number of fans will now be unable to attend certain away games, but this is the sacrifice needed to make the Football League take notice -- we have to vote with our feet," Cellino said.
That threat has now been withdrawn but it was yet another indication that this is a club run at the whim of one man. And a fairly volatile man at that. Cellino is also the man who tried to sack then-manager Brian McDermott before he'd even bought the club, is apparently so superstitious about the number 17 that no Leeds player is allowed to wear it and who routinely compares the hiring and firing of managers to the buying of watermelons.
It's been quite a week in West Yorkshire.
"It's been going on for such a long time now," Paul Robinson, the former Leeds goalkeeper who played in that game against Barcelona, told Talksport. "The club has been crying out for some stability -- I think the average lifespan for a Leeds manager at the moment is three months. Leeds United fans don't deserve to be put through this.
"The problem that you've got [from a players' perspective] is that new managers will bring in new players. Certain players will be there, and another manager might not want them, so there's going to be an element of unrest. You've got to have a couple of strong characters in the dressing room who say 'Let's pull this together and have a real go at this.'"
Evans at least seems aware of his reputation. "Steve Evans doesn't lie in bed and dream," he said in his introductory press conference on Tuesday. "I'm a realist. It's not a name that if you polled Leeds fans they'd say 'he's the man'... someone has got to get it right here. Why not me? I have won a lot of football matches."
Still, he retains a certain confidence in his own ability. "Look at the excitement at Liverpool now with Jurgen Klopp. Just give me an opportunity, that's all I'm asking." Evans gave the impression of a man who couldn't believe his luck -- "It's wedding days, it's babies being born, it's your first date all rolled into one," he said on Tuesday -- which given his failure in his last job, at a far smaller club than Leeds, is perhaps not that surprising.
But this is the situation Cellino has created. Evans becomes the sixth manager under the Italian's ownership of the club since 2014, following Brian McDermott, Dave Hockaday, Darko Milanic, Neil Redfearn and Rosler. Only the desperate, arrogant or overawed will come to Leeds now; those who think they can "tame" the Italian, and have nowhere else to go, who will hang on for a few months until Cellino tires of them and sends them on their way.
While he is undoubtedly not the man most want at the helm, Cellino is just the latest unpopular character to have control of the club since their spiral from the heady heights 15 years ago. Men previously in charge at Elland Road include the almost universally unpopular Ken Bates, who oversaw not one but two large points deductions as punishments for financial problems, and David Haigh, who is currently imprisoned in Dubai on suspicion of fraud, embezzlement and money-laundering.
Leeds are a club screaming out for stability, but can it be achieved under Cellino?
"During his last ban and when Adam Pearson [former chief executive who left abruptly in September] was about, a relative stability occasionally tries to break out," Michael Green, chair of the Leeds United Supporters Trust, tells ESPNFC.
"The problem that is manifest to the Trust is that Cellino can't help himself in thinking he should run all aspects of the club, and that only his approach works. Add to that the scatter-gun, over-emotional stuff he does and it explains why even when the relative stability accrues, nonsense occurs that would constitute full-blown crises at other clubs. We just see it as another day in Leeds United land given what the last 14 years has thrown at us."
It is of course not that surprising that Cellino has continued along the same path that he did with Cagliari, where he sacked 36 managers in 22 years, because he might have felt some justification for his policy in Italy; after all, it basically worked. Before he arrived they were a pretty small club by Italian standards but spent 18 of his 22 seasons in charge in Serie A, usually finishing lower mid-table, which for a club of their size represented reasonable success. There, getting rid of managers whenever they lost a few games, didn't play the right sort of football or looked at him a bit shiftily paid off.
He can make no such claims about Leeds. They finished 15th in both of the last two seasons following his arrival in 2014, and the most recent of those finishes was only that high because of fine work by Redfearn, who was promptly sacked by Cellino for obscure reasons in the summer. He's even regarded as something of an outlier in Italian football, where frequent sackings of managers are relatively common.
"The problem for Cellino now," says Italian football expert James Horncastle, "is that his manager-eater in crime, Palermo owner Maurizio Zamparini, appears to be a reformed character, a new man. All zen. Going into last weekend, manager Beppe Iachini had lost his last four games and yet he still didn't sack him. Heck, he's the longest serving manager under Zamparini. Cellino now just looks like the coach-eater that never grew up. From an Italian perspective, the English can have him."
The English (more specifically, Leeds fans) are stuck with him for the moment, something that isn't entirely welcome in the stands. "Massimo, it's time to go," sang some fans during the recent draw with Fulham, sentiments later repeated but with rather more robust language.
Furthemore, the Leeds United Supporters Trust said in a recent statement that it "believes Leeds supporters have suffered enough over the years and therefore asks Massimo Cellino brings clarity and honesty to any public statements on the immediate future and consider the supporters' need for a stable club at all times in how he deals with this latest ban.
"If, and the case grows daily, it is in the best interests of Leeds United supporters he and GFH [Gulf Finance House, who own a 25 percent stake in the club] should sell, we call on them both to do so with efficiency."
One of the things the Trust wants for Leeds is someone who, like Pearson, has some experience in running an English football club. "They would need some guarantees I suspect," says Green, of anyone who might fill that role. "For example, for Cellino to stay out of footballing matters... equally I suspect any such brave person would want assurances about longevity, as our managing directors and related positions have been in place for short periods similar to the managers/head coaches on the footballing side."
But something as trifling as being banned from running the club isn't, it seems, going to stop Cellino from doing just that.
"I respect the legal rules and to be correct, and I don't want to let the club be hurt anymore," he said on Wednesday. "My lawyers are going to appeal and if I didn't trust in the law and the rules, I wouldn't appeal. I do it because i think I am right in the end and I am looking for justice. I am running the club, I will always be running the club and I am still running the club. I pretend that I am innocent and I am confident everything is going to be right."
In Cellino's view, everything being right means him remaining in charge. For most others, it means Leeds will remain a hive of uncertainty while he is there.
Nick Miller is a writer for ESPN FC, covering Premier League and European football. Follow him on Twitter @NickMiller79.