Austria, Albania, Wales prove that Euro 2016's expansion is a good thing
Along the aisle of Austrian Airways flight 455, a small crowd had huddled. The plane was full of Wales supporters on the second leg of their flight back from Sarajevo and a number of then had left their seats or at the very least had craned their heads forward, eyes trained on a white piece of paper that had been produced by one of their number.
"Paris, Toulouse, Nice... Group E looks good for a fourth seed," somebody opined. "What about Group C, with Lyon instead of Toulouse?" asked another. "Listen to us lot, just listen to us," said an older member of the party, shaking his head and smiling.
At around the same time, around 250 miles from where Wales had celebrated their qualification for Euro 2016, a rather more animated party was taking place. Tirana, the capital city of Albania, burst into a spontaneous display of joy and disbelief after the national team, which had never come near to a major tournament before, won 3-0 in Armenia to confirm its own place in France. The same plans for next summer's travel were being formed in Albania, Cardiff and the air in-between.
International football thrives on stories like these. It even relies on them sometimes when the quality of play itself fluctuates, and the broad conclusion from a whistle-stop tour of three Balkan qualifying games in the penultimate round of matches was that next year's tournament will harbour enough points of intrigue to survive its questionable expansion from 16 teams to 24.
Albania vs. Serbia: No drama, plenty of relief
Albania and Wales would both have qualified for a smaller competition having finished second in their groups, although that seemed in severe doubt for the former after a trying night in Elbasan last Thursday.
The background to Albania's Group I rematch with bitter rivals Serbia had boded ill: the first game, a year before in Belgrade, was abandoned before half-time after a drone bearing a controversial "Greater Albania" flag was flown onto the pitch, sparking riots on the street and in the stands.
Albania had eventually been awarded the three points from that game but their form had tailed off since and there were off-pitch concerns about the return game, too: Ismail Morina, the man who had controlled the craft last year, was arrested the day before the game on charges of firearm possession, perhaps conveniently moved out of the way by authorities fearing a repeat performance.
It increased the tension among local ultras although security around the small, compact Elbasan Arena was heightened to the extent that fans were not even allowed to bring their keys into the ground. In the event, the match passed with next to no incident apart from two late Serbian goals that meant Albania, who would have qualified with a win, would have to wait three more days for a tilt at glory.
The streets outside the stadium that teemed with life and were lined with red and black flags (including replicas of the one that Morina flew onto the field in Belgrade) before the game were now desolate, sodden from an afternoon of torrential rain and an evening that prompted tears among some fans.
There was little belief, that night or the following morning, that an Albanian team high on organisation but low on creativity or forward thrust would get the result needed to avoid a play-off tie. "Albania need a miracle now" said the local newspaper, Ekspres Sport, although there was a prevailing pride that the match, played under a sharp media spotlight and with UEFA likely to pounce on any misdemeanours, did not throw up any off-pitch dramas.
"We lost and won!" the newspaper said; perhaps it will have been Sunday until anyone realised just how true that statement was.
Montenegro vs. Austria: Visitors impress in Podgorica
Albania remained in limbo but the situation was rather clearer a three-hour drive to the north, in the Montenegrin capital city of Podgorica, on Friday.
It is an unremarkable city to the eye but Montenegro has fashioned some spectacular talents and none more so than Dejan Savicevic, now the president of the local FA, who looked on as a side shorn of modern-day talisman Stefan Jovetic through injury played Group G winners Austria.
Only a win would do for the hosts of this Group G clash, whose Stadion pod Goricom bears a slight resemblance to Queens Park Rangers' Loftus Road, to keep their faint hopes of qualifying alive.
In front of another well-behaved crowd -- a stark contrast to Montenegro's home match with Russia, in March, abandoned after crowd disturbances and led to a one-match closure of the stands -- the teams contested an entertaining game that the Austrians won 3-2 with a late goal from substitute Marcel Sabitzer.
Intelligently managed by the Swiss Marcel Koller, Austria were the most interesting team of the six I saw in over three days. Their stodgy image was belied by a smooth attacking performance, characterised by high pressing, the promptings of Bayern Munich midfielder David Alaba and ingenuity of Stoke's Marko Arnautovic, who scored a slaloming individual goal here.
There is a style and mixture of influences to Austria that is tempting to compare to Belgium, who strutted into the last World Cup, but Koller's side has fewer stars and perhaps a greater fluidity. They and their supporters, who huddled into the corner of the top tier behind one of the goals but were in sufficient number to form a national flag from held-up cards, will be worth watching next summer.
Bosnia-Herzegovina vs. Wales: Defeat still brings qualification
A handful of Austria's fans were curious enough to make the eight-hour, two bus journey to Bosnia's industrial heartland and the city of Zenica, where Wales required just a point to confirm their progress from Group B.
The drive between the countries is beautiful, with high mountain passes and gaping ravines doing little for the faint-hearted, but in reality, the only dramatic tension would exist for the home fans, whose side required a win to stay in the play-off hunt with Wales -- who had the fallback of a match with Andorra - virtually home and hosed.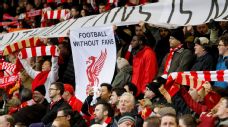 As in Elbasan, Saturday night's match was a sodden affair, the difference being that everyone would go home happy. The gutteral roar that greeted an unlikely late 2-0 win for the home side, who had looked blunt for 70 minutes without the services of Edin Dzeko, was matched for enthusiasm by that of Wales' supporters at full-time: a victory for Cyprus in Israel would complete the visitors' job regardless of the Welsh result and would put Bosnia in the driving seat for third place too.
It took some time for Wales' players, staring at their feet in the centre circle, to realise that their work was complete. When they began running, one-by-one, to the ecstatic mass of 700 in the corner, a full-on celebration quickly followed. It continued long into the night in the bars of Sarajevo, the capital city, an hour-and-a-half's drive away.
We will see those supporters again next summer, as we will the Albanians, Austrians and others (such as those following Northern Ireland and Iceland) whose presence at top-level events is either unusual or unheard of. Covering three matches in 72 hours across three countries is a challenge: you have to adapt quickly to your surroundings, the teams involved, the different sociopolitical contexts and of course the fact that logistics rarely pan out entirely as planned.
But reflecting on Wales and Albania's achievements, and the people you have met along the way to whom they mean so much, your view softens to wonder whether an enlarged finals might yet be for the best. All of European life will be in France eight months from now and, in these strange and divided times, that may not be a bad thing at all.
Nick Ames is a football journalist who writes for ESPN FC on a range of topics. Twitter: @NickAmes82.