Lassana Diarra is back with France and looks set for a key role at Euro 2016
"Les Bleus? It's over."
Back in March 2013, frustrated not to have been called up since Didier Deschamps took over the French national team the previous summer, Lassana Diarra announced his international retirement.
At the time, he played for Anzhi Makhachkala in Russia, an "exotic league" as Deschamps described it just a few weeks earlier. The pair had spoken in August 2012, after which Diarra was convinced he would be included in the France squad to face Finland and Belarus the following month, but he wasn't. "Rarely had I been so surprised in my life" he said in the same interview.
In October of that year, when he was finally called up for games against Japan and Spain, he had to withdraw because of a back injury but said that Deschamps called him up "just because there was no one left in midfield to pick because of injuries." There is a saying in France that goes: "Only idiots don't change their mind." Diarra is not an idiot.
Fast forward to last Thursday, when Diarra started and starred in France's 4-0 win over Armenia in Nice. That's because he changed his mind. His days of playing for Les Bleus were not behind him.
"I stand by what I said in the past. But I had time to think about the past and I have decided to focus on the future" said Diarra -- now at Marseille in Ligue 1 -- at a press conference at Clairefontaine three days before his international return.
He spoke to Deschamps about how much it meant to him to play for France and how motivated he was to make it to the Euros in his own home. And the manager, who is resentful only when he wants to be, re-opened the door.
You can understand why. Diarra has been outstanding for l'OM so far this season. His stats, in the holding midfielder role that he masters, are some of the best in Europe (and please spare me the "yeah, but it's only Ligue 1" riposte): 92.9 percent pass accuracy, 3.9 successful dribbles per game, 3 tackles per game and an ubiquitous presence and leadership.
Against Paris Saint-Germain in le Classique recently, Diarra almost single-handedly broke down Paris' tactical plans. He was everywhere and no single player, not even Sergio Busquets, Nemanja Matic or Javier Mascherano, had been able to disturb the PSG midfield and break down their attacks as much in the recent past.
The Paris-born 30-year-old was dubbed the new Claude Makelele during his time at Real Madrid between 2009-12 and he has been reminding everybody why so far this campaign. He has the football brain of "Make", as well as the physique (5-feet-8-inches) and the grittiness, but he also has better control of the ball. Diarra can go box-to-box or score a screamer such as the one he netted vs. Troyes in August.
The story of Diarra is a wonderful one. True, the focus this week could have been on Anthony Martial's first start with France on Sunday, in which he showed his wonderful potential in a 2-1 win in Denmark.
We could have highlighted Olivier Giroud's mental strength after his brace against the Danes following a tough time for club and country. We could also have looked forward to the Euros at home for a French team looking better and better after four wins in a row.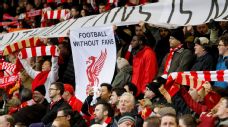 But Diarra stands out. Six months ago, everybody had forgotten about him. He had not played in a year after a contractual conflict with Lokomotiv Moscow. In the meantime, he hired a personal trainer and trained with West Ham and Inter, never losing hope that one day he would be allowed to leave Moscow.
When it happened, he chose Marseille, which for a Parisian is a bold choice considering the fierce rivalry between the two cities. But it was the right move and has revived his career after he went 435 days without a single game.
Before last week, the last time Diarra played for France was in Norway in August 2010. 1877 days then passed between his 28th cap and the 29th he won against Armenia. No player has ever had to wait so long between two internationals.
Diarra was so good in his comeback that it felt like he had never been away and he bossed the midfield to the point that many in France are now tipping him to start at the Euros ahead of Yohan Cabaye and Morgan Schneiderlin, neither of whom are pure holding players.
After years in the wilderness, Diarra can look to the future with confidence. Despite an undeniable talent and having played at clubs such as Arsenal, Chelsea and Real Madrid, where he won several trophies, there is definitely a sense that "Lass" has underachieved in his career.
His attitude was not always the best and impatience too often present, while some of his club choices have been questionable. However, at just 30, it is not too late to put things right.
Winning a European Championship, for example, would be quite something...
Julien Laurens is a London-based French journalist who writes for ESPN FC and Le Parisien. Follow him on Twitter: @LaurensJulien.