Manchester City hit hard by the curse of the international break
"My plan is to pray now that everyone comes back from international games without any injury because we have a small group," Arsenal boss Arsene Wenger said after their 3-0 win over Manchester United and before the majority of his players dispersed to join their national sides. As a manager of a team who need little encouragement to embark on an injury crisis, it easy to see why Wenger is turning his thoughts to the heavens.
These breaks must be curious times for football managers, many of whom are (in the best possible way) control freaks by nature and desperate to influence everything around them in the pursuit of success. It is a time when they can do nothing besides hope that the football gods return their players safely.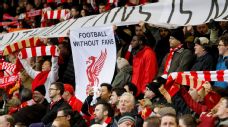 Yet if Manchester City's Manuel Pellegrini followed Wenger's path, it seems the message was missed, because things could barely have gone worse for his side in the past week.
First, star striker Sergio Aguero left Argentina's 2-0 defeat to Ecuador on a stretcher, apparently with a tear to a thigh muscle. "To recover from the tear I'll surely need a month," he said after the game -- words which were very nearly drowned out by the sound of sinking hearts in east Manchester.
Then, a few days later, Spain's David Silva was taken out by a rough challenge from Luxembourg's Lars Gerson and suffered an ankle injury which reports suggest could leave him out for two to three weeks. Slightly less crucial was the injury suffered by substitute Aleksandar Kolarov -- who subsequently managed to get sent off for two bookable offences for Serbia against Portugal -- but it did sum up City's problems rather neatly.
"It is not normal what we had in the last weeks," Pellegrini said before the break. "Against Sunderland we have 11 players injured. After that we have an average of seven, so I think it is too much and I hope in this international break most of them will be fit."
It really is the hope that gets you. It would be bad news for City if these players were injured at the best of times, but this is a crucial few weeks for the Premier League leaders. Their first game back is against Bournemouth, then they host Sevilla in the Champions League before travelling to Old Trafford for the Manchester derby on Oct. 25.
Even the most optimistic prognosis for Silva and Aguero would see them struggling for fitness, and while it's tough to feel sorry for a club who can replace the pair with £28 million worth of Wilfried Bony and £54m of Kevin De Bruyne, it's also tough to overestimate the influence Aguero and Silva have on the team.
Aguero's start to the season had been a little slow by his standards, with just one league goal and three in all competitions before scoring five in the 6-1 win over Newcastle, but that victory saw him explode back into life -- his haul came in 20 minutes and provided a sign that he was back to his best.
By contrast, Silva shone at the start and has fizzled away slightly. In their opening unbeaten run he was the man to unpick defences and it probably isn't a coincidence that the Spaniard was absent for City's 1-0 win at Crystal Palace and 2-1 home defeat to West Ham, when they struggled to break their opposition down, and Tottenham, where they bizarrely collapsed in the second half and lost 4-1. They have won every league game he has started, the only blip coming in a 2-1 defeat against last season's Champions League finalists Juventus.
Without their star pair, City's revival from those defeats to West Ham and Tottenham will be hurt. It may have been against struggling Newcastle, but the win in the final game before the international break was an emphatic statement that the title favourites mean business. Pellegrini will be praying that the rest of his squad avoid injury over the next few days, with Belgium's Vincent Kompany a particularly tricky situation to navigate as the old club vs. country argument raises its head once more.
Club managers rarely win. Indeed, Brendan Rodgers might make a case for international breaks costing him his job at Liverpool, in a roundabout way. Daniel Sturridge was injured while training with England in September last year, pulling up with a thigh problem that was initially expected to rule him out for only three weeks, but in the end he was sidelined until the end of January.
"We certainly feel it could have been prevented," said Rodgers at the time, who was upset that England didn't follow Sturridge's individually tailored recovery plan; an anger presumably exacerbated because the striker had also injured his thigh while with England a year earlier too.
It would be something of a stretch for Rodgers or anyone to convincingly blame this injury for his ultimate failure at Anfield, but it's easy to see why he might attempt to use it as an excuse. "It is not rocket science," said Rodgers after Sturridge scored twice against Aston Villa recently, emphasising just how important he believed the England striker was to the Liverpool team. "The last time we scored three goals was when Daniel started against Tottenham [in February]."
Of course, the international break could turn out to be a positive for some clubs. The empty two weeks was surely a factor in Liverpool dismissing Rodgers, allowing Jurgen Klopp to get used to his new surroundings without being thrown straight into a game.
Chelsea's Jose Mourinho certainly looks like a man who needs a break, and perhaps a week or so without his players could give him a chance to conjure some fresh ideas and figure out a way to get his struggling team playing at something close to their capabilities.
Similarly, Wayne Rooney has looked a shadow of the man Manchester United need him to be, so while he has been excused England duty with an injury of his own, a little rest could be what he needs. His poor form has arguably been covered up by excellent displays from new signing Anthony Martial, who was named man of the match on Sunday evening in France's 2-1 win against Denmark and continues to ride the crest of a wave.
Such situations are usually more negative than positive, however. This international break could have a profound impact on those at the top of the Premier League, with City seemingly the ones to suffer most. It's easy to see why managers regard them with such suspicion and trepidation.
Nick Miller is a writer for ESPN FC, covering Premier League and European football. Follow him on Twitter @NickMiller79.