Carlisle United vs. Plymouth Argyle: the biggest road trip in English football
On Tuesday night, Manchester United returned to the bright lights of the Champions League. Meanwhile, a loyal band of supporters drove the length and breadth of England to watch their League Two team in action. Iain Macintosh accompanied them on their odyssey.
It is not the first time a Carlisle United player has slipped tonight, but it's the first time that such a slip has been punished.
Right-back Tom Miller seems to have kept Plymouth Argyle's Jake Jervis at bay, but when he crumples to the ground, a route to goal opens up. Jervis needs no encouragement. He darts infield, looks up and sends the ball screaming into the top corner.
Behind the goal, 169 Carlisle United supporters visibly sag. Going 1-0 down is one thing. Going 1-0 down when you have travelled nearly eight hours for the honour of witnessing it all is something else entirely. Welcome to life as a travelling Carlisle fan.
For the uninitiated, Carlisle is a city of approximately 75,000 souls in the very north-west of England, just 10 miles from the border with Scotland. Because of its location, supporters of its football team are accustomed to long journeys. Only four clubs in League Two (Hartlepool, Morecambe, York and Accrington) can be considered "close," and they're all at least the duration of a football match away. The rest are distant by at least 170 miles. And then there's Plymouth Argyle, deep in Devon to the south-west, a whopping 389 miles away.
This is the longest trip any team will make in the Football League this season, save for the return trip on Jan. 2 for the return fixture, and you might think the authorities would have these two distant adversaries meet on a weekend, allowing the supporters to travel at reasonable hours. You would be wrong.
You might also think that nobody would willingly sign up for a journey that starts at 10 a.m. on a Tuesday and finishes at 5 a.m. on the Wednesday. But you'd be wrong again. Meet the Carlisle United Supporters Away Travel (CUSAT). This what they do.
Nearly 12 hours before that goal, 41 CUSAT members assembled outside Brunton Park, Carlisle's home ground. It's an overcast and unremarkable morning in Cumbria but they are ebullient and hopeful, chattering excitedly like kids before a school trip. Some of them have opted to travel light, clad only in shorts and T-shirts, newspapers rolled under their arms. Others have come prepared, clutching travel pillows and blankets. This is going to be a long day.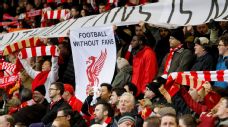 They and their club have endured hard times of late. After their one season in the top flight ended in 1975, they dropped two divisions in two years and never again threatened to return. In 2004, they suffered the indignity of demotion to non-league football. They came back a year later and from 2006 to 2013 held steady in League One before dropping back to the basement. Last season, they only just avoided dropping out again. You do not support this club if you wish to bask in vicarious glory.
"You've got to do it, haven't you? It's Carlisle. It's our team," said one supporter as we drove.
CUSAT arrange travel for the Carlisle supporters for every away game, independently of the club and on an entirely voluntary basis. Led by respected matriarch Kate Rowley, they book the coaches, arrange insurance policies in case of cancellations, organise payment plans to suit the needs of the fans and ensure that everyone is well looked after. In addition to the time, this trip will cost every fan £40 for the coach and another £20 for the ticket.
Kate, retired and redoubtable, is not to be trifled with. When asked about the potential for trouble on the coaches, a shadow passes across her face. "We don't have trouble here," she says firmly. "They know not to. They know, if there's any problems, they don't get on the coaches anymore."
Not that it feels like any trouble is on the horizon. The supporters are drawn from a broad church. There are younger men at the back -- boisterous, but good-natured -- who mix easily with the veterans at the front. Twenty-eight of them are CUSAT season-ticket holders, travelling to every game. Many of them sit in the same seat for every journey.
A season of per-game bus travel would cost approximately £730 although a pre-booked "season ticket" will set you back £600. Tickets for the 23 Carlisle away games are likely to cost another £460 and an actual season ticket for the home games is another £380. That's around £1,500 for a season of this.
After the supporters board, a special payload is carried on: a batch of fresh meat pies from the local baker. Sometimes there will be as many as 100 of these in transit, a crucial cargo given that one supporter in particular is renowned for munching through six every journey. These pies, along with a large bag of bottled drinks and snacks, will save the fans the expense of the motorway service stations while also generating vital funds for the organisation.
"We're not here to make a profit," says secretary Ali Ross. "We're here to make sure that as many fans as possible can get to the game. If there is any money left over, as there was last year, it goes straight back into the club when we sponsor players."
Ali's late father, Allan Ross, was Carlisle's goalkeeper between 1963 and 1979, making a record 466 league appearances. She and her mother still go to almost every game, home and away.
"It was a way of life," she says of her upbringing. "My dad had a job, everybody else's dad had a job, but my dad's job was on a Saturday. We went to the football; that's the way it was. When he retired, we just kept going to the games. Mum and me have a season ticket.
"Unfortunately Dad isn't with us anymore. I'm not sure what he would have made of all this. But you can see the camaraderie, the banter, the friendships here, it's just great for us to be able to do it. It's not really about the football. The social side is absolutely superb. This is our football family. Carlisle United has brought all of us together. Everyone else thinks we're mad ... They're probably right."
---
Carlisle's support are unbowed at half-time despite being a goal down. They know they've been the equal of their opponents and they remain optimistic for the second half. Their confidence is misplaced. Reuben Reid scuffs in a second on the 53rd minute. It's 2-0 and all the zip has gone out of Carlisle. Plymouth are looking irresistible. Carlisle supporters are looking worried.
---
Geoff Thomlinson, a softly spoken joiner built like a medieval watchtower, is another regular. Indeed, he must be one of the most regular in the country. He missed his last home game in 1956 when he had the measles, but has steadfastly refused to allow illness to prevent him from reaching Brunton Park ever again.
"I've been bad, but you get there," he smiles. In the past 53 years, he's only missed three away games. Two because traffic accidents had clogged the motorways and forced him to turn back, one because he was in hospital. In 1962, he made this very journey by train, leaving Carlisle on the Friday night, arriving on the Saturday morning in torrential rain, walking to the stadium in time for the game to be called off and then returning to Cumbria late on Sunday evening without having seen a ball being kicked.
Stories like these come thick and fast on the coach, truncated only when someone exits the toilet and there are howls of disgust from the centre of the coach. "Right, who did that?" barks Kate, clutching an air freshener as she marches down the aisle.
The first comfort break is at Stafford, two-and-a-half hours into the journey. Smokers circle around the front of the coach; others meander around, stretching their legs. Someone mentions Carlisle's top scorer Jabo Ibehre, a strange moment because it marks the first time anyone has actually spoken about the game. Up until now, this has been less of a football away day and more of an old-fashioned British summer holiday.
Another fan on this epic journey is Carol Merries. She's been watching Carlisle for more than 60 years, traveling to home and away games with her two daughters. "This is what we do. Everyone knows everyone, we're like one big family here.
"We've got one of our members, he's 82 and he's been unwell. He wanted to be here, but he couldn't do it. We're getting a get-well soon card signed for him from everyone on the bus."
Then there's the driver, Paul Farish (one of two deployed for the journey), who keeps his energy levels up with boiled sweets. "Aye, they're a good lot," he says. "We wouldn't take them otherwise. And I'm a Carlisle fan anyway. Most clubs let the bus driver in to watch the game, so that's a bonus."
Overall, the dedication is extraordinary. One supporter came straight from his night shift to join up with the coach, pushing through the day and refusing to yield to sleep for fear of missing the fun. Another returned from holiday in Bulgaria that morning, dropped his suitcases and joined the coach.
Other Carlisle supporters make their own way to Devon. Nine young men hired a minibus and drove themselves down early in the morning, one designated driver taking a hit so that his friends could make the most of the day. Still more come in from Carlisle's associated supporters' groups, including some from London.
---
Three minutes after Reid's second, Plymouth are 3-0 up through Graham Carey. There's still over half an hour to go. One supporter throws his hands up in the air and releases an indecipherable, primal howl of frustration. He's come a long way to see this. And it doesn't look good.
---
Back on the coach, the excitement slowly eases off as we head south. There's a card school at the back of the bus, paperbacks aplenty at the front. Because of regulations concerning travel to sporting events, the coach is dry. Kate and Ali do not expect anyone to breach the rules.
"I just say to them, 'Come on, if I can't have a drink, you can't have a drink,'" says Ali.
Another, quicker, stop comes at Exeter. "No hanging around," says the driver. "Just splash and dash." We're far further south now; the sun has breached the clouds and it really does feel like a holiday. As the coach finally pulls into Plymouth, nearly eight hours after it departed Carlisle, gregarious regular "PI" leads a chorus of "Build Me Up, Buttercup."
Plymouth Argyle offer a welcome as warm as the weather. While some fans stride to the nearest pub, the others are directed to the club bar, a large marquee near the away end. The Carlisle fans are congratulated by the home supporters for their efforts. Club representatives approach to greet their guests and, if the man who operates the fixture computer felt his ears burning on Tuesday evening, it's because of the conversation that follows.
---
With 25 minutes still to play, Jervis adds a fourth for Plymouth and after a communal sigh, wry laughter rises from the away end. "At least we haven't come all this way for a 0-0 draw, eh?" says one member of our coach party.
---
Drinks flow freely in the evening sunshine and when kick-off approaches it feels strangely incongruous, not so much the reason for the journey as an unwanted distraction from the refreshments.
And so the Carlisle supporters finally reach their destination. The away end of Home Park. They file in, take their seats, look up and see ... absolutely nothing but blinding light. For the first five minutes of the game, the sun stubbornly clings to the top of the opposing stand before finally relinquishing its grip to reveal what certainly starts as a swift-paced, fiercely contested game of football.
Plymouth are playing the neater stuff, but Carlisle come closer to scoring as Ibehre bounces a header off the post midway through the half. It's a miss that will prove costly.
When you travel with your football team, you sometimes feel like the first battalion of an invading army, taking up position in enemy territory with a force big enough to make its presence known. When 169 supporters are granted an entire stand of their own, it's more like being part of a small platoon that parachuted in by accident. But what they lack in numbers, they make up for in sheer defiance. At the back of the stand, 20 or 30 of the younger supporters chant. And chant. And chant.
"[Manager] Keith Curle, Keith Curle, give us a wave!"
"United! United! United! United! United!"
It goes on from the first minute to the last. It doesn't falter, even as the goals go in. And boy, do they go in.
Substitute Joe Thompson finally gives the travelling support something to cheer in the 90th minute but it's far too little, far too late. When the referee blows for time, the away team hold position in the centre circle, unsure of the reception that awaits them. Curle, once an England international, has spoken of his huge respect for the supporters and has almost certainly ordered the players to go and applaud them. But they know this was a long way for them to come for a 4-1 beating.
Eventually, the players trudge over, heads bowed, arms aloft. They're met with a wave of applause. Despite the margin of victory, despite the obvious displeasure with the level of performance, the fans usher them over for handshakes and, in some cases, hugs. And then it's all over. And another 389 miles home await.
Back on the bus, Kate settles into her seat and looks back upon the day.
"Ah, it's a day out, isn't it?" she chuckles. "Yeah, I've enjoyed it. We always enjoy it on the bus. The team played all right in the first half. Didn't play so well in the second half. They got four goals, we got one. We'll live another day. You can't get upset about results. There are good days and there are bad days."
And how will she occupy herself for the next eight hours?
"I'll listen to some records and have a little snooze," she says. "And then when I get back home, I'll start work on the next trip. We're off to QPR next Tuesday for the League Cup!"
Speaking before the game, Norman Steel, chair of the supporters club and club director, pays tribute to the fans, like those who form CUSAT.
"I think we're talking about a combined distance of approximately 12,000 miles this season and so we're talking about a very loyal bunch. A lot of them will be there game after game. Whatever their commitments at home or at work, they'll take holidays to build in the time. I think everyone is amazed by the commitment of these people, especially the players and the manager."
As the coach plods home, a national radio station calls for comment. With the same resolve that her father must have shown during his long career with the club, Ali gives the Football League both barrels but brushes off the praise for the supporters. "This is what we do," she says. "This is our club."
The night deepens. What begins as banter and chitchat settles into whispers and then, eventually, the quiet snuffles of snores. It is 10 p.m. when the coach leaves Plymouth. It is past five the next morning when it trundles off the motorway into Carlisle. (The team bus made the same trip home, leaving an hour later.)
As a watery, grey dawn breaks over the city, these supporters cheerfully trot down the steps of the coach and say their goodbyes. You would never know that their team had been thrashed or that they gave up nearly 24 hours just to watch the capitulation at close quarters. They'll be back next week at the same time in the same place, ready for the 312-mile trip to west London.
And they probably won't win that, either.
They wave farewell and they disappear into the gloomy morning -- some to start work, some simply to catch up on sleep. No tantrums, no hysteria, no cries for change. Just a promise to do it all again in seven days. And as they leave their friends, tired but content, for the first time you wonder whether they really are mad at all. Perhaps, given the frustration, hyperbole and rage you see in the Premier League every week, they're actually the ones who are getting football right.
Iain Macintosh covers the Premier League and Champions League for ESPN FC. Follow him on Twitter @IainMacintosh.