Man City's striker fire sale highlights the Premier League's issue with waste
Alvaro Negredo cost Manchester City £20 million in 2013. Signed the same summer, Stevan Jovetic came in at a little more: roughly £22m from Fiorentina. Two years earlier, Edin Dzeko, had been more expensive still; Wolfsburg held out for £27m before agreeing to sell. The three of them set Sheikh Mansour bin Zayed al Nahyan back some £69m.
Of the three, only Jovetic can be said to have been a genuine disappointment. His time in England was interrupted by injuries -- injuries that cannot, in fairness, have really been a surprise to the club that performed due diligence before signing him -- and pockmarked with anodyne performances.
In his only season at the Etihad, Negredo was a curious case. He scored 23 goals in the first half of the campaign and none in the second. He burned very brightly but very briefly. Dzeko was kind of the opposite. He never really caught fire, but 72 goals in 184 games for the club suggest he was always there, smoldering away.
None of them are at City anymore. Negredo was the first to go, on a strange sort of loan to Valencia. It was temporary but had to end in a permanent transfer worth around £23m, regardless of how he fared. It was not so much a loan as a deferred payment deal. Jovetic was next, moving to Inter Milan on what City describe as a two-year loan but which the Serie A side have interpreted as a permanent switch. The discrepancy appears to be because it is structured in the same way as the Negredo deal: Inter have to buy the player, for a total of £14.25m, at the end of the temporary spell.
Finally, Dzeko left, and finally, a bit of clarity. He has gone on loan, for a fee of £2.6m, to Roma. The Italians can sign him for a further £7.2m if they wish to do so next summer. All of which, theoretically, means that of the £69m City spent on three players, the team will recoup (presuming Roma do sign Dzeko) just a little more than £47m.
Bizarrely, thanks to football's warped approach to business, there will be those who look at that and remark how well City have done, just as it was widely seen as something of a triumph when Manchester United managed to get £44m out of Paris Saint-Germain for Angel di Maria.
At best, this is glass-half-full economics. At worst, it is downright delusion. In the space of a year, United lost £15m on an asset. Forget how much worse it could have been, the mitigating factors, how rich the club is and all the rest of the chronic, desperate excuse-making -- 15 million pounds in a year.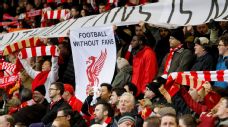 It's a similar story for City, albeit spread over a broader span of time. On three investment -- three players they scouted extensively and analysed in depth, three signings most felt were pretty sure to succeed, three strikers of immense talent -- they have been stung for a loss of £22m. Again, to spell it out: 22 million pounds.
There are several points worth noting here. One, though it can be glossed over fairly briefly, should be remembered as the transfer market reaches its annual pitch of brain-dead frenzy. There is no such thing as a "sure thing." No matter how confident you are as a fan, scout or coach that you have found the final piece in the jigsaw, ultimately there is no way of knowing who will settle and who will not.
Another is the speed of churn within the Premier League these days. Much is often made of the average lifespan of a manager in the Championship, but new signings in the Premier League do not fare much better. Negredo was brilliant for half a season, struggled for half a season and was promptly shipped out, never to return.
Dzeko is almost on the other side of the card: the 29-year-old was reliable (if not spectacular) for a few years. He never really did anything wrong, even if he did not do as much right as City might have hoped. Now he has been replaced, at considerable cost, by Wilfried Bony.
Clearly, the Ivorian is a good player. He is a different player. Is he a better player than Dzeko? Is he obviously an upgrade? Is he (and this is the figure you can put on it) worth the £28m fee City paid Swansea, plus the £13m loss they're taking on Dzeko? Is he £41m better than Dzeko? No. He is just different. He is just newer. That is all that matters in a league that fetishizes consumerism.
The broader point, though, is one that applies not just to City but also to the rest of the Premier League elite, the other members of the big six. It is particularly relevant to Liverpool as they try to get rid of Fabio Borini and Mario Balotelli, among others, to Manchester United as their overhaul continues and to Chelsea as they think about finding a buyer for Juan Cuadrado. It has been in evidence all summer as Tottenham have launched yet another clear-out.
These clubs exist in their own financial stratosphere. They can buy more players at higher wages and for fatter fees than anyone else in the world, with the exceptions of Real Madrid, Barcelona and Bayern Munich. Everyone seems to believe that's just great. Financial determinism and closed shops are great, so people appear to think, for sport.
But it leads to a problem because when these clubs grow tired of their older new signings -- the Dzekos and the like, the ones who have been around for a few years now and are no longer shiny enough to be exciting -- they have nowhere to sell them.
Barcelona, Real Madrid and Bayern are out of the question, obviously, because if a player is not good enough for one of the Premier League elite, why would he be appealing to the global elite? PSG are an occasional option. At certain price levels, Atletico Madrid, Borussia Dortmund, Roma or Juventus might be interested. Inter, Napoli, Valencia, a couple of others: If the deal is right, they might help in one or two cases.
Normally, though, if the fees Premier League clubs want do not rule them out, the wages the players will be asking do. Very few clubs in Europe get anywhere near to matching the salary Spurs could offer someone they see as a fourth-choice midfielder. The only exceptions are in Turkey and Russia, where tax rates are low and wages are therefore competitive.
The problem, of course, is not every player wants to go to Turkey or Russia, so we see deals such as the ones negotiated by City for Jovetic and Negredo, a buy-now-pay-later arrangement. More frequently, there is an agreement in place so the buying club only pays a portion of the wages, the difference topped up by the English team desperate to get rid of a player they signed just a few months previously.
This is football, so this is of course dressed up as a triumph. It is interpreted as City or Liverpool or United or whoever cutting however many hundred thousand pounds a week off their wage bill. It is not. It is paying someone not to work for you. It is absurd. It is not a glass-half-full sort of moment. It is a waste. A waste so colossal it is bordering on the insane.
Rory Smith is a columnist for ESPN FC and The Times. Follow him on Twitter @RorySmithTimes.