Jerome Valcke, FIFA's secretary general and Blatter's right-hand man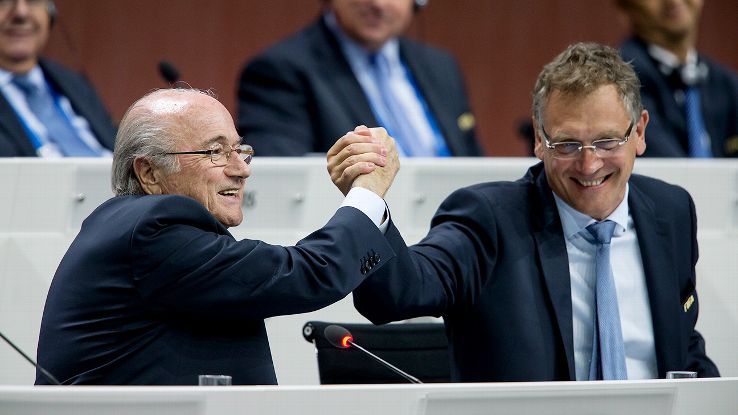 Moments after it was confirmed that Sepp Blatter had secured a fifth term as president during May's FIFA congress, he swivelled to his left and delivered a warm smile and firm handshake to a bespectacled colleague sitting beside him. Four days later, world football's head honcho emerged from his office after several hours with the same person to announce that he was stepping down amid the growing storm of a corruption scandal.
In good times and bad, Jerome Valcke, FIFA's secretary general, is the man Blatter turns to. Like his boss, the Frenchman divides opinion and is no stranger to controversy, generating a string of contentious headlines since initially joining world football's governing body in 2003 as director of marketing and TV.
The world's media has coined more colourful job descriptions for FIFA's No. 2 and the characteristics they believe have established him as one of the most powerful figures within the game. These have ranged from "Blatter's sly sidekick" to "reptilian, ruthless, Machiavellian" and almost anything else you can imagine.
"This is not the Valcke I know," Kushal Das, general secretary of the All India Football Federation who is working closely with Valcke on plans to grow football in the country, told ESPN FC. "He has visited us twice in India and provided great support and constructive ideas. Valcke is a practical man and commercially astute which is exactly what the modern game requires."
The South African government was so impressed with Valcke's help during the 2010 World Cup and contribution for developing football in the country that they awarded him citizenship.
Indeed, there is more to Valcke than just being a shoulder for Blatter to lean on -- or his role as the organisation's spokesman during visits to check on a country's preparations for major tournaments. He has a reputation as a dogged negotiator who can successfully close a deal.
Ironically, the 54-year-old may be one of football's most powerful figures, but he is not a diehard fan of the beautiful game, with skiing and kickboxing his chosen sports. A look at FIFA's official website bears this out: He admits that as a child, he never supported a team "because we moved around a lot"; his choice of football idols ("Lionel Messi and the entire Barcelona team") also suggests that he was not bitten by the football bug as a boy.
It is the business of football that drives and inspires Valcke.
When he first joined FIFA as Director of Marketing and TV, the organisation virtually had no reserves and had suffered huge losses (estimated between $42 million to $300m, the exact figure has never been established) following the collapse of International Sport and Leisure (ISL), FIFA's media and marketing partner that went bankrupt in May 2001 with debts of $300m.
Valcke is credited with being FIFA's financial saviour, overhauling how it does business by focusing on a core group of corporate partners and increasing the amount they paid by 50 percent in exchange for exclusivity. The deals covered the 2010 and 2014 World Cups.
His background as a television executive has also been instrumental in helping FIFA secure record deals for the broadcasting of the 2010 and 2014 World Cups, worth $2.4 billion and $2.6bn respectively.
Valcke started his working life at Canal Plus as a journalist in 1984 but made his name after he joined a new department that was created for the buying of sports rights as it expanded into the pay TV market. He so flourished in the world of balance sheets, contracts and viewing figures, described by one colleague as "brave, combative and intelligent," that he was eventually appointed chief executive of Sportfive, one of the world's leading sports marketing agencies, before beginning his FIFA journey.
Today, world football's governing body boasts cash reserves of $1.52 billion and grossed $5.72 million over a four-year fiscal cycle from 2010 to 2014, thanks in no small part to Valcke's tenacity and eye for a good deal.
FIFA's No. 2 may have a head full of figures, but he is also not afraid to speak his mind.
Before last year's World Cup in Brazil, as concerns were increasing that stadium construction was running behind schedule, he famously claimed that "less democracy is sometimes better for organising a World Cup." In 2012, he told Brazil it had to "push yourself, kick your back side," which so angered the country's government that it said it would no longer deal with him. Valcke later claimed that his comments were misinterpreted.
Within FIFA's Zurich headquarters, the Frenchman is feared and respected in equal measure -- not just by the 350 staff under his management, but also by the elected administrators of the world game, including those that sit on the powerful Executive Committee.
One member who did not want to be named told ESPN FC: "All but the very senior elected officials within FIFA are wary of challenging Valcke. He is known as a man who should not be crossed and does not take criticism very well."
Valcke's protestations that he "does not enjoy the limelight," according to an article written about him in Le Monde in 2012, is probably down to the fact that he spends an extraordinary amount of time in it, particularly over the past few weeks.
Indeed, he has found himself firmly at the centre of the latest corruption scandal after he was named by American media as the person responsible for a $10 million payment to FIFA vice president Jack Warner, which prosecutors alleged constituted a bribe in exchange for his support for South Africa's bid for the 2010 World Cup.
Valcke has insisted that he had not authorised the payment and had no power to do so.
"I'm beyond reproach, and I certainly don't feel guilty. So I don't even have to justify that I'm innocent," he told a French radio station after the story emerged in early June.
This is not the first time Valcke has found himself in hot water over FIFA's financial affairs, and this is his second coming as a world football administrator. In December 2006, he "parted company" with football's ruling body after an American court ruled that he and other colleagues had lied to both MasterCard and Visa during negotiations for a new sponsorship deal.
FIFA admitted that its employees had been dishonest and had given its own officials false information and that it could not "accept such conduct." Just seven months later, Valcke was appointed secretary general, having spent the intervening period writing Brazil's World Cup bid, a job he was given by his close friend and former Brazil football chief Richard Teixeira.
Professor Alan Tomlinson of the University of Brighton, one of the leading authorities on FIFA, told ESPN FC: "Valcke's integrity was smashed to bits during the American court case, but soon after he amazingly returns to FIFA in a more senior position. It demonstrates how highly Blatter regards him because he does the president's bidding."
As Valcke himself admitted in a rare newspaper interview in 2007: "Whatever Blatter asked me, and what I committed to deliver when I joined FIFA, I did. So we have a strong relationship, Blatter and myself."
A fiercely private individual, Valcke enjoys a footballer's lifestyle. He drives a Ferrari, has a holiday home in Corsica and in the south of France and can call on the company of a tight-knit circle of wealthy friends from the world of sport, according to the Le Monde profile written about him.
His exact salary is not declared by FIFA (along with those of Blatter and other senior officials), which critics claim adds to the stench of corruption and cronyism within the organisation. Although, according to its 2014 accounts, $39.7 million was spent on salaries for 13 leading management officials, including Valcke, along with payments to members of its executive and finance committee.
FIFA's and Valcke's coffers may be in a healthy state, but the reputation of world football's governing body is not. As such, the organisation has promised to initiate wide sweeping reforms over the coming months which will culminate in an election next February to choose Blatter's successor.
As for Valcke, the writing may be on the wall given that whoever takes over is unlikely to want a No. 2 so associated with the old regime. Ever one to focus on the bottom line, Valcke is probably already plotting his next move.
Vivek Chaudhary covers FIFA and the financial side of the game for ESPN FC. Twitter: @viveksport