Selling Arturo Vidal is good business by Juventus but how much will it hurt?
Arturo Vidal was the one that got away from Bayern. After announcing in March 2011 that Jupp Heynckes would be returning to the club for a third spell that summer, preparations were underway to build a team capable of wresting the Meisterschale back from Dortmund. Lured from Leverkusen, Heynckes wished to bring a player with him. That player, brought to Europe by Michael Reschke, Bayern's current technical director, was a young Vidal.
While an agreement was reached, he ultimately didn't join Bayern; Vidal moved to Juventus instead. Karl-Heinz Rummenigge was deeply embittered. "Vidal guaranteed us he would sign on numerous occasions," he complained. "Then we got to see just how much his promises are worth. If he'd kept his word and shown some character, if he had any morals, then he would be playing for us. He goes to a club like him. It's enough to look at Juventus' judicial history [Calciopoli] and their recent results."
Ouch. In their defence, general manager Beppe Marotta insisted that, unlike Bayern, they had gone through the "orthodox channels." He then hit back with a punchline of his own: "Obviously Rummenigge's past at Inter weighs [on his mind]."
Only that could explain his hostility towards Juventus. Or was it because Rummenigge knew Bayern were missing out on one of the best midfield players of the era?
Until the purchase of Carlos Tevez in 2013, Vidal represented the best value for money cash-signing of the current Juventus administration. He cost an initial €10.5 million. Arriving in Turin during the same transfer window as Andrea Pirlo, he was as important to the club's renaissance. No one better symbolised the fighting spirit of Antonio Conte's Juventus; Vidal was the personification of a new mentality that elevated a club from back-to-back seventh place finishes to its most dominant period in Italy since the 1930s.
His association with ending Juventus' purgatory, and the manner in which he went about it, made Vidal hugely popular. His playing style had everything a crowd could want from a player. Every game was played like a battle. Vidal put his body on the line. He was an all-action hero, making last gasp tackles and driving runs from inside his own half, scoring goals, lots of them. Vidal was Juventus' top scorer until Tevez got in the act (50) and now that he's gone, would still be if he were staying (48).
So why then are Juventus selling one of their totems? Didn't he have huge moments last season too, like a wonderful goal at San Paolo that brought a definitive halt to a Napoli side that had beaten Juventus in the Super Cup and was on a roll at a time, just as the champions were wobbling and Roma fading? Wasn't it also Vidal who scored the header that sealed a fourth straight Scudetto? It was but the impression gleaned over the campaign as a whole was that Vidal had lost his status as indispensable.
By his own high standards, it was the most disappointing season of his career at the club. To an extent, that was understandable. He had delayed knee surgery until Juventus' participation in the Europa League ended in the semifinals the previous April, and then rushed back to ensure he didn't miss the World Cup.
"By rehabbing so quickly, I seriously risked hurting myself beyond repair," he admitted. Questions abounded as to whether he would ever be the same player. "At times, I was playing in a disastrous condition," he revealed. "Only the medical staff and I know the truth."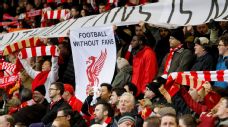 To complicate matters further, Vidal was also playing under a new coach and in a new more advanced role behind the strikers, once Max Allegri switched systems from the 3-5-2 to a 4-3-1-2 in October. He struggled and appeared to be raging at his body and its inability to do what it did before. This loss of decisiveness brought out a rash side in Vidal. He insisted on taking a penalty against Olympiakos, revved up the crowd before stepping up for it, and then missed. It threatened to be very costly in Juventus' hopes of qualifying from the group.
It really wasn't until March that Vidal got back to his old self again and showed a measure of consistency. Asked about it on Sky Italia, Allegri said the principal difference was Vidal "no longer ran after, but chased down" opponents. Even once he had started to recover some form and fitness, though, observing him was often like watching a red card waiting to happen but to say ill discipline made Vidal a liability is a stretch. Of greater concern was the off the pitch drama.
Soon after he joined Juventus, Vidal and five other players were sent home by Chile after they turned up for training late, apparently drunk. In October 2013, he returned late from international duty after celebrating qualification for the World Cup. Fined by Juventus and dropped for their next game, they lost in Florence for the first time since 1998. At the same time last year, Vidal received the same punishment and a record fine before a top of the table clash with Roma after he was involved in a fracas outside a nightclub in the early hours of the Friday before the game.
If these incidents tried Juventus' patience, the news Vidal had been involved in an alleged DUI after Chile's 3-3 Copa America draw against Mexico risked losing it altogether. Hours earlier, Tuttosport had gone to press hailing his performance. "The real Vidal is back," a piece rejoiced. "[He's] the €50m one." The following day, the Turin paper went with: "Now Vidal is... unsellable." No one would take him off Juventus' hands and besides, the damage to his image would surely provoke a fall in value.
But by not excluding him, Chile did Juventus a favour. Vidal could redeem himself. If he led the host nation to their first-ever Copa America, his profile and value might rebound. Were that to happen (and it did), you could appreciate why Juventus believe there might be no better time than the present to sell, not least because the deal with Bayern could reach €40m (including add-ons) and Vidal turns 29 next year.
In abstract, it makes a lot of sense and looks like a good deal. However, in the context of losing Pirlo and Tevez in the same summer, it has got Juventus fans worried. On Tuesday, UEFA named five of their players on the shortlist for the Best Player in Europe award. Juventus were the best represented club. Three of them are now gone and each in their own way were potent symbols of the club's return to power.
As Maurizio Crosetti wrote in La Repubblica: "If the brain [Pirlo], the right arm [Tevez] and the lungs [Vidal] are removed from the body in one fell swoop, then there's nothing you can do other than put faith in the transplants and the ability of the surgeon."
More delicate positions, like the goalkeeper and defence, remain unaltered but the creation of chances and scoring of goals rather than not conceding them is the biggest unknown. Include the outward-bound Fernando Llorente and Juventus have lost 114 of the 210 goals they scored over the past two years. That's a lot to make up.
If Inter were accused of changing too little after winning the treble and allowing decline to set in and motivation to fall, all of it sated by success, might Juventus, albeit forced into waving goodbye to Pirlo and Tevez, be altering too much? And what of Paul Pogba? Vidal's departure surely rules out the Frenchman leaving but Andrea Agnelli says "no one is unsellable until Sept. 1."
The sale is the biggest out of Serie A since Edinson Cavani left Napoli for PSG. Juventus have sold well. The money raised from it, in addition to what they have got for Angelo Ogbonna and might yet receive from Real Madrid for Llorente, will be spent primarily (though not exclusively) on the No.10 Allegri so desires.
But how many teams actually play with one these days? And remember the last time Juventus went down this route, doing away with wingers and paying Werder Bremen €29m for Diego Ribas? It was a disaster. That of course doesn't mean it will be now and besides many 'No. 10s' today are inverted wingers.
What's clear is the team is now less and less in Conte's image and more and more in Allegri's. He has made no secret of how much he likes Isco and Oscar. The latest names linked with Juventus are Mario Gotze and Julian Draxler. All are 23 or under in line with Juventus' profound generational transition. A bonafide star like Gotze would generate euphoria and bring about a change of perspective on this window. The others require yet another leap of faith.
On paper, Juventus look set up brilliantly for the future with Daniele Rugani, Stefano Sturaro, Pogba, Kingsley Coman, Alvaro Morata, Simone Zaza and Paulo Dybala. But what about the present? As a collective are they, when you add Sami Khedira and Mario Mandzukic, ready now? Or will bridging the gap left by Pirlo, Tevez and Vidal be a step too far?
James covers the Italian Serie A and European football for ESPN FC Follow him on Twitter @JamesHorncastle.