Perez, Al Khelaifi, Blatter, Ronaldo, Infantino are the Most Influential 10-6
ESPN FC is counting down the top 50 most influential men and women in football, as compiled by our editors and writers from around the world.
MOST INFLUENTIAL: 50-41 | 40-31 | 30-21 | 20-11 | 10-6 | 5-1
10. Gianni Infantino - UEFA secretary general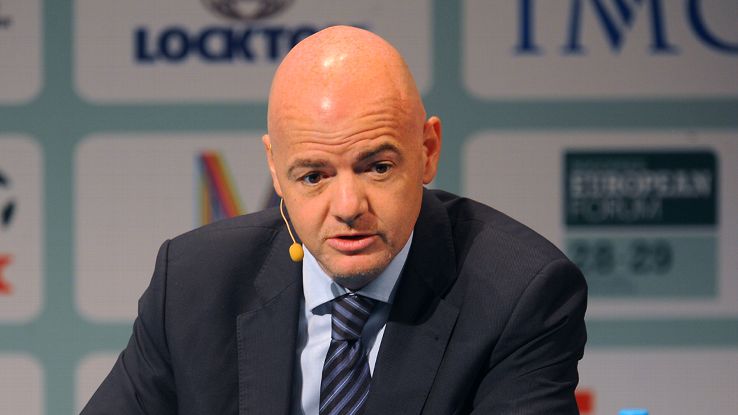 He may be best known for overseeing the pomp and circumstance -- and plenty of awkward moments -- during Champions League draws given his role as UEFA's main spokesman, but Infantino is also one of the most powerful people in Europe. In short, he is the "details guy" responsible for putting UEFA president Michel Platini's big-picture ideas into practice.
A lawyer by training, Infantino, 45, has been a key player in drafting financial fair play legislation. He also leads the fight against racism in Europe, overseeing tougher disciplinary measures such as partial and full stadium closures for matches, heavy fines and the raising of bans from five to 10 games for players found guilty in racist incidents.
On another front, illegal betting, Infantino has been a driving force in developing the UEFA Betting Fraud Detection System, which monitors all matches in UEFA competitions (about 2,000 each season) and 30,000 domestic league and cup games for irregularities.
UEFA's radical shake-up of Champions League seedings for 2015-16, which could increase the possibility of Europe's big clubs meeting more often in the group stages, further illustrates that Infantino's influence shows no signs of abating.
9. Cristiano Ronaldo - footballer, Real Madrid
Ronaldo. The name alone conjures all manner of images: outlandish goals, step-overs and showboating, the iconic free-kick stance and highlight reel celebrations, the Zoolander-esque poses. He is the apotheosis of swagger, the sport's most polarizing player and the man who makes football marketable beyond hard-core fans. In an age when we measure popularity by followers, Ronaldo dominates: 104 million on Facebook and 36 million on Twitter.
Indeed, it's all too easy to get caught up in the image of Ronaldo and forget that the Real Madrid man is setting records and scaling new heights on the pitch that will test players to the maximum for generations to come. Ronaldo has found the net more than 50 times in each of the past five seasons and he has one Spanish league and one Champions League title to go with back-to-back Ballon d'Or awards.
How long can the 30-year-old maintain his peerless pace? With his work ethic and thirst for the spotlight, Ronaldo is unlikely to experience a dip in form anytime soon.
8. Sepp Blatter - FIFA president
He isn't gone just yet. Blatter, who resigned as FIFA president in May, remains at the top until new elections are held on Feb. 26. His influence is no doubt on the wane, but until he's fully removed from power, he will remain a hugely important figure in the game.
Blatter's political nous had him successfully insulated in his position, even while FIFA has been dogged by allegations of corruption during his time in charge. Until the end came, the heads of the vast majority of national federations were in thrall to him, which is both a reflection of Blatter's power and the way in which he wields it.
There is little doubt that the footballing world will be significantly altered without someone who has been a leading figure in the game since becoming FIFA's technical director in 1975. Blatter has promised reform and transparency for FIFA -- whether or not they happen will prove hugely influential with regard to the sport's future -- as his organisation remains in charge of the World Cup and the Women's World Cup (for which, of course, FIFA decided on artificial turf to the outrage of most of the tournament's players). In the meantime, the Swiss and American investigations into corruption at FIFA continue. What does Blatter really know? Will he ever name names? Will those implicated in the scandal turn on him? Could Blatter eventually be indicted? It's the answers to these questions that will shape the final days of his reign -- and influence.
7. Nasser Al Khelaifi - chief executive of beIN Media Group and Paris Saint-Germain
Qatar has dominated headlines for winning the rights to host the 2022 World Cup, but there's one key figure from that country who has had an even more immediate influence on football. Al Khelaifi, 41, a former minister of the Qatar government and a former professional tennis player, is the man behind the success of PSG in Ligue 1 and beIN Sports, a network of sports channels with global reach across North America, Europe, Middle East, Asia, Australasia that is an offshoot of the Qatar-funded Al Jazeera media network. In the U.S. alone, beIN has the rights to Ligue 1, La Liga and Serie A, while in France its rights include Ligue 1, Bundesliga and Serie A.
Al Khelaifi's rise in European football began in earnest in 2011 when he became chairman of Qatari Sports Investment, which bought PSG that year. (It also sponsors Barcelona.) PSG's wealth has allowed them to dominate French football and a recent survey showed that no sports team anywhere in the world pays more in terms of salary.
Though the club fell foul of financial fair play regulations after the 2013-14 season, alterations to those regulations have reasserted PSG's standing among Europe's superpowers. With Ligue 1 often little more than a training ground exercise, the next challenge -- for the club and its chairman -- is to win the Champions League.
6. Florentino Perez - Real Madrid president
You have only to glance at Real Madrid's squad to understand Perez's power. He's the man at the top of the transfer market food chain, which has created a bottom line for everyone else. If Real Madrid want a player, the president opens up the cheque book while the world's other top clubs line up for players he wishes to sell.
Perez, 68, is in his second spell as president and both terms have featured the development of one of the game's primary business models. His Galacticos projects focus on the signing of the game's biggest names including David Beckham, Ronaldo, Zinedine Zidane, Cristiano Ronaldo and, for a world-record €100m fee in 2013, Gareth Bale.
But the president's lavish spending has yielded only two La Liga titles and two Champions Leagues (including the celebrated "Decima" in 2014) in 12 seasons over two stints in charge. Hardly domination. Still, Perez's box-office approach to building Real's squad makes the Bernabeu-based club a must-see attraction that, in 2013-14, generated over $600m.
MOST INFLUENTIAL: 50-41 | 40-31 | 30-21 | 20-11 | 10-6 | 5-1
Information from Miguel Delaney and John Brewin was used in this report.