Beyond United and City, Greater Manchester is the mecca of football
Manchester United and Manchester City may dominate, but there are eight professional football teams in Greater Manchester. Britain's second-biggest conurbation, of 2.5 million, is a football city that also boasts numerous semi-professional sides playing to average home crowds as high as the 2,000 that attend the games of FC United of Manchester, the breakaway club that formed after the Glazer takeover of Manchester United in 2005. They're about to move into their own new, £6.3 million, 5,000-seat capacity stadium in north Manchester, £2 million of which was raised by supporters.
FC United started the season playing at the home of Stalybridge Celtic, a founding member of England's third division in 1921 and now of the sixth tier, with a squad of young professionals. Now they're based at Curzon Ashton's modern stadium, built a decade ago to hold 5,000.
Nearby, Manchester City have built a new 7,000-seat stadium for their reserve team. City used to play their reserve games at Hyde's impressive ground, which was hosting fifth level football until last season.
You don't have to travel far to find a football team in Manchester. On Tuesday night, the players of Oldham Athletic returned to their dressing room buzzing because they'd just beaten neighbours Rochdale 3-0. Oldham had won the away game in November when 3,200 of their fans travelled to Rochdale. More than 1,200 fans from Rochdale, who are enjoying one of their greatest ever seasons, made the return journey. If you want a comparison, Rochdale's following was four times as big as Real Madrid's at Camp Nou on Sunday.
Football matters more in Manchester than other cities as more fans attend games in person than in any other city. United are the second-best-supported club in the world this season and sell out Old Trafford to its 75,000 capacity for almost every game. City average 47,000, the 14th-highest in Europe. That is set to rise when a new stand boosts their capacity to 53,000 next season. There's not a city in the world whose big two clubs attract so many fans, not even Madrid, in second.
Manchester's average of 122,287 (United 75,207, City 47,080) for home league games puts the city ahead of second-placed Madrid with 117,500 (Real Madrid average 70,754, Atletico 46,746) and Barcelona's 97,428 (Barca 73,689, Espanyol 19,739).
And what of the other great footballing cities with two clubs? Manchester leaves them all trailing.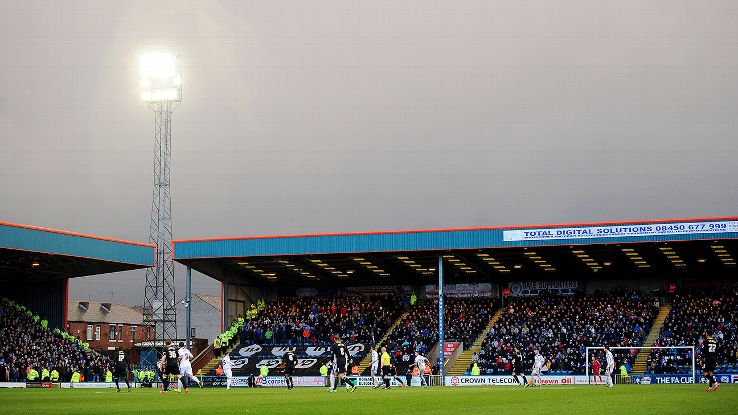 Milan's big two attract 86,967 (Inter 47,250, AC Milan 39,717), Turin's 55,175 (Juventus 37,944, Torino 17,232) and Rome's giants get a combined average attendance of 69,109 (AS Roma 39,664, Lazio 29,445).
German average attendances are the highest in the world at the top level, but the two main Berlin clubs muster 72,206 (Hertha 52,351, Union 19,855). In Munich it's 89,573 (Bayern 71,015, TSV 1860 Munich 18,558) and in Hamburg 80,222 (Hamburger SV 51,890, St Pauli 28,332).
France is largely a country in which each major city has a big club and several smaller ones, the same in the Netherlands. In Lisbon, Portugal, the big two average a total of just over 50,000. In Glasgow, it's 90,483 (Celtic 47,172, Rangers 43,311), in Istanbul the big three -- for it is three -- get a combined total of 119,257 (Besiktas 44,782, Fenerbahce 38,944, Galatasaray 35,531).
And Greater Manchester isn't restricted to United and City. Wigan Athletic, Bolton Wanderers and Bury make up the professional teams. Within an hour's car journey from Manchester, you'll find Everton, Liverpool, Tranmere, Chester, Wrexham, Blackburn Rovers, Burnley, Blackpool, Accrington Stanley, Preston North End, Fleetwood, Leeds United, Bradford City, Huddersfield Town, Crewe Alexandra, Stoke City, Morecambe, Macclesfield Town and Port Vale.
There's not an area in world football with so many professional football clubs in such proximity.
With the top-flight teams not playing this weekend due to international football, attention will switch to the smaller clubs. Top of the Northern Premier League table, FC United are expecting a crowd of more than 2,500 for their game against Stourbridge.
Greater Manchester has a rich seam of semi-professional, non-league clubs. Altrincham are the highest, with average crowds of 1,200 in England's fifth level. No former Football League side has fallen as far and remained intact like Stockport County, but the Hatters still average 2,600 for home games. That's in England's sixth level. There are teams in Spain's second levels with smaller crowds than Stockport. Hyde and Stalybridge play in the same division, then there's FC United, Trafford, Ashton United, Curzon Ashton and Ramsbottom in the seventh level. Droylsden, Mossley, Radcliffe and Salford City, who are owned by the Class of '92 group of former Manchester United players (Ryan Giggs, Paul Scholes, Nicky Butt and Gary and Phil Neville), compete in the league below -- the eighth level.
Some of these clubs are more than 100 years old, with rich histories. The Class of '92 bought into Salford just over a year ago and their majority shareholder Peter Lim has big ambitions. They're already working with the nearby university, where students from fashion to media to physiotherapy get real life practice working with their local football club.
Phil Neville and Paul Scholes also picked up one player who was without a club and disillusioned with football. He impressed them so much that they recommended him to Manchester United. After a successful trial, Libyan-born right-back Sadiq El Fitouri, 20, is now a Manchester United player and training with their under-21 side each day.
Salford's average crowds have improved considerably in a season in which they're top of the league and paying players more than they need to, but crowds still only average 322 in an area where most football supporters follow Manchester United. For the Class of '92, the club offers a release, somewhere where they can go as mates and watch a football club they now own. They've got money to put into a football club and that's what they're doing. They don't interfere with the management of the team; they don't even speak to the manager but go along to games across the north of England as fans. They're playing Football Manager, but for real. And they're not managers, but if they're not happy, they can change the manager.
The clubs in Greater Manchester are usually run by volunteers who do it because they love it. To them, a football club is part of the community and their role in it matters.
Other cities around the world are rightly considered football hotbeds, but in the north of England, especially Manchester, more people go to games in person.
Despite huge changes in football, the match-going culture is deep and ingrained. Going to the match with your sibling, parent or relative remains a rite of passage and while that match is usually Manchester United or Manchester City, it's also Bolton, Rochdale, Oldham, Bury or any one of the aforementioned clubs.
There are football cities, and then there's Manchester.
Andy Mitten is a freelance writer and the founder and editor of United We Stand. Follow him on Twitter: @AndyMitten.