Reflecting on the chaos of Serbia vs. Albania in Belgrade
BELGRADE, Serbia -- The media centre at Partizan Stadium was quiet, forlorn, a little dazed. Perhaps a little sad, too. Colleagues uttered few words to one another before finally slipping off into the night. Police stood inscrutably and, this time, superfluously in long lines outside. Most who remained did little more than drift; there wasn't a lot to do here, not anymore, but what everybody had just seen had occurred over such a short period -- around two minutes and 30 seconds -- that a certain amount of processing time was needed before any work could be completed.
They had seen something so extraordinary, such an entry from outside the realm of expectation, that it may still be some while before it has been fully understood. Serbia and Albania were stuck at 0-0 with five minutes to play before half-time -- the home side had started well and missed a sitter through Zoran Tosic, while Albania had come out of their shell after the half-hour mark, creating two presentable chances of their own -- and play had, for the second time, been stopped on account of a flare being thrown onto the pitch.
But something else dawned slowly, eerily. Heads turned to the right, and upwards, before focusing at last. A remote-controlled drone hovered overhead and its black and red cargo, dangled close to the pitch on thin wires, could not have been more incendiary. As the flag -- bearing the Albanian insignia and depicting the notion of a "Greater Albania" of common ethnic origin, one that includes the contested territory of Kosovo -- was lowered slowly down towards Serbian defender Stefan Mitrovic, there was just enough time to suspend disbelief and contemplate that the relative calm could very soon be shattered.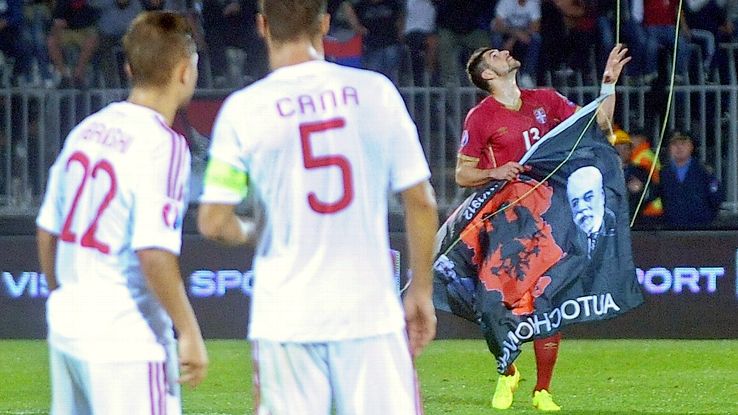 It was; the violence that ensued has already been well-documented. The abiding images have sharpened with the benefit of time, though: the readiness with which Albania players Andi Lila and Taulant Xhaka ran to prise the flag from Mitrovic. The pitch invader who crashed a plastic chair onto Albania striker Bekim Balaj's head. The balaclava-wearing hooligan who evaded a very proximate police presence and aimed a karate kick at an Albanian as the team in white ran, heads buried in their hands, to the dressing rooms. The figure of Ivan Bogdanov, a convicted hooligan who was the face of Serbia's abandoned game against Italy in Genoa three years ago. The punches thrown by Albania captain and former Sunderland player Lorik Cana as Balaj's attacker tried to escape. The apparent keenness of some among the stewards by the tunnel to have their own piece of the action.
Short and sharp though the drama was, it felt as if a thousand separate tableaux had been played out within it.
As we know, the match did not recommence mainly because Albania's players, some of whom claimed to have sustained wounds in the melee, feared for their safety and opted out. Now, consequences hang in the air. They certainly appeared to in a moody Belgrade on Wednesday morning, with few wishing to talk at length about what had happened while those who were more pliable spoke more out of resigned frustration than anger.
Serbia -- whose main misdemeanour in this affair was arguably the execrable level of security inside Partizan Stadium that allowed the drone, the drone bearer and various hooligans to slip through various lines of defence -- has surely used up its final card with UEFA, who are already fed up with a litany of race- and violence-related incidents inside the country's stadiums. Some form of lengthy behind-closed-doors punishment seems next to inevitable. (UEFA confirmed Wednesday that both FAs have since been charged.)
Albania's fate is harder to predict, though the thousands of jubilant supporters who greeted the team at Tirana airport in the early hours of the morning as if they were returning war heroes did not appear particularly concerned with the spectre of punishment. The throng that turned out was another bizarre sight to add to the night's collection and presented a powerful reminder that the sentiments that came to the fore on a confused night of claim and counter-claim ran very, very deep.
One of the oddest allegations during an incredible evening was that Orfi Rama, brother of the Albanian prime minister Edi, had controlled the drone from the VIP section and was subsequently arrested. Beyond fiction though this sounds, claims regarding Edi's arrest persisted on Wednesday with the caveat that he was released almost instantly, something the Serbian government later confirmed. As such, his brother's diplomatic visit to Belgrade a week from today may have served as currency; if not, it is yet a further example of the near-unnavigable web of lies and agendas that make this one of the world's most difficult areas to comprehend.
It is also possible that the somewhat extreme reactions of their players to Mitrovic's flag "catch" -- he was simply well-placed for it -- will receive some attention. Neither side will have much fear of being forced to concede the game, either; fault for Tuesday's farce can be given to both sides -- it is worth noting, too, that Serbian fans peppered the first half with obscene chants directed at their opponents -- but it seems unthinkable that supporters will be invited to watch either any replay or the return fixture in the Albanian town of Elbasan.
Ultimately, it feels like a waste of time trying to distil a view of who was to blame for Tuesday's scenes. There was enough of a suspicion that these were two opponents intent on winding each other up at all levels when a pre-match stand-off about criteria for selling tickets to away supporters had to be settled by UEFA.
The situation has hardly been helped by a lengthy, accusatory statement from the Serbian FA that, although justified in standing its ground on several counts, takes matters to extremes. The statement mentioned an "'Albanian Way' of acting against football," spoke of a possible (and entirely unconfirmed) "scenario of a terrorist action planned in advance" and expressed the confident expectation that Serbia would be awarded a 3-0 win.
For somebody who covered the game live, there is a genuine sense of disappointment that after around 35 minutes, the thought had genuinely occurred that things were all going rather smoothly and quietly. The even bigger disappointment is the realisation that you were foolhardy even to entertain the thought that everything was going to be OK.
Nick Ames is a football journalist who writes for ESPN FC on a range of topics. Twitter: @NickAmes82.