Messi, Costa, Di Maria, Ronaldo, Muller all Ballon d'Or favorites
Cristiano Ronaldo, Lionel Messi, Diego Costa, Angel Di Maria and Thomas Muller are all early contenders for the football's biggest individual award, the Ballon d'Or. We asked ESPN FC's team of experts to tell us which of these five is most deserving, and why.
Nicholas Rigg: Is it Ronaldo's to lose?
Sure, he was forgettable on the biggest stage in football last summer, but that shouldn't detract from one of the greatest calendar years in recent memory. As if his footing wasn't strong enough, he's been averaging 1.42 goals scored per appearance for Real Madrid since their season kicked off.
1. So, Ronaldo -- there's no way he can lose the Ballon d'Or is there?
It is certainly his to lose given the scintillating start he has enjoyed this season. The 29-year-old is the man of the moment and although the award runs over the calendar year, current form plays a crucial part in swaying the floating voter and the former Manchester United man is the best player on the planet.
The current holder won the Champions League with Real Madrid and scored a record-breaking 17 goals to get them there, including a brace in a 4-0 demolition at holders Bayern Munich in the semifinal. Although he was injured for the Copa del Rey final, he helped Madrid win that too, with two goals in the semifinal second leg success at neighbours Atletico Madrid. Both goals in Madrid's 2-0 European Super Cup ensured a hat trick of trophies for Madrid and Ronaldo in 2014.
He has scored 44 goals for club and country thus far, with a stunning 17 coming in his first 12 matches of this season and has found the back of the net in every home league match he has played in this year.
He has scored three or more goals in three of his last four league matches, with one of those hauls seeing him equal the record for the number of La Liga hat tricks with 22. They say the award is not all about goals but Ronaldo's have come at a time when Madrid needed them, in the Champions League and in hauling Los Blancos back from a poor start to this season.
2. Just how far is he ahead of the rest?
At present, quite a distance. His blistering start to the season is such that with 13 league goals from six matches, the Portuguese hot-shot has scored more league goals per game (2.17) so far this season than 91 of 97 teams in Europe's top five leagues. Only Barcelona and Valencia have scored more than Madrid's No. 7 in La Liga. He is currently in the form of his already record-busting career.
CRISTIANO RONALDO - CAREER AWARDS
FIFA Ballon d'Or: 2013
Ballon d'Or: 2008
FIFA World Player of the Year: 2008
UEFA Best Player in Europe Award: 2014
UEFA Club Footballer of the Year: 2008
PFA Players' Player of the Year: 2007, 2008
FWA Footballer of the Year: 2007, 2008
Barclays Player of the Year: 2007, 2008
LFP Most Valuable Player: 2013
European Golden Shoe: 2008, 2011, 2014
Premier League Golden Boot: 2008
Pichichi Trophy: 2011, 2014
If you don't believe me, believe Madrid manager Carlo Ancelotti. The Italian has managed a huge list of world-class players but when he was asked about Ronaldo's chances of winning the Ballon d'Or again this year his response was: "This year, I don't think there's much doubt," before adding: "You can put a bet on it [Ronaldo winning the award]."
This has come despite niggling injuries that saw his appearances wane towards the back end of last season and his form suffer for Portugal's disastrous World Cup campaign. Ronaldo still played a crucial role in helping Madrid secure La Decima last season and a poor World Cup will not be enough to throw his hopes of back-to-back Ballon d'Or awards off track. Lionel Messi's Golden Ball success with Argentina was controversial and even World Cup-winners such as Muller and Manuel Neuer, as well as double-winning Bayern Munich teammate Arjen Robben, fade in comparison with their individual efforts domestically.
3. What's been his standout moment this year and is he now better than the Brazilian Ronaldo?
The moment that sets him apart from the rest is the two-week period from September to October that saw him score 12 goals, including an unprecedented three hat tricks, to drag Madrid on to their feet following a sluggish start to the campaign.
It came after many predicted that his best days were behind him, with reports of a chronic knee injury having an impact. What a response. Ancelotti gave him a fortnight off to recover and it looks like one of the best decisions he has made since arriving in the Spanish capital from Paris. Ronaldo has been on fire ever since and looks better than ever.
Ronaldo Luis Nazario de Lima -- the "original" Ronaldo -- is a Madrid icon and his status is even more impressive given he came from rivals Barcelona via a spell in Italy with Inter Milan. Cristiano surpassed the Brazilian long ago, however, and is about to etch his name into just about every Real Madrid record you can imagine. The pair have both played under Ancelotti, the Brazilian at AC Milan, yet Madrid's coach said Cristiano is the best player he has ever coached.
Phil Lythell: Does Costa stand a chance?
Diego Costa had an unfortunate World Cup and up until two months ago, his club form was limited by not being surrounded by genuine Galacticos. Regardless, The Brazilian-born Spanish international has registered numbers good enough to place him in this argument.
1. Why should Costa win the Ballon d'Or?
The problem with individual awards is that they often get watered down into a being a popularity contest. The Balon d'Or should instead highlight the greatest individual contribution in relation to the context of a greater achievement. There is no doubting that Ronaldo and Messi are the most skillful and naturally talented players on the planet, which is why they have shared the past six awards between them. But given that they play for Real Madrid and Barcelona respectively, they are afforded the perfect environment in which to shine.
By contrast, Costa has had to do it the hard way. After several seasons being buffeted around Spanish football on loan before finally being given a chance as Atletico Madrid's centre-forward last season in the wake of Radamel Falcao's departure, he promptly scored 36 goals to lead his unfashionable team to a La Liga title and the final of the Champions League. Had Costa been fully fit for that showpiece, removing the need to be withdrawn after just nine minutes due a recurrence of a hamstring injury, perhaps Atleti would have celebrated the double.
It was reminiscent of Michael Ballack in 2001-02 when he single-handedly led unfancied Bayer Leverkusen to within an inch of the DFB Pokal, Bundesliga and Champions League trophies before dragging an insipid Germany team to the final of the World Cup. Just as Ballack's image might not be quite as sexy as that year's winner Ronaldo, Costa cannot compete with Real Madrid's current pin-up boy. That should not count against him, though, as the Ballon d'Or is not supposed to be a beauty pageant.
2. He had a wretched World Cup -- won't that count against him?
Costa endured a testing time in Brazil, which is unfortunate as more weight is normally given to a player's chances of winning the Ballon d'Or if they have shone brightly in that year's major international tournament. Zinedine Zidane in 1998, Ronaldo in 2002 and Fabio Cannavaro in 2006 all doubled up their World Cup success with the most prestigious individual award. It should, however, be remembered that Messi hardly set the world alight in South Africa 2010 so his recognition at the end of that year was not dependent on his performance in an Argentina shirt.
There are some other caveats regarding Costa's international efforts. Firstly, the striker only made his debut for Spain in March in a team full of ageing stars whose hunger had faded following a period of unprecedented success. The fact that his direct and physical playing style judders horribly with their preferred tiki-taka did not exactly help matters, but the blame for that lies with the manager. Adapting to that situation was hard enough but to try to impact on a World Cup hosted in the country of his birth while playing for his adopted nation and all the pressure that comes with that scenario would have taxed even the greatest to have ever played the game.
Additionally, Costa arrived in Brazil in far from his optimal condition. He had not fully recovered from the hamstring injury that had hampered the closing stages of his domestic campaign and the world's biggest stage is no place to be searching for fitness.
3. Name a better striker in world football. Or is there one?
There are strikers that score preposterous goals and catch the eye like Zlatan Ibrahimovic. There are others who are constantly on the move, pressurising defences like Luis Suarez. And then there are those that drift into pockets of space unnoticed and then find the back of the net before defenders have any time to register what is happening like Sergio Aguero. But there is nobody out there who is quite so ruthless as Costa.
In La Liga last season, he struck 27 times from just 108 efforts on goal. Compare that with El Pichichi-winner Ronaldo's 31 from 216 shots and Messi, who found the net 28 times from 160 shots. To broaden the argument, the Premier League's main marksmen, Suarez, needed 181 efforts to score his 31 goals while Ibrahimovic took 161 shots in Ligue 1 last season and netted 26 times. It meant that on average, Costa scored from every four shots he took while his closest challenger, Suarez, required 5.8 attempts before beating the goalkeeper -- almost 50 percent more than the Spain international. Factor in his nine goals for Chelsea from 22 efforts and his average improves even more.
Add those ludicrous statistics to his selfless all-around game that sees him chase lost causes, close down defenders and hold the ball up magnificently for his teammates and there is virtually no flaw in Costa's game. He is the complete modern striker and would be a thoroughly deserving winner of the Ballon d'Or.
Musa Okwonga: What about Di Maria for the Ballon d'Or?
Angel Di Maria, whom Manchester United signed this summer for just under 60 million pounds, is someone whose role has often been overshadowed by his more marketable teammates in recent years. Yet, as this year's Ballon d'Or award approaches, he might well be a worthy recipient.
1. People talk about Messi vs. Ronaldo, but shouldn't Di Maria have a say in this?
Ronaldo and Messi have produced several consecutive seasons of scarcely plausible brilliance and they have been devastating both in domestic and global competition. Ronaldo scored 17 goals in 11 UEFA Champions League matches, while Messi dragged his team through to the World Cup final. The crucial element in both those journeys, though, was Di Maria, whose absence in the World Cup final was very possibly decisive and whose tireless excellence in the final of the Champions League finally wore down Atletico Madrid.
It was Gareth Bale who scored the go-ahead goal in extra time, but it was Di Maria's thrilling slalom down the left wing that provided the assist. Di Maria, like Wesley Sneijder in 2010, maintained an extraordinary standard across club, continental and international level. Also like Sneijder, his contribution to these two elite teams risks going unnoticed due to the greater goal scoring feats of Messi.
Following the World Cup, Di Maria continued his outstanding form, vengefully carving new world champions Germany apart in a friendly -- scoring one and creating three in a 4-2 win -- before becoming an instant hero at Old Trafford, with a stream of spectacular goals and assists. If this season's Ballon d'Or is to go to the world's most pivotal player, then Di Maria is in with a compelling shout.
2. He's the best player in the Premier League though, right?
There is currently a hair's breadth in terms of performances, between Di Maria, Costa and Cesc Fabregas. Remarkably, despite losses to Swansea City and Leicester City and a draw at Burnley, Manchester United are still fourth in the league, and that is due in major part to Di Maria.
With him on the field, United are a team transformed and it is probably fair to say that no other top-four contender places so much reliance on one player. He has immediately become indispensable to his team's cause. His price tag is now scarcely mentioned though just weeks ago it was considered to be wildly excessive.
3. What would be a good season for Di Maria on a personal level?
It seems strange to talk of a good season for Di Maria on a personal level, given that he is someone who consistently places the team first -- yet he looks well on course to score 10 goals and provide 20 assists. That would be one mark of a good season, if not an excellent one. Another milestone would be if he can play a major role for his team in the FA Cup, a tournament in whose Spanish edition he enjoyed such success with Real Madrid. Finally, the most important thing would be if he could help his team to secure a Champions League place, so that he can once again display his talents on the stage that they deserve.
It's that time of the year again -- the footballing world will spend countless hours debating who has been the best player on the planet, totally ignoring the fact that football is a team game in which individuals can only shine if they are surrounded by many other talented, hard-working, often unselfish teammates.
Francesc Tomas: Is Messi still the world's best?
Despite his clear intentions to always put the team's interests first, Messi will certainly be a contender to add his fifth Ballon d'Or to the Camp Nou museum. Sure, he hasn't necessarily had his best year compared with his supernatural former self, but the level shown at both and club and international level definitely stands head and shoulders above the rest.
1. Why does Messi deserve the Ballon d'Or over anyone else in this group?
Last season was a disappointment under Gerardo Martino, but if we just focus on Messi's performances for a minute it is obvious the year would have been horrific if it wasn't for the Argentinean captain's contribution: Others can only dream of scoring 41 valuable goals in just 46 appearances despite not feeling totally comfortable within the manager's system or ever reaching full fitness.
Considering his unparalleled influence for both his club and national team, Messi deserves to win the Golden Ball for a record fifth time. Obviously, he failed to lift any silverware but if we consider the fact that he was one goal short of winning La Liga and reached the World Cup final, it is clear that his influence was decisive once again.
LIONEL MESSI - CAREER AWARDS
FIFA Ballon d'Or: 2010, 2011, 2012
Ballon d'Or: 2009
FIFA World Player of the Year: 2009
FIFA World Cup Golden Ball: 2014
European Golden Shoe: 2010, 2012, 2013
UEFA Best Player in Europe Award: 2011
UEFA Club Footballer of the Year: 2009
LFP Best Player: 2009, 2010, 2011, 2012, 2013
La Liga Foreign Player of the Year: 2007, 2009, 2010
Pichichi Trophy: 2010, 2012, 2013
2. By his standards, he has dipped. Have we seen the best of him?
Messi's career can already be considered as legendary, but at 27, the most encouraging factor is knowing that he has plenty of room for improvement as years go on. Messi's best years may still be ahead. While speed and strength won't last forever, his innate talent and jaw-dropping vision will help him evolve his game as the years go on.
The arrival of Luis Enrique, together with having lifted the huge weight of carrying his nation on his shoulders in the biggest tournament in football, has revitalised Messi's spirit. He has returned to being the deadly striker the world has come to admire and love.
Even more impressively, he has adopted a much more generous approach and is becoming more influential as a result; not only looking to finish plays by dribbling a countless amount of opponents but also creating spaces, then assisting other world-class teammates such as Neymar or Munir El Haddadi.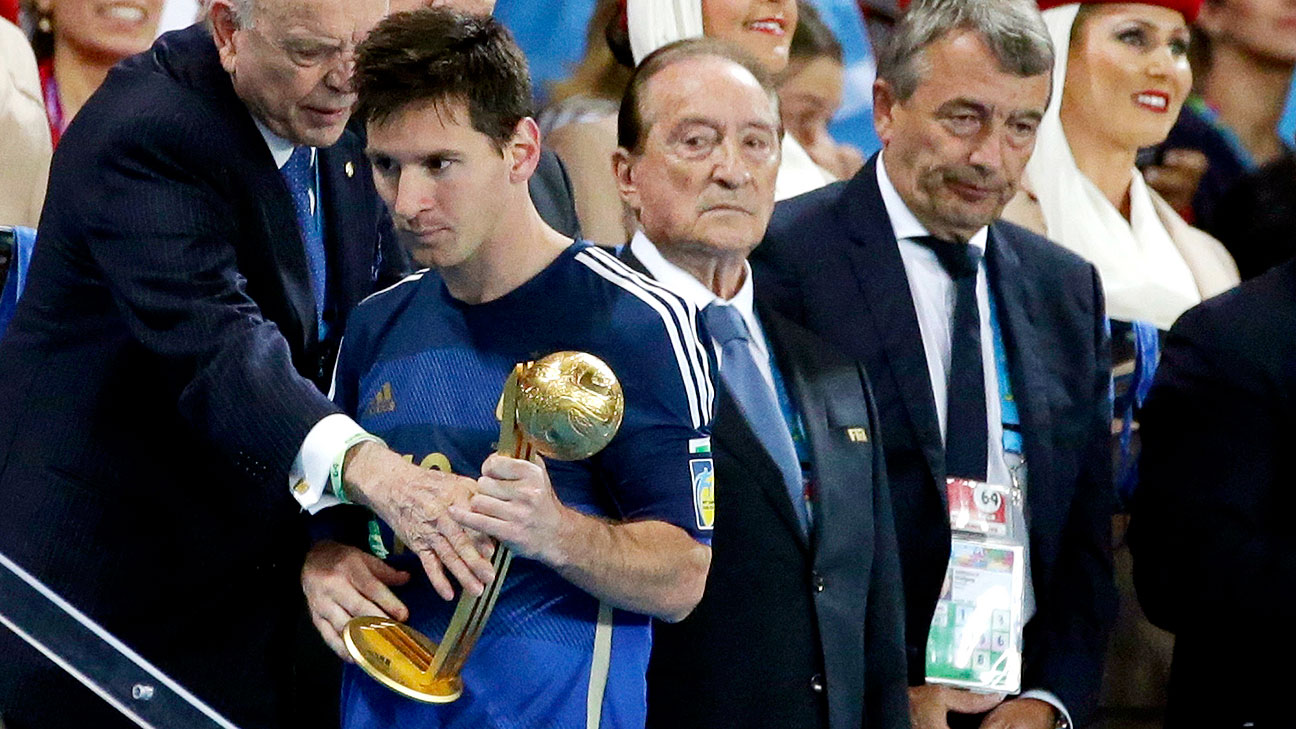 3. What do you say to those who claim he needs to perform for Argentina more to truly cement his legacy?
After years of huge anticipation, Messi had the chance to finally prove his worth at international level during the summer. While he would have obviously preferred to lift the World Cup trophy in front a crowd of hostile Brazilians, the diminutive forward was named the tournament's best player after leading his beloved Argentina to the final.
Doubters will argue that the No.10 is yet to reach Diego Maradona's degree of adoration back home in Argentina due to his failure to take his nation to the title. However, the task was virtually impossible given the fact that his main attacking partners were either injured or not playing at world-class level. Football is a team game and unfortunately, Argentina were missing the required degree of talent upfront in order to make their dreams come true.
Argentina have the most talented player on the planet at their disposal and based on his continued commitment, natural talent and stellar performances, he fully deserves the growing recognition and adoration he gets from his adoring fan-base back home.
Mark Lovell: Why does Thomas Muller belong in this conversation?
Before delving further into my Muller musings, please do yourself a favour and read Barney Ronay of the Guardian on how the German operates as an attacking force. Ronay eloquently and brilliantly describes the finer arts of Muller's considerable talents. Those images of a "junior doctor on a fun run" stayed with me all throughout the World Cup as Muller quietly went about his work to devastating effect.
1. Does Muller get the recognition he deserves and if not, why not?
Short answer, no. Muller fired a hat trick in Germany's opening 4-0 rout of Portugal to set the standard for the World Cup. Yet for many in the media, that day was all about Ronaldo's inept display rather than Muller's clinical finishing. CR7 is all box-office, hair gel and image, while with Muller that junior doctor image, loping somewhat awkwardly about his business, simply refuses to go away. There are times with his socks slipping down around his ankles that Muller does not resemble a modern day professional footballer.
However, on the biggest stage of them all in Brazil last summer, Muller was arguably the outstanding outfield player as Die Mannschaft romped all the way to the World Cup title. Messi and Argentina were, of course, dispatched in the final. Muller was top goalscorer with five goals -- second only behind James Rodriguez's six in the overall tournament standings. Yet to much bemusement and collective head scratching, it was Messi who lifted the player of the tournament award. Go figure.
2. Tell us why he should be considered
Bearing in mind his Brazil bonanza, the 25-year-old has notched 10 goals in 12 World Cup games. It is a given that he will break Miroslav Klose's World Cup scoring record of 16 goals, either in 2018 or 2022. The Bavarian burst on to the scene in the 2010 World Cup in South Africa, winning the Golden Boot with five goals and three assists. Then we add his form for Bayern Munich into the equation. Muller has just topped a century of goals at Bayern, his only professional team, with 91 assists in 266 games. He was an integral part of Bayern's 2013 historic treble winning side. Muller is the real deal, especially in the big games, with a goal in a Champions League final to prove it. Despite Pep Guardiola's frenzied rotation of his troops in his double-winning debut season, Muller actually made more league appearances (31) than anybody else in Bayern's star-studded squad.
3. Does he need this award more than the other four?
Muller does not need this award at all. He does not seek the limelight and have an overtly high-profile existence. While other German stars were basking in post-World Cup glory sunning themselves on exclusive private beaches and yachts all around Europe, Muller and his wife, an equestrian star of some repute, were content to chill out at home in Bavaria.
In my opinion, Muller will not take a blind bit of notice of this award. Isn't it a foregone conclusion anyway? At best, he will likely come third behind CR7 and Mr. Messi and can be justifiably proud of this achievement. He will revel in the swanky ceremony, rubbing shoulders with his contemporaries, enjoy the moment and then slip quietly back into his Bavarian background.
He's unlike his club teammate Franck Ribery, who naively thought he had a chance of outshining the aforementioned last time around. You name it the Frenchman had won it -- Champions League, Bundesliga, German Cup, UEFA Super Cup, World Club Cup, Bavarian Tiddlywinks Cup, all of it. Still the French star came a distant third and was rather peeved, to put it mildly.
He suggested that voting deadlines had even been adjusted to aid Ronaldo's cause. Ribery ranted that he had won five trophies and Ronaldo had come up empty handed. Sour grapes of course, but he did have a point. Expect none of these diva antics from the quick-witted and modest Muller. He will just be glad to be in the final reckoning and have stood on the same stage as the elite glitterati of the world game.
Rock on Tommy.