Three Points: Everton vs. Chelsea
A trio of thoughts from Chelsea's wild 6-3 win over Chelsea at Goodison Park on Saturday.
1. An instant classic
First off, this was the kind of game that requires 10 points. Attempting to distill the breathtaking, beautiful chaos of the second half at Goodison Park is akin to telling someone the plot of Lord of the Rings in a single line. You could do it, sure, but why would you choose to?

Everton

Chelsea
Game Details
As it panned out, Chelsea deserved their victory. The raucous Everton crowd might say otherwise, such was the scrappy nature of several of the visitors' goals, but their commitment and focus after a string of seemingly unstoppable Toffees comebacks was admirable in the extreme.
Everton's never-say-die attitude has been a hallmark for quite some time, but the Roberto Martinez era embodies that comeback spirit quite unlike any previous incarnation. Last season, they made a habit of rousing fight-backs. Two goals after the 83rd minute to defeat West Ham 3-2 at Upton Park. Two goals in the final 15 minutes to beat Aston Villa 2-1 at Villa Park. The 3-3 Merseyside derby in which Romelu Lukaku's brace nearly earned the Toffees all three points.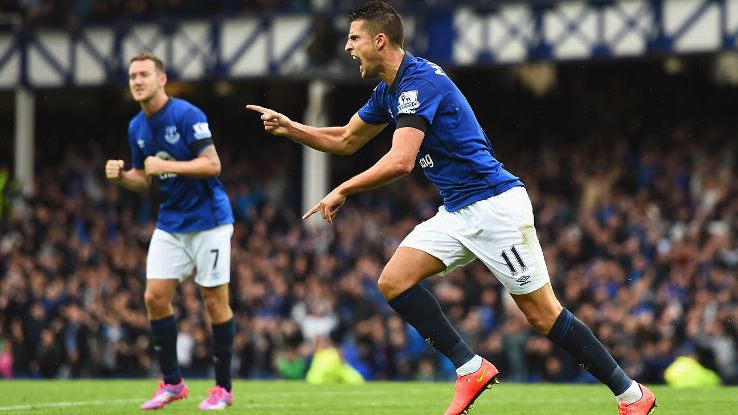 On Saturday at Goodison Park, they did it again, pushing their high-class, high-octane visitors to the limit before Jose Mourinho's side pulled away late. Martinez will feel aggrieved but on early evidence this season, few teams can match the Blues punch for punch. Chelsea leads of 2-0 -- inside the opening three minutes, no less -- 3-1 and 4-2 were pegged back each time but Martinez's side just couldn't get any closer.
It was a game of Premier League chicken; Everton blinked first.
Each of the goals was admirable in its own way:
0-1: Diego Costa after just 35 seconds, capping a simple passing move up the middle.
0-2: Ivanovic profited from a generous linesman to sweep home a second barely two minutes later.
1-2: Kevin Mirallas' superb glancing header from Seamus Coleman's cross left Thibaut Courtois helpless.
1-3: Coleman turned villain, deflecting Eden Hazard's low, left-flank cross into his own net in the second half.
2-3: Quick passing found Steven Naismith peeling off his marker's shoulder to slot low beyond an advancing Courtois.
2-4: Nemanja Matic's heavily deflected effort from the edge of the box left Tim Howard inert.
3-4: Everton set-piece is nodded home by Samuel Eto'o in a crowded penalty area.
3-5: Ramires' toe poke from a narrow angle was enough to beat Howard and sneak in at the back post.
3-6: Sub Muhamed Besic's slip -- on his debut, no less -- allowed Costa a clean run on goal. The Spaniard held his nerve to slip wide of Howard and sidefoot into a largely empty net.
Oh and five of those goals, from Coleman's unlucky deflection to Ramires' blast, came in just 11 minutes and 15 seconds of action. Thank you, soccer deities.
It was the kind of game fans will never forget and those involved, particularly the managers, will never wish to remember. Such defensive laxity won't be tolerated in the long term from Martinez or Mourinho, though the latter won't mind given that the stirring result keeps Chelsea perfect on the season and firmly in first place. After Manchester City's slip at home to Stoke and United's continued malaise, the Blues surely remain the presumptive favorites for the league title.
2. Diego Costa's just fine
Much was scribbled in the preseason about the combative Spanish/Brazilian striker since completing his worst-kept-secret of a move to Stamford Bridge. His feisty temperament and dead-eyed calm around goal would be undeniable assets to a team that couldn't coax goals from anyone who played up front.
So far, the hypothesis has been proven: with four goals in his first three Premier League games -- for comparison, it took the man he replaced, Fernando Torres, 25 such fixtures to reach three -- he clearly fits just fine at this level. Not that there was any doubt.
It doesn't matter that two of his first three opponents in the English top flight were newly promoted; his movement, power and irritant's disposition are perfect for this league. He got under his markers' skins early and often, eliciting strong words from Coleman, Howard and any other Everton player with whom he squared up.
That side to his game -- the willingness to play the villain -- is important in the psychological slog that is the Prem. With opponents consumed with raw emotion at his antics, their focus slips enough for others to profit. Another summer signing, Cesc Fabregas, dictated play neatly in midfield when given the chance, not for the first time in the season's early going. Though Chelsea often looked overwhelmed and taxed to the fullest as Everton rallied time and time again in the second half -- at one stage, the Toffees commanded 79 percent of second-half possession in search of a way back into the match -- their nerve held enough for their attackers to complete the win.
No matter how the league ends this May, we might well look at this early challenge as a touchstone for what's to come. And Costa was instrumental in all of it.
3. Better officials, please
It seems especially grouchy to gripe about the referees and linesmen in a game of such abundant wonder but had this game ended with a more cagey scoreline, it is their shortcomings on which we'd be rightfully focused.
After just nine minutes, Howard clearly, obviously, blatantly scampered outside his area to collect a through-ball in his gloves, an automatic red card if caught. It wasn't and he remained between the posts -- one wonders if the string of goals he conceded in the second half is some kind of cosmic, poetic justice.
Ivanovic appeared fractionally off when he spun beyond Phil Jagielka to hook home Chelsea's second goal, though it was a more forgiving decision than that of Howard's handball. Costa was onside but flagged off when he slipped past Sylvain Distin to score what could have been Chelsea's third of the first half; as it turned out, he hit the post.
There were other marginal calls here and there -- Distin was correctly flagged after his headed finish on 16 minutes, amazingly -- but the late blitz of scoring rendered all of it somewhat, and mercifully, moot.
James Tyler is a senior editor for ESPN FC. He can be found on Twitter @JamesTylerESPN.