Top Tenner: Transfer curses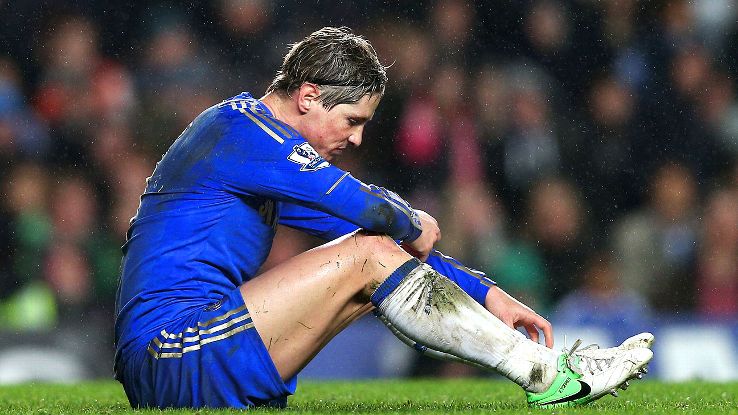 Angel di Maria has become the most expensive player ever bought by a British club, but that isn't a guarantee of success. Nick Miller looks at 10 who have broken the transfer record but not proved outstanding successes.
10. Stan Collymore, Nottingham Forest to Liverpool, 1995: 8.5 million pounds
In truth, Stan Collymore was not a complete disaster at Liverpool. He scored 28 goals in two seasons, including the infamous winner against Newcastle near the end of the 1995-96 season and helped his side to an FA Cup final. However, this was a Liverpool side desperate for success, gambling on one of the brightest natural talents of his generation, the idea to replace the aging Ian Rush and help the youngsters who had established themselves in the first team wrest the title back from Manchester United. So in this respect the move was a failure. Collymore's, shall we say, "problematic" character was one of the primary reasons for his sale to Aston Villa a couple of years later for 7 million pounds, so Liverpool didn't even take much of a financial hit, but when one considers that his purchase broke the transfer record set a couple of weeks earlier by Dennis Bergkamp, it's hard to class it as anything other than a failure.
9. Bob Kelly, Burnley to Sunderland, 1925: 6,550 pounds
Back in the 1920s, Sunderland were the big spenders of English football. In 1922 they broke the British transfer record for the magnificently named Warney Cresswell, a fullback who was a big success at Roker Park, the record standing until they surpassed it with a deal for Burnley inside forward Bob Kelly a few years later. Kelly's time at the club was rather less fruitful, scoring a relatively paltry 11 goals over two seasons, before being punted on to Huddersfield after a couple of seasons. Interesting (if you like this sort of thing) fact about Kelly: He and David Jack (who Arsenal paid Bolton 10,890 pounds for in 1930) are the only men to be transferred for world-record fees while in their 30s.
8. David Mills, Middlesbrough to West Brom, 1979: 516,000 pounds
Of course, it's usually unfair to judge footballers too harshly on the fees other people decide they are worth. And indeed, the failure of many big moves is rarely the result of deliberate sabotage on the part of the player in question, although an objective assessment of Diego Maradona's spell at Barcelona might rubbish that theory. David Mills is perhaps the perfect example, a forward who excelled for Middlesbrough in the mid-1970s, so much so that Ron Atkinson was persuaded to break the British transfer record and pay 516,000 pounds to bring him to West Brom. However, injuries and a variety of other problems limited Mills to just 59 appearances in three years, in which time he scored only six times, eventually moving to Newcastle for just 30,000 pounds.
7. Bryn Jones, Wolves to Arsenal, 1938: 14,000 pounds
Modern football undoubtedly has many problems, but what's interesting about a large amount of the complaints you'll find today is that they're not new. Take transfer fees, for example. While we have perhaps become numb to the idea of paying many, many millions for a player, there will still be some who are understandably uncomfortable with the idea of paying 60 million pounds for a footballer, just as there were back in 1938, when Herbert Chapman paid 14,000 pounds to bring Welsh inside forward Bryn Jones to Arsenal as a replacement for the retired Alex James. The fee caused such a scandal that questions about its suitability were asked in the House of Commons, but more relevant to Arsenal fans was how the then-world-record signing played on the pitch, and the answer to that was "not terribly well." While Jones scored in his debut, he notched only another three goals in his opening season at Highbury, and just seven in 71 appearances for Arsenal, although the intervention of World War II would prevent Jones from having an extended chance to show his worth.
6. Andriy Shevchenko, AC Milan to Chelsea, 2006: 30.8 million pounds
When Chelsea, who had just won two Premier League titles in a row, spent 30.8 million pounds on Andriy Shevchenko in 2006, it hardly seemed fair. The best team in the country had just bought perhaps the best striker in the world at that time. Shevchenko had just scored 83 goals in his previous three seasons with Milan, in which time he had of course helped them to a Serie A title and a Champions League. It should've been perfect, but amid suggestions that manager Jose Mourinho didn't want Shevchenko and owner Roman Abramovich had fully taken over Chelsea's transfer policy, the Ukrainian didn't fit in and couldn't produce anything close to the form that made him so formidable in Italy. He scored just four league goals in his first season at Stamford Bridge, they lost out to Manchester United in the league and he was eventually ushered back on loan to Milan. Football is full of theories and plans, but sometimes even the best laid go wrong.
5. Andy Carroll, Newcastle to Liverpool, 2011: 35 million pounds
In decades to come, social historians will flick through the record books, find the progression of the British transfer record and say, "What? Andy Carroll? The big chap who looks like a tree and spent two-thirds of his time injured? They paid how much for him?" Of course, Carroll technically only held the record for a matter of minutes, after the deal on which his price was based, Fernando Torres' sale to Chelsea, was concluded. The story goes that Liverpool wanted to make a 15 million pound profit from buying Carroll and selling Torres, so as Newcastle put the former's price up, so the latter's increased as well. This has of course meant that some fans of a slightly wild persuasion will tell you that they basically didn't pay anything for Carroll, so therefore he shouldn't be judged too harshly, but it doesn't matter how they got the money -- they still paid a British record fee for Carroll. The big striker would of course bumble through a couple of years at Anfield, scoring not too many goals and generally looking out of his depth, before leaving to park himself on the West Ham treatment table.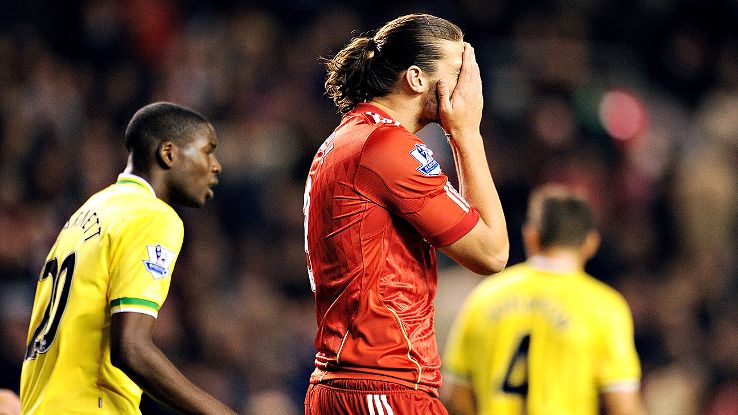 4. Juan Sebastian Veron, Lazio to Man United, 2001: 28.1 million pounds
"Juan Veron was capable of exceptional football and was talented. But, at times, he found the Premiership a bit difficult," said Sir Alex Ferguson after unloading the leggy Argentinean to Chelsea in 2003. "He was a European player and that was where we got our best form from him." Something of a turnaround from his contention that a collection of the press were all "idiots -- he's a great player" when Veron's form was questioned while still at Old Trafford. Veron cost Manchester United a hefty 28.1 million pounds back in 2001, but from the start questions were raised about where he would fit in United's side, with assorted established players shunted around to accommodate him. United had bought an undeniably brilliant player, but one who wasn't right for them -- their fans would be forgiven for fearing a similar problem with the arrival of Di Maria.
3. Steve Daley, Wolves to Manchester City, 1979: 1,437,500 pounds
Transfer fees have of course ballooned in the last 15 years or so, but in terms of proportional growth, it's tough to beat the late 1970s. In February 1979 Nottingham Forest's purchase of Trevor Francis for 1.1 million pounds nearly doubled the previous record, set by David Mills' move just a month earlier. But in September of that year Manchester City seemed to lose their thread entirely, splashing nearly half again on Steve Daley. By common consensus, Daley was a perfectly solid but unspectacular player, a midfielder who had only a handful of England 'B' caps to his name, but that didn't stop City chairman Peter Swales from spending nearly 1.5 million pounds on his man, when a particularly mischievous rumour claimed Malcolm Allison wanted Daley but only for around 400,000 pounds. Even if Daley had cost that initial amount he still would've been a failure, barely making an impact and departing Maine Road just under two years later for the Seattle Sounders in the United States.
2. Robinho, Real Madrid to Manchester City, 2008: 32 million pounds
Transfer deadline day has now of course become an "event," a concoction of drama for the TV cameras as shivering reporters stand outside Stoke's training ground hoping not to be swallowed by the phalanx of boisterous schoolboys gathering behind them. It will take some going to beat deadline day in 2008, though, which was the day that Sheikh Mansour appeared as if from nowhere to buy Manchester City, and thus required a rather large transfer splash to announce himself. Hijacking Manchester United's move for Dimitar Berbatov looked on the cards at one stage, while Kaka was mentioned and the club made bids for David Villa and Mario Gomez. Robinho was the man they got eventually, after the Brazilian had been agitating for a move to Chelsea for most of that summer, and indeed this was something clearly on his mind during his first interview as a City player. "On the last day, Chelsea made a great proposal and I accepted," he said, before a reporter interjected with: "You mean Manchester, right?" "Yeah, Manchester, sorry!" came the bashful reply. Things wouldn't get much better for Robinho, despite scoring in his first game, as he would look increasingly uninterested with life at Eastlands, eventually sent on loan to his first club Santos before Milan bought him in 2010.
1. Fernando Torres, Liverpool to Chelsea, 2011: 50 million pounds
"It's certainly a phenomenon in all walks of life. At one point you've got it, and then you lose it. All walks of life." The theory of Sick Boy, from the movie "Trainspotting," was rather simplistic, as Mark Renton pointed out, but it certainly goes some way to explaining, in a nutshell, what happened to Fernando Torres. In truth the decline began before his record move to Chelsea, but at the time it merely looked like a blip, a period of bad form that couldn't wipe out the previous three seasons of goals, goals and more goals. After the transfer the blip became more serious; he registered his first goal after a whopping 903 minutes, and even then he was almost tackled by a puddle as he eventually notched against West Ham, and wouldn't score again that season. In subsequent seasons he hasn't broken double figures in the league, and despite a more than respectable all competitions total of 22 in 2012-13, he has often barely looked like a footballer, for all the world resembling a golfer with the yips, desperately wanting to be able to perform as he once could, his body sadly unwilling.
Nick Miller is a writer for ESPN FC, covering Premier League and European football. Follow him on Twitter @NickMiller79.