Adu looks to restart in Serbia
JAGODINA, Serbia -- Milos Zivanovic laughs as he takes another sip of the thick, Turkish-style coffee that sustains you through the most sapping of summer days in central Serbia.
"As soon as Freddy can speak Serbian, I'm going to thank him for everything," says the lifelong FK Jagodina fan. "Everything. Every sleepless night, every trophy, every SuperLiga title and every Champions League. He has already won it all with Jagodina."
Zivanovic is referring to his experiences with the famous computer game "Football Manager," in which Freddy Adu became a superstar in waiting while barely needing to kick a football in anger. Millions share Zivanovic's appreciation but far fewer can express it in person, as he now will be able to.
Nearly three weeks have passed since the rumours that swept town turned out to be true: Adu signed a contract here, throwing in his lot with FK Jagodina, the little-known club that had offered to put him back on his feet after eight months in the wilderness since leaving Brazilian side Bahia. A team and league that barely registered in the popular consciousness have now become talking points after taking on one of football's most perplexing cases.
Ask too many questions in Jagodina and you get rumbled pretty quickly. "I could tell you were a journalist immediately," says the lady in the town's smart but sparse tourist office around the corner from the football stadium, explaining her previous reticence.
There won't be any up-to-date facts and figures offered up, not without the approval of her absent superiors. Jagodina, like Serbia as a whole, is concerned about its image and wary of negative press -- with the country in negotiations to secure a prized membership in the European Union.
The essence, however, is this: Jagodina, situated 85 miles southeast of Belgrade, is a working town of about 40,000 inhabitants and, in the tourist officer's words, is "average in everything for Serbia -- size, employment, industry, everything".
Except for football, these days. FK Jagodina's rise seems to be one of the more sustainable success stories in a Serbian league that, in its relatively short life, has been littered with instances of thwarted ambition, financial overreaching and (most often) plain mismanagement.
The club never really registered in the labyrinthine Yugoslavia setup and made it into Serbia's top flight only in 2008 after three successive promotions through the provincial divisions.
Progress remained rapid: Jagodina have finished fourth, fourth and third in the last three SuperLiga seasons, and in 2013 they achieved the crowning glory that nobody in the town's bars or cafes will allow to get past you when they beat Vojvodina 1-0 in the final of the Serbian Cup.
They have three unsuccessful Europa League qualifying round tilts to their name, the most recent of which was last month when they were edged out by Romanian side CFR Cluj 1-0 on aggregate. In a domestic league that is dominated by Belgrade behemoths Partizan and Red Star, Jagodina have crept to the top of the undercard.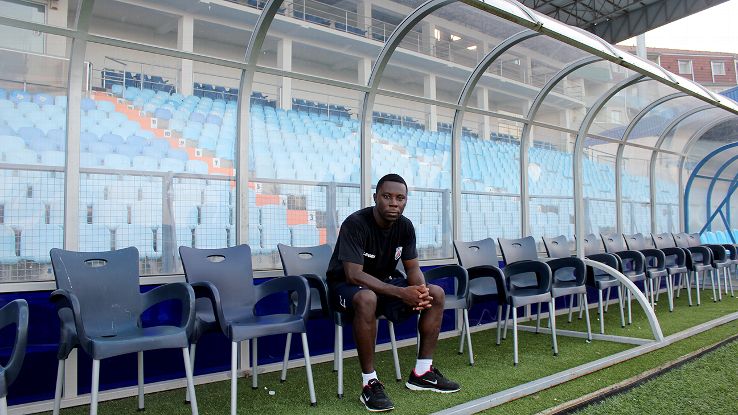 None of which explains why Adu, and why now? Why, on a baking day in what is essentially a crossroads on Serbia's north-south highway, is a player who was tipped for world domination a decade ago jogging around a modest, light blue-seated stadium?
His new manager, Mladen Dodic, an affable and hospitable man, sets the scene while Adu and his teammates prepare to train. "We didn't ask for Freddy to come here -- we had no idea it would be possible," he says.
"These things always start with the player's own manager. Freddy's offered him to us, and we were immediately very interested. We thought it could work for both of us, helping him after some bad years [and] also benefiting our team and club.
"Everybody expected Freddy to have a great career when he was young," Dodic continues. "He has played for some big clubs [including Benfica and Monaco] but has not played a lot lately. We negotiated with him and everything was straightforward. Our main mission is that we and Freddy can assist each other."
As it happens, Jagodina were advantaged by the fact that a Serbian colleague of Adu's agent had been following his career for years -- and was present at Adu's second-ever professional match for DC United which, remarkable though it seems given that he is just 25, was back in 2004.
The potential for contact was there. If Adu wanted to resurrect his career away from the radar and the high-profile glares that did little for him in Portugal, Brazil and the rest, there was a home for him in Serbia.
The club knew there would be hurdles to overcome, one of which was that of perception. Racism has been a problem in Serbian football crowds for a number of years, and the situation most recently came to worldwide attention in 2012 when the country received several sanctions for abuse suffered by England players in an under-21 match in the town of Krusevac.
The issue is not limited to international games, and at certainly clubs and stadia it rears its head more readily than at others. FK Jagodina prides itself on not being one of those, but its staff were aware they needed to impress upon the Ghanaian-born Adu that he would feel comfortable here.
"Freddy didn't know a lot about Serbian football when he got here," says Dodic. "On top of that, what he did know was probably quite negative. But he came here as our guest for the match with Cluj and his mind was changed -- he had a feel for the club and was keen to come."
Zivanovic speaks similarly. "It made me angry, because Freddy had heard a lot of bad things about Serbia when he came here," he says.
"There is a lot of bad publicity in England and America. So I think Freddy was afraid when he came here, and you would expect that. As soon he spent time here, he seemed pleased and surprised; he said how happy he was with the people, the team and staff, and the energy of the city."
Adu himself hasn't gone on record with the media just yet, though. He is doing as he intended: bedding in, getting his head down, hoping to get a run of games under his belt before courting too much attention.
But he seems at ease. He can walk to training in three minutes from the apartment that the club has arranged for him next to the stadium; he is wide-eyed, open, joining in with jokes, exchanging fist bumps with teammates and helping the fitness coach -- with whom he is working to shrug off a slight hamstring strain -- improve his broken English.
There is already an impression that Adu feels part of what is happening here and is a little taken aback by the club's warmth. There is also a sense that his new colleagues are genuinely excited to have him on board. He understands the boost he has given them; he understands, too, that this is not a time for proclamations of intent.
They will hopefully come from his feet, in time. And maybe that will help to fill the stands. Apart from Red Star and Partizan, which command attendance of 20,000 or more, few people watch Serbian league matches -- even in Jagodina, where attendance is usually in the low thousands unless one of the big two are in town. Just 1,500 watched Jagodina's opening game of the season, a 1-1 draw at home to Mladost Lucani on Saturday.
There is little culture of supporting one's local team, most of which were barely relevant in Yugoslavia when each of the federation's republics had a couple of giants to rally around. Zivanovic, one of about 50 FK Jagodina fans who follow the team both home and away, wonders whether Adu's arrival might signal a change.
"I hope we'll see a few more spectators at the stadium now, because people want to see Freddy in person and not in a video game," he says. "Maybe people from all over Serbia -- Belgrade, Nis, Novi Sad, Subotica -- will want to come here, because Freddy has a lot of fans in our country. Thank God for 'Football Manager'!
"But I must say that publicity is not the only thing. He'll also help the team. I have watched him in five training sessions so far and he looks just as good in the flesh. With a player of his standing, I am sure everything will be OK. He can shoot, he can cross, he can pass, and from what I've seen I think he will be one of the best three players in the league."
There is a little more circumspection from Dodic. The manager is happy to bide his time before integrating Adu, who has not played a competitive game since 2013, fully into a side that is adapting to the sales of top scorer Aleksandar Pesic to Toulouse and -- imminently, if speculation is to be believed -- defender Aleksandar Filipovic to Fulham.
"It will take time to prepare Freddy fully, to have him at his best," says Dodic. "He needs to get into the rhythm here and be comfortable with the football, the team, the language, the weather, everything. We will ease him in, and we have talked about where. Freddy and I agree that he is at his best playing as a second striker, so that is what we will work on."
In the meantime, Jagodina will keep on as it always has. Little changes here, and the occasional gust of wind from the direction of the local "Jagodinska" brewery reminds you that football players are not all that the town produces well.
Bright young people in Jagodina generally want to get out, to hit that road to Belgrade, to test themselves in a city with more opportunities, although too often their country's fragile economy stifles those dreams and makes it easier to wait and wonder than to initiate.
Perhaps the presence of a global name, even one whose reputation has faded in recent times, will help to raise things above the national mean. Maybe it will also provide enough genuine footballing curiosity to start improving the wider image of Serbia's domestic game. And perhaps all parties will, indeed, help to lift each other up.
Adu is in line to make his FK Jagodina debut in Saturday's away match vs. former European Cup winners Red Star Belgrade, and the parallels between famous names who have fallen upon hard times are almost too easy to make.
A goal for Adu at the feared Marakana, in front of the size of crowd he expected to be playing to every week by now, would be just the slightest of tangible hints to confirm that the old feeling might just be coming back.
Nick Ames is a football journalist who writes for ESPN FC on a range of topics. Twitter: @NickAmes82.