History not on Pochettino's side under Levy
Mauricio Pochettino is the latest candidate to try and satisfy the demands of Tottenham Hotspur chairman Daniel Levy. Pochettino has been handed a five-year contract, which could be seen as an attempt to defuse the theory that he has to deliver Champions League football in his debut season at White Hart Lane. However, as history has shown, Spurs bosses do not last long under Levy if success is not forthcoming.
Look at Tim Sherwood, who replaced Andre Villas-Boas in December. He may have been given the chance to be Levy's seventh permanent Spurs boss, but confidence was hardly high that the novice head coach would see out his 18-month contract, and so it proved. The rumours that Sherwood was, in effect, a caretaker Tottenham boss -- or filling the role of supply teacher, as he so aptly put it -- started the moment the club announced he would be in charge until the summer of 2015, with the confirmation from Louis van Gaal last January that he held talks over the Spurs job undermining the authority of Sherwood from the off.
Yet when Levy devised his umpteenth plan to propel Tottenham from nearly men into genuine and consistent contenders for a top-four finish, it is unlikely that the name of Pochettino was at the top of his wanted list. Van Gaal's arrival at Tottenham could have signalled a huge statement of intent from the north London club, with the status of the coach who eventually claimed the keys of power at Manchester United seemingly just what Levy wanted in order to boost his club's credibility as a genuine giant of the English game. Not for the first time, a bigger rival came along and ruined his ambitious plan.
The timing of Tottenham's move for Pochettino gives some credence to newspaper reports last week that Levy was waiting to assess the possible availability of Real Madrid boss Carlo Ancelotti before rubber-stamping his latest change of direction, with the respected Italian coach reported to have been facing an uncertain future if his side had lost the Champions League final.
Ancelotti's success in claiming La Decima with Real Madrid on Saturday means his job security is guaranteed for another year at least, with the fantasy of luring U.S. coach Jurgen Klinsmann from his current post and back to his former club Tottenham another romantic idea floated in recent months. Klinsmann's cordial relationship with the White Hart Lane chairman and his hero status among Spurs fans following his two spells as a player at the club would have made that a popular and high profile appointment, yet that was seemingly never an option for either party.
Ajax coach Frank de Boer may have dented his chances of landing the Spurs job when he spoke openly about what he claimed was an approach by Tottenham last month, with Napoli boss Rafael Benitez, ex-Swansea coach Michael Laudrup and sacked Manchester United manager David Moyes also mentioned as possible contenders.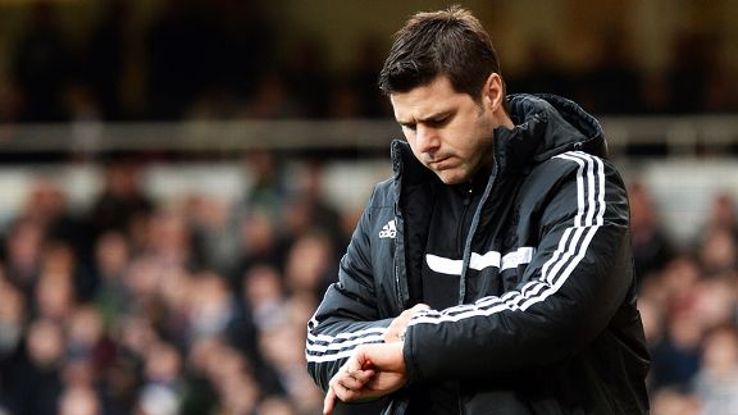 In the end, Levy has opted for Pochettino, with the pressure on to see if his latest appointment is any more successful than those who have gone before him. Ask senior Southampton players about Pochettino and they will respond with platitudes that are not just for show. This is a coach who made a big impression at St Mary's, with his work ethic and tactical nous welcomed by most in the dressing room following the departure of Nigel Adkins in January 2013.
Pochettino did a fine job in raising the standards at Southampton, changing the mentality of the club to believe they could compete with the Premier League elite. Here is a manager who demands loyalty from his players and gives it back to them in equal measure.
The issue of his refusal to speak to the media in English, instead using a translator, has been a point of contention during the Argentine's time in the Premier League, yet it never seemed an issue for the Southampton players as their manager's language barrier was not in evidence at the Saints' Staplewood training ground.
Pochettino related to his players in English from the moment he arrived at the club and his staff were on hand to clear up any translation issues that may have cropped up, so it is merely his eagerness to ensure he does not speak out of turn to the media that has ensured his reliance on a translator for news conferences. That policy may have to change if he is speaking to a bigger audience as Spurs boss.
His task at Tottenham is enormous. Here is a club fighting against rivals that have a net spend considerably more than their own for many a year, while their wage structure is such that the likes of Chelsea, the two Manchester clubs, Arsenal and Liverpool can outbid them for the best players in the transfer market.
Pochettino's job at Spurs will be to convert promise he showed in his season-and-a-half in charge of Southampton onto a biggest stage, with Levy's trigger happy tendencies a threat to his next manager if he doesn't secure a top-four finish for Tottenham in his first season in charge. Indeed, the former Espanyol boss must quickly get the best out of his new squad, after a summer of 2013 that saw Levy and his still-employed sporting director Franco Baldini spend in excess of 100 million pounds on signings that, with the exception of Christian Eriksen, produced very little reward.
Tottenham's new training base in Enfield is also the mark of a club with lofty ambitions, while their plans to build a new stadium next to their White Hart Lane home to satisfy a huge season ticket waiting list is another example of their potential to grow. Yet so long as Levy continues to hire and fire managers at such a rapid rate, the stability the team need on the pitch may continue to prove to be elusive because as Glenn Hoddle, Jacques Santini, Martin Jol, Juande Ramos, Harry Redknapp, Villas-Boas and Sherwood have discovered down the years, failure of any variety is not acceptable in the eyes of Tottenham's chief decision-maker.
He may have the security of a lucrative five-year contract, but history suggests that Pochettino's position may be less than secure if Tottenham are not toasting a return to the Champions League a year from now.