Lukaku struggles to prove worth with Belgium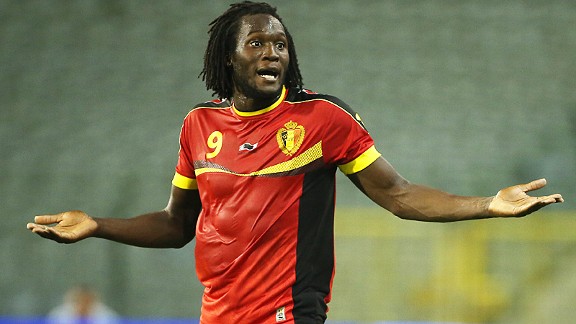 GettyImagesRomelu Lukaku came in for more criticism when he failed to shine in a friendly against France last month.
Belgium manager Marc Wilmots has a phenomenally talented bunch of players to pick from. It showed again on Friday, when Belgium hardly broke a sweat as they easily disposed of Scotland at Hamden Park. Belgium controlled the game from start to finish, not allowing their hosts a single shot on target. The 2-0 victory showed the strength in depth Belgium currently boast. Missing three key players in Vincent Kompany, Thomas Vermaelen and Eden Hazard, Wilmots simply had a look at his bench and fielded a team capable of coasting to victory away from home.

One player who was available but didn't get off the bench was Romelu Lukaku. Since his second match as Belgium manager, a 4-2 demolition of Netherlands a little over a year ago, Wilmots has consistently chosen Christian Benteke to lead the attack. Benteke scored the opening goal in that game and since then has been first-choice up front. Another player who scored in that derby of the Low Countries, Lukaku has hardly had a look in, notching up a very meagre 52 minutes in eight World Cup qualifying fixtures and usually coming on when the game is won, thus depriving him of the chance to make a real impact.

The Belgian press, deprived of anything to complain about now that the national team are flying high, has jumped on the situation, making their own headlines and portraying Benteke and Lukaku as fierce rivals. Before and after every game, the main point of discussion is about which of the two should be Belgium's No. 1 striker. The problem is, the discussion has deteriorated into a situation where Benteke can hardly put a foot wrong, while Lukaku is seen as a poor man's second choice. Sadly, some Belgium supporters have latched onto this and on forums Lukaku is often ridiculed, with many saying he shouldn't even be in the squad because he simply isn't good enough.

It must feel strange for a player who scored 17 Premier League goals last season while on loan at West Bromwich Albion. With one coming every 118 minutes, he was in a select group of players: Of those players who had 1,000 minutes on the pitch (this to exclude statistical anomalies), only Robin van Persie, Wayne Rooney, Sergio Aguero and Mario Balotelli had better statistics. Lukaku even got a hat trick against Manchester United -- no mean feat for a 19-year-old. (Lukaku turned 20 on May 23, after the season ended.)

Benteke scored 19 goals for Aston Villa but got a lot more playing time (3,012 minutes compared to Lukaku's 2,143, with a goal every 158 minutes). That shouldn't take anything away from Benteke, but it puts some perspective on the claims in Belgium that he is phenomenal while Lukaku is dispensable. The disappointment of many Chelsea fans at him being loaned out again, this time to Everton, is understandable when you consider Chelsea's No. 1 striker, Fernando Torres, managed a goal every 299 minutes.

Lukaku has been unlucky for Belgium in the past year. When he did start, as he did for Belgium's friendly against France last month, he proved a handful, keeping a very good defence and goalkeeper busy. He saw a low shot from an acute angle brilliantly saved by Hugo Lloris and was a constant presence and threat, while his off-the-ball movement created space for Hazard and Kevin De Bruyne to work in. With a little more composure from Sebastien Pocognoli, who wastefully blasted over after a brilliant back-heeled Lukaku lay-off, and better decisions from De Bruyne on a dangerous counterattack, he could easily have had an assist and a goal to his name. As it was, the clash ended 0-0 and Lukaku was singled out as the main reason why Belgium didn't win.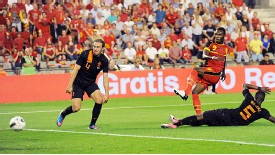 GettyImagesChristian Benteke finds the back of the net in Belgium's 4-2 win over Netherlands last year.
One moment in the game summed up the current anti-Lukaku feeling. Around the hour mark, just before Lukaku was taken off, he and De Bruyne found themselves in the box, facing two defenders and Lloris. De Bruyne, on the left and with a defender and Lloris to beat from a difficult angle, passed the ball to Lukaku, who got himself some good space in front of goal. With the ball slightly overhit, Lukaku just failed to connect and win it for Belgium. Watch the moment here from 6:45 onwards. While it was easy and not even unrealistic to call it an incredible miss, such judgment fell short of fully understanding what happened.

When this was discussed in the studio after the game, former international Franky Van der Elst said that Lukaku should not have asked for the ball and that he had distracted De Bruyne. "Kevin would have certainly scored from there," was his conclusion. Coming from someone as experienced as Van der Elst, the comment summed up what Lukaku is facing to turn around both the fans and the pundits alike.

A striker in that position will always want the ball and rightly so. It was made worse when Lukaku's 60 minutes were compared to Benteke's 30. Benteke hadn't really made a mark on the match after coming on, but his performance discussed in a manner aimed only at further damaging Lukaku.

Lukaku himself seems largely unaffected by the whole situation. He knows what he can do and has the obvious support of his teammates. After the France game, both Wilmots and Kompany clearly said that there was no way Lukaku could be blamed for the miss. His perceived nemesis, Benteke, maintains that he has nothing but respect for and belief in him.

Lukaku will simply get his head down and work hard to score goals and convince both Jose Mourinho and Marc Wilmots that he is a player to be reckoned with. There is no doubt that he can replicate his form from last season. The biggest challenge, though, seems to be to convince his home country that he has a part to play in Brazil next summer. After all, Belgium are going to need more than one striker in South America next summer.