What we learned from the World Cup draw
Amid all the razzmatazz and samba-infused celebrations at the Costa do Sauipe resort, the draw for the 2014 World Cup threw up some intriguing storylines, whetting the world's appetite for next summer's football festival in Brazil.

- World Cup draw: Spain open against Netherlands

There is a group of death

It may have become a well-worn draw cliché, but there's no doubt the group of death remains, as it were, alive and kicking in 2014. Football hipsters may be drooling over the possibility of watching Ecuador's tactical duels with Honduras and Switzerland, but the wider public hankers for heavyweight scraps. The 2014 World Cup group stage has obliged, with Group G -- containing Germany, Portugal, Ghana and the United States -- pipping Group B (Spain, Netherlands, Chile, Australia) and Group D (Uruguay, Costa Rica, England, Italy).

Could it be the deadliest group ever seen at the World Cup? It certainly appears to be a cut above 1978's grupo de la muerte of Argentina, Italy, France and Hungary, as all four of 2014's Group G sides reached the second round in South Africa four years ago. Each of the six matches has captivating connotations, with Ghana having eliminated the U.S. four years ago and Jurgen Klinsmann set to lead his adopted nation against his native Germany, while a Cristiano Ronaldo-led Portugal will be looking to avenge a group-stage defeat to Die Mannschaft at Euro 2012.

For those fans fearing that their nation's mortality will be cruelly exposed in Brazil, there is some reassuring news -- those who survive a group of death appear to have a better chance of winning the World Cup, as ESPN FC's Miguel Delaney has explained. Good luck.

Croatia's first curtain-raiser

The opening match of the World Cup, and the lavish opening ceremony that accompanies it, has been a regular standalone showpiece since English schoolchildren enthusiastically waved their flags on the Wembley turf in 1966. Over the past 48 years, we've seen dictators and opera singers – and, lest we forget, hordes of beefy Bavarians clad in lederhosen who set the scene for the 2006 opener.

While plenty of opening ceremonies have left us agog -- thank you, Diana Ross at USA '94 -- the action on the pitch has often left a little to be desired. Yes, there have been some memorable moments, including the upset suffered by reigning champions Argentina at the hands of Cameroon in 1990 and Senegal's shock win over France in 2002, but cagey affairs are generally the order of the day. In fact, of the 12 opening games from 1966 to 2010, four games finished 0-0 and another four 1-0.

Fingers are firmly crossed, then, that Brazil will -- as Germany did with a 4-2 rout of Costa Rica in 2006 -- raise the curtain in style. Croatia are the visitors to their Arena de Sao Paulo on June 12, the first time the European nation has been involved in the opening game. Brazil are dab hands at getting the party started, having done so three times previously, and they will be aiming for a repeat of the last time they hosted the tournament in 1950, when a 4-0 thrashing of Mexico set the ball rolling for a competition in which they came desperately close to success.

The hosts will, of course, outline their intention to take the tournament a game at a time, but it is surely impossible to resist the temptation to take a sneaky peek toward the second round, where a potentially epic showdown with either Spain or Netherlands is likely to await.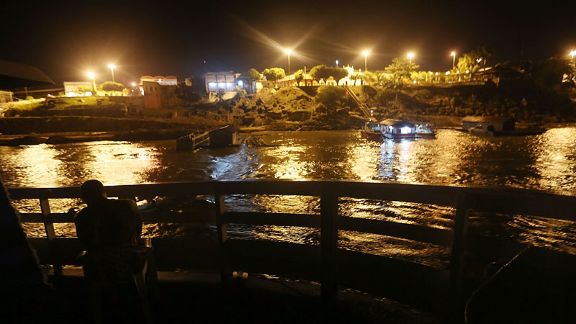 GettyImagesManaus, the largest city in the Amazon, will be an interesting but incredibly testing location for many sides.
Misery in Manaus?

Brazil legend Romario branded the decision to make Manaus a World Cup venue "absurd." While its stunning location in the heart of the Amazon rain forest makes it a unique host city, it was widely viewed as the short straw that no one wanted to pick.

Its remote location -- a full 1,773 miles (2,853 km) from Rio de Janeiro -- means supporters will need to pay big bucks to travel to Brazil's north-west, while the climate will be of greater concern to the players. While Manaus will add a breadth of Brazilian culture to the World Cup, it may quickly take the breath from the players who turn out at the Arena Amazonia. The tropical humidity (potentially more than 80 percent) will set off alarm bells for European nations in particular.

Eight countries tasted Manaus misfortune in the draw, with England, Italy, Croatia, Cameroon, the U.S., Portugal, Honduras and Switzerland all scheduled to play there. Most disappointed are likely to be Switzerland, the Alpine nation thrown well out of their comfort zone with a final Group E clash against a Honduras side much more comfortable with the climate as Ecuador and France do battle in the comparative cool of Rio's Maracana.

The pick of the Manaus matches, though, is unquestionably the Euro 2012 quarter-final rematch between Italy and England. Azzurri coach Cesare Prandelli complained about the heat during the Confederations Cup, describing the humidity as something "really difficult." With England also unaccustomed to such climes, he and Roy Hodgson will share mutual disappointment.

Bosnia: Better late than never


Few things are more frustrating than being stuck in traffic on your way to an important meeting, but for Bosnia-Herzegovina coach Safet Susic it was the footballing equivalent of leaving one's bride stuck at the altar as car congestion in Paris prevented him from boarding his plane to the World Cup draw.

For Bosnia, the draw was arguably more important than for any other nation. The Balkan state will be the only World Cup debutant next summer, and Susic watched from afar as fate handed Bosnia a baptism of fire: their Brazilian bow will come against the mighty Argentina at the Maracana.

Iran and African champions Nigeria complete Group F and will join Argentina in trying to keep Edin Dzeko and Vedad Ibisevic quiet. The Bosnian duo proved the most prolific strike pairing during UEFA qualifying with 18 goals between them, with the Manchester City man getting 10 of those.

In 2010, Slovakia demonstrated that debutants can get past the group stage, while the best example for Bosnia in recent memory comes from neighbours Croatia, who finished third when making their World Cup debut at France '98.

Italy face tricky path to redemption

After the thrilling high of 2006 World Cup glory in Berlin came a crushing sense of underachievement with a group-stage exit in Johannesburg in 2010. Marcello Lippi's Italy went from the top of the world to the bottom of Group F in four years; it was a humiliating campaign for the Azzurri in South Africa.

Reflecting on the last World Cup is made all the more galling for the Italians given that the three sides that finished above them -- Slovakia, Paraguay and New Zealand -- all failed to qualify for the finals in Brazil. Next summer's World Cup represents a shot at redemption and, having reached the Euro 2012 final and enjoyed an unbeaten qualifying campaign, the four-time champions will be out to put the ghosts of 2010 behind them.

It had been suggested that a failure to secure a place among the top seeds -- thanks to an abysmal recent record in friendlies and the decision to rest players after qualification was secured -- could cost Italy, and so it proved as they were the "chosen ones" switched from Pot 4 to Pot 2 and subsequently paired with Uruguay, England and Costa Rica in Group D. It should prove an intriguing tussle, but the Azzurri contingent were left throwing many an envious glance toward Group E, where Switzerland -- who pipped them to that coveted Pot 1 spot -- were rubbing their hands at being drawn in one of the most appealing groups on paper with Honduras, Ecuador and a France side that is a far cry from that Zinedine Zidane-inspired outfit that Italy beat to win the World Cup in 2006.