New year, same old story for Hammers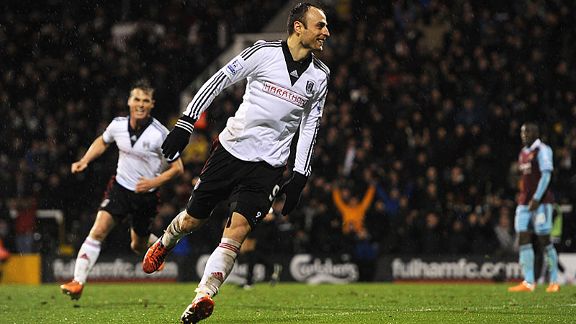 GettyImagesDimitar Berbatov scored the goal which earned Fulham a 2-1 win over relegation rivals West Ham.
During the perennially tedious celebrations at my local hostelry on New Year's Eve, a well-meaning party-goer asked me if I had better hopes for 2014 than 2013. He seemed surprised by my admittedly surly and stone-cold sober reply to the effect that "I couldn't see why the passing of December into January should be any different from the change of any other month". My drunken assailant -- quite understandably sensing someone who hates New Year and was in a bad mood -- moved away quickly and I didn't see him again.

I thought of my festive friend on Wednesday though, while watching West Ham lose 2-1 to Fulham at Craven Cottage. He probably wasn't a Hammer -- a first impression suggested he looked too happy -- but if he'd seen this match along with many others over the decades I think he might have some idea of what I meant.

For this was a microcosm of West Ham for the past 50 odd years: initial hope and excitement, creeping realism, those astonishing moments that sometimes seem only to happen to someone in a claret and blue shirt, untold injuries, ultimate disappointment and then a worried look at the league table. For apart from a few years of celebration, the Hammers have been a club for whom mid-table mediocrity is usually the sign of a good season because, if they are not shuffling along, winning a few, losing a few, drawing the rest, then the only other option is a relegation scrap. And if anyone was in any doubt, 2014 sees a major battle to avoid the Championship again.

There was a brief bit of hope in the first match of the New Year, Mo Diame's goal scored after only seven minutes, collected and slotted home with some ease following a long goal-kick, looked as if it would deflate the home side following their 6-0 pasting against Hull. But Fulham boss Rene Meulensteen had made seven changes to his side and the Cottagers looked more up for a fight than they had when the Hammers easily beat them at Upton Park in November.

Captain Kevin Nolan had a golden opportunity to put the away side 2-0 up but Fulham keeper David Stockdale made an excellent stop with his feet and it proved to be an important interception. Modibo Maiga did well to head a Fernando Amorebieta shot off the line but it only delayed the inevitable. On 32 minutes, Steve Sidwell powered in a cross from a Damien Duff corner while the Hammers back-line of converted full-backs could only watch on, their feet barely leaving the ground.

If that wasn't bad enough though, the game's crucial moment arrived just before half-time when Kevin Nolan was shown a straight red for a stupid and petulant off-the-ball kick on Amorebieta. Quite what the West Ham captain was thinking only he knows -- although I have to suggest that there was little evidence of any sort of cerebral involvement at all -- and Sam Allardyce's post-match wholesale condemnation of a player he seems to regard as his right-hand man on the field was quite significant. In terms of his relationship with the fans though, this moment of lunacy couldn't have come at a worse time for the beleaguered Nolan with many supporters now suggesting West Ham should use the transfer window to rid the club of a player who has looked completely out of sorts for most of the campaign.

Inevitably, Nolan's dismissal proved to be a turning point. West Ham constantly struggling at the back to deal with anything in the air, knew they would be under pressure in the second half and it was soon obvious that the second 45 minutes was to be a war of attrition with the Hammers only hope, hanging out for a useful point. Fulham on the other hand, sensed that their opponents were there for the taking and the only surprise is that the score-line wasn't worse than it was. Dimitar Berbatov's 66th minute winner was laid on for him by ex-Hammers hero Scott Parker -- how good it would have been to see him back in a claret and blue shirt -- but it was significant that there was no defender within a yard of the Bulgarian when he poked in at the far post.

It's hard to criticise the make-shift defence with little aerial presence -- George McCartney and Joey O'Brien just simply aren't centre-halves -- but fans can only hope the prospective arrival of Everton's Dutch International John Heitinga goes through quickly because the Hammers -- a team having to play without a forward for most of the season -- are now playing without defenders too. It is not something recommended in the Premier League.

Sam Allardyce was scathing in his comments at the sending-off of Nolan after the game but Sam's mood won't have been helped at the sight of seeing another midfield player limp off after 32 minutes, Mark Noble being replaced by Razvan Rat. Sam's plan to play Alou Diarra in front of his back-four didn't really have the opportunity to pay off, but it is a tactic I think we're likely to see more off now that both Nolan and Noble are likely to miss a few matches.

This season has now really turned into a nightmare of some proportions for the owners and the supporters. Multiple injuries in every area of the squad, a team low on confidence with players forced to play out of position and now disciplinary problems. Many are still calling for the head of Allardyce but, as another twelve long months stretches ahead, it's now difficult to see anyone being able to sort this mess out regardless of who they are.

Happy New Year? For Hammers supporters it's just another number with the same old worries.