David's Golden opportunity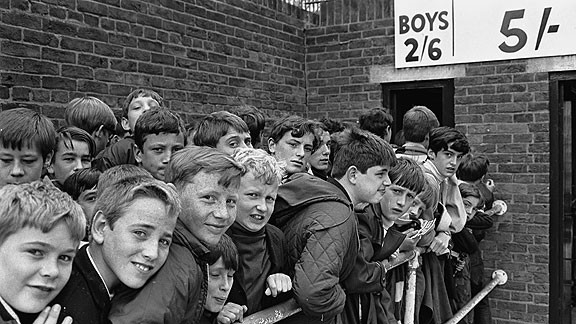 Steve Lewis/Getty ImagesThe author has fond memories of queuing up for West Ham tickets like these youngsters in 1965 and is concerned today's youth are being priced out of the market.
David Gold has been forced to defend West Ham's ticketing policy before the start of the new season, with accusations that the club are pricing fans out with excessive charges, particularly in Category A games where non-season ticket holders will buy match-day tickets through the membership scheme.

With some games -- Chelsea, Manchester United and Spurs are the usual culprits -- seats will rise to 72 pounds although, as Gold states, the lowest in the band will be marked to about 52 pounds.

The Hammers' co-chairman has hit back at critics, defending the club's policy and pointing out that the club is only reacting to their league placing from last season and that prices are comparable with clubs in a similar position and, as you'd expect, below the asking price of rivals offering a supposedly more glamorous fare elsewhere in the Capital.

Gold is obviously viewing these accusations with some anger -- describing them as 'mischief making' -- explaining that often those clubs with the lowest prices were those that found themselves battling relegation and that against the very high prices of some seats, the club had perfectly adequate seating for people who wanted to pay less.

As a direct riposte, that suggests that charging higher prices meant that the club were able to operate at the upper end of the transfer market, Gold's defence was quite clear. It also has to be remembered that 2012-13 saw an astonishing 17 consecutive games sold out in a season, a statistic that broke the record for the highest average home league attendance in the club's history. There has to be a sense then that fans at least, must be able to bear the brunt of rocketing ticket prices.

While it's hard not to deny that David Gold is perfectly within his rights to be angry -- West Ham, after all, are certainly not setting any trends here -- it's also difficult not to view this whole situation like the little boy in the Hans Christian Andersen fairy tale; staring wide-eyed and open-mouthed as the crowd admire the naked King's fine 'new clothes' that only the 'wise' can see.

As someone who used to pitch up outside the gates of the old North Bank at 1 p.m. on a Saturday afternoon, clutching a shiny coin or two poked out from the piggy bank with a knife or gratefully accepted from a well-meaning grandparent, it's hard to see where the next generation of stadium fans will come from unless this lunacy is arrested somehow.

Even with the well-intentioned Junior membership schemes and even the excellent "Kids-for-a-quid" opportunities at various times of the season, the weekly match-day attendance is simply far beyond the pocket of even the most wealthiest of schoolboys. David Gold himself -- a loyal fan from a young age and one who was used to the same pre-match ritual as myself, also an astute man and one who has run several businesses -- is well-aware of this problem of course and probably feels some discomfort at having to defend a policy that is making regular attendance harder and harder with every passing season for most fans.

Pity the parent though with one or two offspring wanting to treat his boys/girls to a match against one of the Premier League big boys, if the family has to travel -- more likely than it used to be with little local support -- £100-plus can disappear very quickly. We live in a time where club loyalties are formed by TV appearances -- particularly those made on a Wednesday evening. For a club like West Ham to survive and thrive, the need to introduce the thrill of a live match-day experience to a young fan is vital. But, conversely, to do that, prices need to be set at a level to attract younger fans.

Of course, it's not just the younger supporter who is suffering here, though; for a traveling adult wanting to start the match with a pre-match snack and pint, including rail fares and/or petrol and parking, it's getting harder and harder to justify a regular attendance. You don't have to be signing on or on a low wage not to feel the pinch now.

Nevertheless, criticism of the club and David Gold in particular -- unfair in my opinion anyway -- can to be tempered here with a very basic fact; that is that West Ham United has a very real opportunity to reverse this trend when they move to the Olympic Park in a few season's time. Critics may sneer at the Hammers' plans for a ground capacity of about 60,000 ---- about 24,000 more than Upton Park's -- and ask how they plan to fill it. But wouldn't it be great if those 'empty' seats were full, with local youngsters able to gain admission from their pocket money, loyal fans unemployed but wanting to see their team, drifting visitors just wanting to catch a game at short notice?

Gold may have to explain his club's policies now, but he might well soon have a golden opportunity to reverse the trend and make a name for himself. Perhaps I'm being naive and starry-eyed, but wouldn't it be great if West Ham were able to become the club that bucked the trend towards higher and higher prices? The opportunity is there, if it can be seized.

In the meantime, it looks as if it's up into the loft for some of us; while the hot weather holds the sight of those same shiny coins and the Sunday Boot sale have an irresistible lure.