West Ham season review: Part four -- Forwards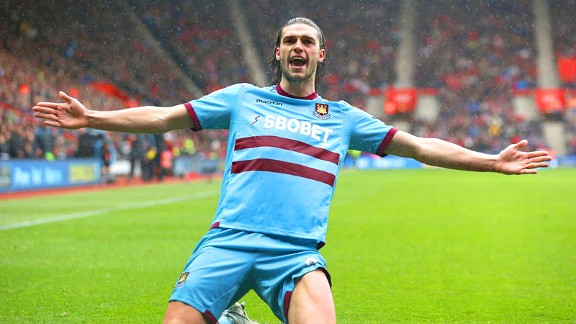 Ian Walton/Getty ImagesAndy Carroll tallied seven goals for the Hammers during the 2012-13 season.
In this last review of the players who represented West Ham United during the 2012-13 season, we take a look at the forwards. In a season where the Hammers have been less than prolific, rest assured debate will ensue. Where better to start than...

Andy Carroll

There was much speculation about Carroll coming to West Ham throughout the summer of 2012 and most fans assumed it was so much pie-in-the-sky and newspaper tattle. But just when it seemed as if they were to be proved correct, an acquisition on a season-long loan deal was announced on transfer deadline day. Carroll had developed a reputation due to his massive £35m move from Newcastle to Liverpool, so for a club such as West Ham to be able to bring in such a player had to be considered a bit of a coup.

Sam Allardyce opined "this was a deal that could ensure Premiership survival." There are still some naysayers out there but, by and large, from the moment Carroll tore the Fulham defence apart at home -- two miles from where the Olympics were in full swing -- the Hammers looked a useful mid-table outfit.

Carroll was brought in to score, and having finished the season with seven goals (one penalty and a free kick included), he can't be seen to have set the world alight with his ability to trouble the onion bag. However, with the Geordie striker you always have to be aware of other assets and his mastery in the air rattled many a defence -- even provoking a hair-dryer outburst from Sir Alex -- while injuries surely denied the player another half-a-dozen goals at least.

The ability to take advantage of someone not doing something is a misunderstood skill at any level of football and Carroll is a good example of this. Most central defenders either try to compete toe-to-toe with him -- usually losing out -- allowing space for their opponents to drift into or, alternatively drop off completely to mark space in front of Carroll allowing teammates to fill an area in another point of attack.

In essence, sometime just the presence of Carroll is enough to give a defence a headache. The only real drawback with this at Upton Park is that the Hammers don't currently have the calibre of player to fill those empty spaces, probably only Kevin Nolan or occasionally Ricardo Vaz Te taking advantage, so against the top teams Carroll can look off the pace. Against a mid or lower side though, the Geordie is the difference between three points and nothing -- even if he doesn't score himself.

Proof of this was his debut against Fulham -- arguably his best display of the season. Carroll simply destroyed the Cottagers and although he didn't score, he had a hand in every goal, as Fulham were so worried about him they failed to pick up other players.

But, as is the way with West Ham, Carroll picked up an injury in that game and was out until October when he came on as a sub away at QPR. His next five starts saw him play well enough but the lack of goals was concerning. He finally netted his first West Ham goal on Nov. 25 away at Tottenham in a 3-1 defeat with the strike coming when the game was effectively over.

Carroll would suffer further injury and only start one game between November and February. He returned against Swansea at Upton Park and scored the only goal of the game in a stunning Man of the Match performance where, again, the defence were at sixes and sevens trying to contain him before Andy scored the decider himself.

Carroll would be on the score sheet in the next two homes games with a brace coming against West Brom, the second from a superb finish. He would score two further goals in the final seven games of the season but it was his overall performances that showed why the player had been considered such a hot property at Newcastle.

Many still dispute the value of having Andy Carroll in the side -- I think it only fair to say that a rare old argument broke out between the protagonists on this very blog! -- while some supporters argue that the Geordie is only useful to a side set-up in the mould of an Allardyce team. But a fully fit Carroll operating over a full season will surely get plenty of goals and assist in as many more. If he works hard at his game, stays fit -- a vital issue -- there seems no reason why Carroll need be considered just a 'big target man' either; the skill shown in the second goal against the Baggies being a case in point.

West Ham have had an offer for Carroll accepted and, while the player still seems to be holding out for something better -- perhaps a little further north? -- it's difficult to see how this deal won't be the best option for both parties. To have a young England player in claret and blue is a massive boost and Allardyce's assessment of Carroll's presence in the team seems as valid this summer as last.

Appearances: League: 22 (+2 sub)
Goals: 7
Bookings: 5
Verdict: Got better as the season wore on and his goal scoring was starting to improve. Whether he will be signed permanently remains to be seen.

Modibo Maiga

Modibo Maiga signed for an undisclosed fee (believed to be in the region of £5m) from French side Sochaux in the summer on a four-year contract. Alan Pardew at Newcastle was an admirer of the Frenchman and it seemed to be another coup for Allardyce to obtain his signature.

With Nicky Maynard and Sam Baldock having been sold, Maiga was the only striker at the club that seemed as though he wouldn't be deployed as simply a target man; fans were excited! His first start came in the League Cup tie at home to Crewe where he also scored his first goal for the club and in the next round of the League Cup against Wigan he scored again.

An unused sub in the next two league games, he got on for the last ten minutes at home to Southampton where he scored his first Premiership goal with a cracking finish to make it 4-1. At this point many felt he deserved a start in the next game but he was on the bench away at Wigan, he did come on at halftime but playing in a wide role he offered little.

Maiga would make one of only two starts in the league away at Tottenham where he started on the left wing. He was so poor in this game he was take off after just 31 minutes. He would not start another game for the rest of the season.

His biggest contribution to the campaign was the home game against Chelsea where he came on as a sub in the 86th minute and scored the third goal, following up a shot from Matthew Taylor which had been saved.

Maiga went away on international duty with Mali for the African Nations Cup and when he returned he was all but frozen out with the signing of Marouane Chamakh and Wellington Paulista, ensuring that even a place on the bench was not guaranteed. In fact, Maiga was only involved in six West Ham squads from the turn of the year.

Once again, as with the aforementioned Baldock and Maynard -- not to mention the elusive Chamakh and the subtle disappearing Paulista -- nobody can quite figure what has gone on. It seems that Allardyce does not feel he can cut it at this level for some reason, which is shame as he showed some signs of being an effective striker. There is much talk of him being sold in the summer and it would seem that he has been a bit of flop, but if this is down to the player remains to be seen

Appearances: League 2 (+15 sub) Cup 2
Goals: 4
Bookings: 2
Verdict: Simply never got going and may need to prove himself elsewhere.


Nicky Maynard

Having only been brought to the club in January 2012, it was a major surprise to see Nicky Maynard sold on transfer deadline day to Championship side Cardiff City. Maynard had been clearly told that he wasn't going to get much playing time and with Carroll, Carlton Cole and Maiga ahead of him in a team that only plays one up front, this appeared to be true. The fact is though, Maynard seemed to have a predatory natural ability and the only question was if he could make the step-up and -- as so often with Big Sam -- his departure left more questions than answers.

Maynard started and scored in the one game he played for the club last season and that was against his former side Crewe in the League Cup. He went to Cardiff but got injured early on and was out for the majority of the campaign, only returning on the final day. With Cardiff being promoted, Maynard may finally get his chance at Premiership football. It will be fascinating to see if he is able to take it.

Appearances: Cup 1
Goals: 1
Verdict: Never had the opportunity to show what he could do. Was it a mistake?

Robert Hall

It is a shame for Robert Hall that in the Championship they did not allow seven substitutes, because it is likely West Ham fans may have seen a bit more of him.

Whenever he did play, he looked very good and although it was going to be a tough ask, it didn't seem unreasonable that he may get some game time over the season. As it was, a start against Wigan in the League cup and then an appearance off the bench against Fulham in the league (his Premiership debut) were all that was seen of Hall and when he did play he was deployed as a left winger and made little impact.

Hall was being used regularly for the development squad and was playing well with the team topping their league. He was then loaned out to Championship side Birmingham City for more experience and he received generally good reviews from his time at St Andrews making eleven starts but failing to score in any. His return to West Ham was prompted by injury, but on 28th March he was loaned out again, this time to Bolton Wanderers where he made just the one start.

There have been rumours that Bolton would like to sign Hall on a permanent deal this summer as he is out of contract at West Ham and there seems little to suggest that Allardyce is in favour of keeping a player who seemed to have so much promise.

Appearances: League (+1 Sub) Cup 1 (+1 Sub)
Verdict: Another Academy prospect who may have suffered from lack of opportunities.

Marouane Chamakh

29-year-old Marouane Chamakh was brought in on-loan during the January transfer window from Arsenal having been frozen out at the North London club, failing to start a single Premiership game up to that point.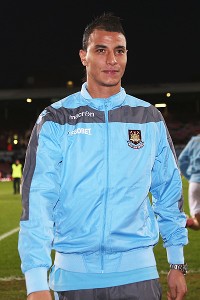 Warren Little/The FA/Getty ImagesMarouane Chamakh was unable to recover his Bordeaux form while on-loan from Arsenal.
Chamakh had picked up an unfavourable reputation with nagging questions about his ability and attitude and his signing was treated with a bit of humour from Gunners and Hammers' fans alike, but with Andy Carroll struggling with injury and Carlton Cole anything by prolific, Chamakh had the chance to get his career at the top level back on track.

There were some fans -- one not too far from this column -- who thought that Chamakh's early promise at Bordeaux (West Ham had been linked with him before he went to Arsenal) might resurrect itself away from the generally heightened expectations at the Emirates and the loan looked a reasonable opportunity for all concerned

The player made his debut in difficult circumstances, coming on away at Sunderland when the team were already 2-0 down and playing very poorly, annoyingly though he never got involved, although it was difficult to judge him on this display.

Chamakh made his first start in the following game at home to QPR where the service to him was poor, but even so he should have converted a chance in the second half. He was taken off after 61 minutes. While he could not play against Arsenal, he was back in the starting lineup at Fulham for his second and final appearance in West Ham colours. He made no impact whatsoever and was taken off after 55 minutes.

While he was on the bench for a number of games from then till the end of the season, Chamakh was never seen again, and although there are those who still doubt Big Sam's eye for a player -- some using this loan as proof -- surely the combined prowess of Arsene Wenger and Sam should have found something to ignite in the Moroccan international? You have to assume if he can't make it off the bench for West Ham then a return to the subtler climes of Ligue 1 may be the only answer. Fortunately, it's not West Ham's problem!

Appearances: League 2 (+1 Sub)
Verdict: Had the chance to get his career back on track but failed to take it.

Dylan Tombides

19-year-old Tombides was diagnosed with testicular cancer in 2011 so to have made his West Ham debut in September of 2012 is something of achievement.

He came on as a substitute in the league cup tie at home to Wigan replacing Gary O'Neil in the 84th minute. He had little impact (although West Ham were 4-1 down at the time!) but this wasn't about his performance, it was a reward for the battle he has had to go through and it was great to see him get some game time.

His health continues to be the priority and in April 2013 he had to undergo an operation on his liver.

Tombides only made two appearances from the bench in the Development squad and fans can only hope he is able to get into a position with this health that he can continue to have a football career. We wish him well.

Appearances: Cup (+1 Sub)

Verdict: Football has to come second at the moment.

Elliot Lee

18-year-old Elliot Lee (son of Robert) certainly seems to be 'one to watch' when viewing the club's up and coming players.

He was the top goal scorer for the development squad and scored four goals in six games for the under-18s in the league and then a further four goals in three FA Youth Cup games.

Lee was given his West Ham debut from the bench away at Manchester United in the FA Cup third round replay.

Standing at 5'10", he is a strong player who has an eye for goal and can make things happen. Hopes are high.

Appearances: Cup (+1 Sub)

Verdict: Another young player that supporters hope will turn out like his father. Signs are encouraging.

Carlton Cole

It is hard to believe that Carlton Cole has been at Upton Park for so long. 2012-13 was his seventh season at the club and this is a player who from the moment he signed has always been the subject of much debate and criticism. Nicknamed CFC by the fans -- don't ask about the F, ok? -- Cole has gained respect, although admittedly grudging from some quarters, for his obvious love for West Ham, the supporters and the simple fact that he has topped the scoring charts at the Boleyn for a number of seasons.

When Cole signed in 2006 he had Teddy Sheringham, Dean Ashton, Bobby Zamora, Marlon Harewood and Carlos Tevez all ahead of him, yet one by one they all fell away and Cole was left as West Ham's number one striker.

Players like Craig Bellamy, David Di Michele Freddie Piquionne, and John Carew all came and went but Cole remained and has led the Hammers attack for so long. Many fans will say 'Too long', but faint praise is deserved for a player who has always given his all and who hasn't always been best utilised nor given the support his play demands.

Carlton came into the season as the club's number one striker with only the untried Modibo Maiga as an alternative, but as soon as Andy Carroll was brought in it looked as though Cole would find himself playing very little. In the West Ham way of things though, as soon as Cole was out of the side, he was back in due to Carroll getting injured.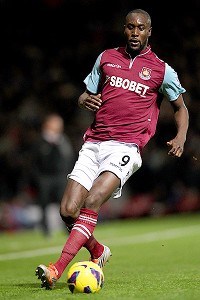 Ben Hoskins/Getty ImagesCarlton Cole departs West Ham after seven seasons in which he scored 59 goals.
Cole scored two goals in 14 starts and that is not a return that is likely to please any Premiership club but, when compared to Carroll or, indeed any player at the club, you have to wonder if the structure of the play means that a player like Cole is ever likely to become prolific. After all, apart from his early days, Carlton has never been a player who you would describe as a 'fox in the box', but you need to look at his overall contribution in terms of space created and defenders kept busy to really assess his worth. Too often though, Carlton has been asked to play the lone 'big lump' up front -- despite his stature, it is not something he excels at -- and it is surely significant that it was only under the spell of Gianfranco Zola that CC looked at his best, even earning an England call-up.

This season there were probably too many matches where Cole made little impact, but then in games against Chelsea (h) and Liverpool (h) he put in excellent displays and scored a cracking goal against Everton. Unfortunately, Cole was also harshly dismissed in this game and, although the red card was later rescinded, it probably cost the Hammers a point. Sadly though, any defence of Carlton Cole is bound to be met by some with a "Ah yes, but" comment and one such moment occurred in the very next home game against Norwich where Carlton produced one of the misses of the season.

Cole's contract expired at the end of the season and the club announced that it would not be renewed. After 59 goals for the Hammers, many of them very good and some -- like in the Wembley Play-off final -- to be cherished and remembered, it would be churlish in the extreme not to wish Carlton well for the rest of his career and CC will surely get a warm welcome if he returns. Consistent rumours -- often denied, but it did stop Cole moving to Stoke after relegation in 2011 -- suggest that the striker has knee injuries that prevent him from really performing to the maximum and it always needs to be remembered that players should expect to have a life after they retire.

Announcing his departure on Twitter, Carlton referred to himself as CFC, showing a degree of humour and humility that many bigger names lack. It's easy to say that the club have moved on from players of the calibre of Carlton Cole but this is West Ham we are talking about and fans can only hope they don't end up looking back and wondering.

Appearances: League 14 (+13 sub) Cup 2
Goals: 2
Bookings: 2
Sent Off: 1 (vs. Everton)
Verdict: In the lone striker role Carlton never had a consistent impact but he hasn't always had the support his play demands. He leaves with thanks for some sterling service in what hasn't always been the best of times.

That concludes the player reviews for 2012-13 season. As ever, please feel free to post comments on the blog, email me at billyblagg@hotmail.com or twitter @BillyBlaggEsq