West Ham Season Review - Part 1 Goalkeepers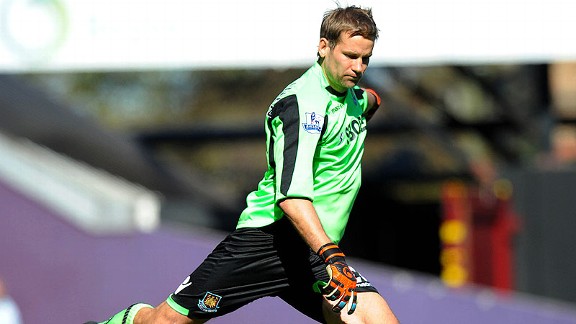 Olly Greenwood/AFP/Getty ImagesAfter a bit of a nervy start, Jussi Jaaskelainen settled in and became a solid No.1 for West Ham.
To keep things ticking over here during the long, hot summer at the ESPN FC West Ham blog, we will be taking a close look at the 2012-13 season, and the players that played an important part in getting West Ham into the top half of the Premiership while -- hopefully anyway! -- keeping you up-to-date with all the latest news and transfer activity from Upton Park.

- Dost linked with West Ham move

Compiled with a considerable amount of input from my blog colleague, Vinny Ryan, we'll look at how the players performed over the campaign and highlight what we hope we can expect to see at the Boleyn next season. As ever, we look forward to input from Hammers' fans around the globe on who you want to see at Upon Park and where you think things can be improved.

First off then, a look at the goalkeeping situation:

Jussi Jaaskelainen

Jussi Jaaskelainen was signed on a free transfer having been released by Bolton Wanderers, and at 37 years old and having lost his place in a Bolton side who were relegated, I don't think there were many fans who hadn't severe reservations about him replacing fan favourite Robert Green as the Hammers' number one.

Despite a clean sheet on his debut against Aston Villa, there were questions about how the side would fare with him between the sticks when the away trip to Swansea proved to be a bit of a defensive disaster with the Finn at fault for the first goal.

Another clean sheet came in his next game at home to Fulham, but this time questions about his kicking were now being asked after a number of wayward clearances.

But the statistics looked good after four Premiership games when Jussi had kept an impressive three clean sheets and against Newcastle on 12th November he made it five with his form having settled down.

Looking back on the season the main talking points about Jaaskelainen were mostly positives. Many claimed to always be 'unsure' about him and ask questions about signing another keeper, but as the season went on he got better and better, with a stunning display of shot-stopping against Tottenham at Upton Park in which he was awarded man of the match, and this despite conceding three goals.

With the Hammers' other senior keeper Stephen Henderson sent out on-loan for much of the season, there was no doubt that Jussi was the number one keeper at the club. He was awarded a new one-year deal in April with Sam Allardyce having no fears about his age and citing Brad Friedel as an example to highlight this.

The question last summer was how much West Ham were going to miss Green but after 11 clean sheets and a host of excellent performances (which actually made him a late runner for Hammer of the year), I think we can say with certainty that the team did not miss the England stopper -- who had a nightmare of a season on his own -- and Jaaskelainen has proved to be an excellent signing. Perhaps it's also further proof of how Allardyce has made decisions that were initially thought to be suspect but which have proven to be correct over time.

Appearences: League-38; Cup-2; Bookings-2

Verdict: After a few early mistakes, his season got better as it progressed and Jussi was one of West Ham's best and most consistent players throughout the season.

Stephen Henderson

It was thought by many that Stephen Henderson would be the Hammers' number one goal keeper by the end of the season. Based on his signing last season, his inclusion in a number of pre-season games as a starter and that Jaaskelainen was 37, soon to be 38 years old, it seemed only a matter of time before Henderson got his opportunity.

But nothing of the sort transpired and it was Jaaskelainen who began the season in goal with Henderson only getting time as a starter against Crewe and Wigan in the League Cup. The game against Wigan saw him concede four goals and while not directly at fault for the goals, his overall performance could be described as a little shaky.

Soon after the Wigan defeat in the League Cup he was shipped out on-loan to Championship side Ipswich Town. Many fans were a little surprised at the move, given that the club only had young keeper Rapheal Spiegel as a back-up, but it was clear that Henderson was not going to feature in the plans of Allardyce.

Having played 16 times for Ipswich, he came back to West Ham in January and was on the bench for the two league games against Arsenal and Fulham but re-joined Ipswich on deadline day. Henderson was again recalled, this time in March where he was on the bench for all of the Hammers' remaining games.

So surprised by these events were some fans that there have been rumours that Henderson had simply been signed by the club to help out Portsmouth and perhaps prevent them from going bust which would have impacted West Ham's points tally in the Championship last season, although this is surely just mischievous conjecture.

The facts are though that Henderson looks very unlikely to push Jaaskelainen out now and with West Ham comfortably finishing in the top half of the Premier League, the Hammers can surely attract a bigger name now to compete and eventually succeed the popular Finn. I expect to see Henderson move on in the summer.

Appearances: Cup-2

Verdict: Henderson has never given the impression he was ready to take over as No: 1 at Upton Park and his best option now seems to lie away from the Hammers.

Next time we'll take a look at the defence.