'Fine whine' as Hammers show old habits die hard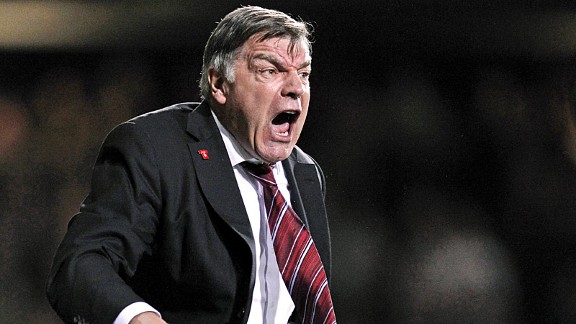 Ian Kington/AFP/Getty ImagesSam Allardyce: Searching for the right balance away from home
As a young lad growing up in the east end, I had to learn to live with a couple of West Ham 'jokes'. These merry quips - usually delivered by well-meaning opposition supporters who thought they were the height of sophisticated humour - consisted of two perennial favourites.

First came the chestnut that 'West Ham come down with the Christmas decorations', a nod to the fact that Hammers teams of old tended to fall away in the second half of the season when their brand of Ron Greenwood / John Lyall-inspired passing football usually became bogged down on the quagmire pitches prevalent before the introduction of all-weather turf.

- Reid signs new West Ham deal

The other rib-tickler was that 'West Ham are just like fine wine; they don't travel well'. Another 'joke' that has probably lost its meaning now that most wines travel the world, regardless of quality (although I once brought a couple from Malta that barely made it past customs). This stems from the fact that, particularly under Greenwood, away from Upton Park, the Irons attempts to play the beautiful game were treated with some disdain by teams north of the Watford Gap service area (Non-UK residents may want to search for that reference on their favourite search engine).

In his excellent autobiography, no lesser mortal than Bobby Moore himself tells how Greenwood once sent the Hammers out wearing gloves on a bitterly cold day in the North-east. Newcastle took one look at the Claret and Blue shirt and the black woolly gloves, declared them 'southern softies' and proceeded to dismantle West Ham with fierce tackling, backed by vociferous, vest-wearing home support. "You can't play football if your extremities are cold," Greenwood is reputed to have said. "That may have been the case but it was a red rag to a Geordie" retorted Moore.

Ironically, of course, both Moore and Greenwood might have been amused by the sight of many nationalities taking to the gloves in today's Premier League. It's a stigma that seems to have lost itself somewhere and I'm pretty sure even some of Newcastle's current crop of Frenchman have even taken to wearing long sleeves this bitterly cold winter (rest assured though; the fans will still be wearing vests).

I'm not sure that teams from Upton Park are particularly worse in the second-half of the season now; in any case, it's generally accepted that the better teams with greater strength in depth get stronger as the season wears on while teams lower down 'get found out' but, sadly for this season at least, I'm afraid the 'fine wine' joke is likely to be back on the jibe list again as, with only 11 goals scored and 29 conceded, West Ham have the worst away goal-scoring record in all four divisions of the English football league.

Fortunately that record has managed to garner three wins and four draws - nowhere near the worst record in terms of results - but the inability to score away has been a worry all year and something that has to be resolved in the close season to avoid a 'second season' meltdown next campaign.

My old editor at the unofficial West Ham fanzine site at www.westhamonline.net, tells on the site forum this week of how a total of 33 crosses were made by the Hammers at the Etihad, while recent statistics apparently reveal that only 15% of all goals scored in the Premier league come from crossed balls. Now, I'm in no position to argue with this statistic but it does seem a ridiculously low total and I can't help but feel this falls in to the category that declares that there are three types of lies: lies, damned lies and statistics.

Nevertheless there does seem to be something in the approach play away from home that suggests that West Ham either don't possess firepower to convert chances created or there is not enough creativity in the Hammers midfield to vary the point of attack.

There have been four dispiriting defeats away from the Boleyn this season in my opinion, the 3-0 drubbing's by Swansea and Sunderland where West Ham looked over-run, brittle and clueless, the 2-1 defeat by Wigan and the 1-0 by Reading - 'nuff said.

There were also two disappointing performances at Villa Park (2-1) and Craven Cottage (3-1). The Hammers played Villa and Fulham when those sides were at a low ebb and there was a certain feeling that both home teams viewed the fixture with the Hammers as a chance to reverse their then current fortunes. It's certainly true that West Ham have never been able to dispel the notion that, if a home side has a 'must win' game coming up and it's against the Hammers then fans will see it as three points that should be gained.

Sam Allardyce has done pretty well in ticking off the boxes on the David's Gold and Sullivan 'Must Do' list so far and the Hammers' away record in the Championship last season was one of the most encouraging things about their eventual promotion. But Sam is going to need all his experience and managerial nous to ensure that his team don't fall back into their old ways. Losses at the three clubs that will probably fill the bottom four places simply isn't good enough; it gives the team no room for error at home and ensures that there is likely to be relegation pressure - at the very least - at some stage of the campaign.

I'm always pleased to hear from Hammers supporters at any time of the season - yep, even the rude ones! - and keen to hear from ESPN readers about what they would like to see done to improve things for what it sure to be a difficult second season.

The build-up to the 2013/14 season starts here!