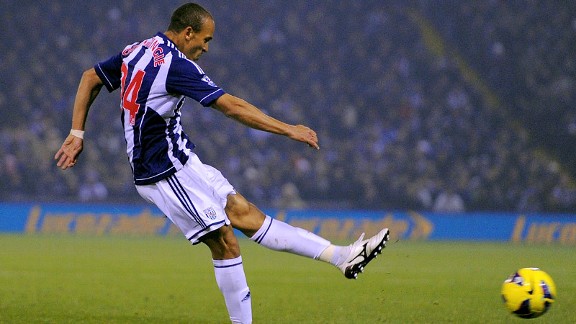 Andrew Yates/AFP/Getty ImagesPeter Odemwingie has been the key to West Brom's strong start
It's a question fans of every club always ask - or get asked - who is the most important player in the team? A few players at West Brom can certainly throw their names into the hat for that accolade. We've seen that the absence of Ben Foster has certainly had a negative effect despite Boaz Myhill's best efforts.

Last season's game with QPR marked the first time Albion won a Premier League game without their vice captain Jonas Olsson at the heart of the defence while Claudio Yacob, even in his short time at the club has proved to be a pivotal player in the 4-2-3-1 system favoured by Steve Clarke this season.

It's this system that makes me believe that although the aforementioned trio are certainly important players, they are not Albion's MVP, to borrow an Americanism. The man who remains key to Albion's success is Peter Odemwingie - something I have only just started to realise, which seems such a strange thing to say about a man who going into this season had 25 goals in the Premier League making him The Baggies top scored in both seasons.

It may well be because Odemwingie is a frustrating player, of that there is no doubt - particularly in the wide position where he is now employed. Against Chelsea, Odemwingie was absolutely everywhere in his attempts to win the game, which he did. Against Swansea, it was totally different, Odemwingie not providing nearly enough cover for Billy Jones who had a torrid time in mostly 2-on-1 situations.

Going forward, Odemwingie also likes to frustrate, be it beating two men only to try and beat a third and get tackled, getting to the byline only to send his cross out of the reach of anyone or cutting inside his man only to blaze a shot closer to the corner flag than the goal. But it is these frustrating elements of Odemwingie's game going forward that make him such a pivotal player for the Baggies.

Odemwingie gives West Brom something that none of the other players seem to be able to - the ability to go past a man either inside or out on both sides of the pitch. OK, he may make the wrong decision sometimes but the fact he gets into those positions so often means something positive is bound to happen. The unpredicability of Odemwingie is what makes him dangerous to defenders.

As mentioned he can go either way against a full back and that has already proved this season to be a useful tool. Odemwingie provided an assist against Man City cutting in from the left and Shane Long deflecting his shot in, while he scored against Southampton cutting in from the right. He provided another assist for Long against Everton, this time driving to the byline from the left hand side before crossing.

As demonstrated above, it seems Odemwingie and Long have struck up the sort of partnership all Albion fans were hoping they could produce last season. It is not just Odemwingie who has provided for Long, Long has laid on two of Odemwingie's goals with superb crosses.

Maybe some will ask why isn't Odemwingie playing up front alongside Long, but the fact of the matter is Odemwingie is the only one who can perform such a role for West Brom at the moment with Jerome Thomas on loan and Yassine El Ghannassay out of favour. It is where Odemwingie is needed.