Klinsmann's Gold Cup reward for sticking with Shea
EAST HARTFORD, Conn. -- After Brek Shea's dismal showing against Cuba last week -- a performance that compelled Jurgen Klinsmann to pull the rangy winger halfway through that particular Gold Cup group-stage match -- nobody would have blamed the U.S. coach had he left Shea on the sideline for Tuesday's first-round finale against Costa Rica.

But with the game between the Yanks and Ticos still scoreless midway through the second half, Klinsmann went straight back to the struggling winger, who made the move look like a masterstroke when he scored the winning goal less than 10 minutes before the final whistle.

"I give Jurgen a lot of credit for sticking behind him and giving him the chance right away again," said U.S. veteran Landon Donovan, who set up the winner with a perfect one-touch pass behind Costa Rica's back line that put a streaking Shea in alone on keeper Patrick Pemberton. "Obviously Brek didn't feel good about how it went the other night. We all could see that and feel that this week. Jurgen stuck behind him and gave him another chance, and he rewarded him."

It could be the gift that keeps on giving.

The U.S. will have the opportunity to make up to four roster changes ahead of Sunday's quarterfinal tilt against El Salvador in Baltimore, with Shea being the leading candidate to be released early for some time. After all, the 23-year-old is entering his first full season with Stoke City and was scheduled to report to the English Premier League club from the start of its preseason -- before fellow U.S. winger Joshua Gatt got injured on the eve of the tournament. Klinsmann confirmed after Tuesday's match that the team will make at least one move.

Now, if Shea does head back overseas, he'll go knowing that he helped his team secure an important victory instead of dwelling on those difficult 45 minutes in Salt Lake City. And after seeing how the Shea-led U.S. under-23 squad's failure to qualify for the 2012 Olympics contributed to the player's season-long slump last year, the importance of leaving camp on a high note should not be underestimated. It is something that ought to benefit Shea -- and the U.S. team -- months down the line.

"All these [young] players, we need to carefully build them and support them when things go wrong, when they have a bad game," Klinsmann said after Tuesday's win. "Sooner or later it will pay off."

For his part, Shea was happy for the chance to answer his critics immediately. "It just feels good, because a lot of people talked a lot of smack," Shea told reporters after the game. "But I can't get too high off this like I can't get too low off the last game. It's just one game. There's a lot of games left to be played in this tournament, and a lot of soccer left in my career."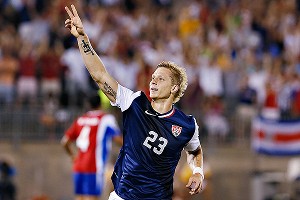 David Butler II/USA TODAY SportsBrek Shea repaid Jurgen Klinsmann's faith with the game-winning goal vs. Costa Rica.

But while Shea was trying to stay even-keeled, his teammates were not. The bench erupted after the ball hit the net -- not just because of the breakthrough finally coming after 82 minutes but also because of who was responsible.

"As soon as he scored, I ran over to him and said, 'That's redemption. Keep going from here now,'" U.S. midfielder Stuart Holden said. "I hope that really propels him forward and gives him the boost that he needs because he's a really talented player."

"He's been great all camp," Donovan said. "We're very happy for him."

Of course, Shea's goal might not have happened without Donovan's vision or without the key save that keeper Sean Johnson made to start the sequence. But it certainly wouldn't have happened if Klinsmann hadn't shown faith in Shea by giving him another shot.

"If you leave Brek out for the next few games and you don't see him again, maybe he's thinking about it for a long time, but now he had the chance to get right back in," Donovan said. "It's good that he was able to put that behind him and move forward now."

Maybe not just for the rest of this competition, but perhaps all the way to Brazil 2014.

NOTES
• The 1-0 victory over Costa Rica gave the U.S. an eight-game wining streak for the first time in the program's 100-year history. "It's not easy teams we've played against, either," vet DaMarcus Beasley said of a run that began June 2 with a 4-3 defeat of three-time World Cup champ Germany.

"We must be doing something right -- Jurgen is doing something right. We're excited about the opportunity to win this Gold Cup and obviously look to the future in qualifying and the World Cup. This is the time we need to come together as a team, and whether you call it the A-team, B-team, F-team. Doesn't matter."

• Costa Rica coach Jorge Luis Pinto was particularly complimentary of the Yanks' technical, possession-oriented game in his postmatch news conference -- something Donovan said is quietly becoming a strength of the Americans over time.

"In the past, we couldn't have put together three games where we consistently picked apart teams like that, and now we're able to do it," Donovan said, noting the influence of the six Liga MX players on the current roster, an all-time high. "We're developing better players, [and they] are playing in environments where they have to be better on the ball. Obviously the Mexican league influence helps a lot because it's such a technical league."