Stuart Holden's comeback trail takes a positive new turn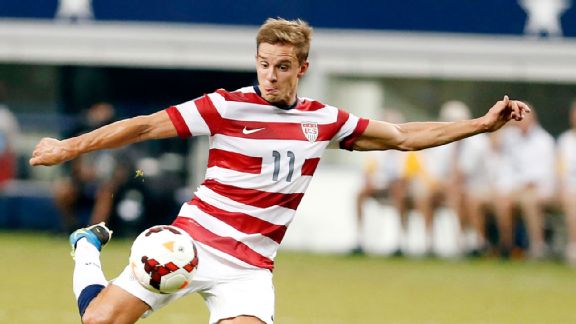 AP Photo/Brandon Wade Stuart Holden is hoping to keep his World Cup hopes alive as he has started training again.
Stuart Holden seems as effervescent as ever, though with a keener, sharper edge.

The USMNT and Bolton midfielder took to Instagram on Monday to share with his followers an update on his rehabilitation from a torn ACL in his right knee suffered in the Gold Cup final last July.



The injury was the latest in a string of setbacks that robbed Holden of multiple seasons during what should have been his athletic prime. The heartbreaking timing of the injury, immediately following Holden's return from a lengthy absence due to two surgeries on his left knee, was the latest cruel turn in an unbelievable string of bad luck.

If Holden is on the verge of a return to training, as his post indicates, it's a wonderful bit of news for a player in need of some good fortune. Per U.S. Soccer and several journalists in attendance, Holden made a surprise appearance at the Yanks' training in Los Angeles on Tuesday. Make of that what you will.

If Holden is destined to return to competitive soccer in the near future, it will open (again) questions on his place in the USMNT setup. While Jurgen Klinsmann is spoiled for choice in midfield five months from the World Cup, Holden's abilities demand that the possibility of his inclusion at least be discussed. Time is short, and it will take a Herculean effort on his part to overcome any notion of rust, but it's at least conceivable that Holden will make enough noise to attract attention.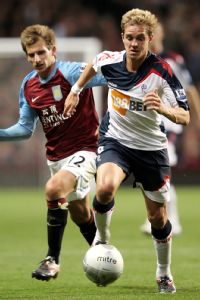 Michael Steele/Getty Images)When healthy, Stu Holden was one of the Premier League's top midfielders in 2010.
When healthy, Holden was among the best midfielders in one of the world's best leagues. His industry, tackling and passing put him in select company in the England while Bolton was still competing in the Premier League back in 2010-11. As with many American midfielders who leave MLS for foreign shores, Holden's abilities led to a shift farther from goal than when he played for the Houston Dynamo. While still possessing a creative edge not common among USMNT players, Holden rounded into a very good box-to-box midfielder capable of playing important roles in both defense and attack.

Therein lies his potential value to Jurgen Klinsmann. Michael Bradley and Jermaine Jones are entrenched as first choice in the German's preferred 4-2-3-1, trading off responsibilities pushing up or sitting back as the situation dictates. The pairing works in part because both are solid all-around players who can interchange with ease. Ahead of Bradley and Jones in the formation sits a central midfielder more directly responsible for keying the attack. But even that position must contribute defensive, particularly winning the ball back in midfield. The flexibility through the spine of the setup is one of the strengths of the U.S. when everything is clicking.

A look down the depth chart reveals much less of that flexibility in the persons of the reserves. As a defensive midfielder, Kyle Beckerman is solid and under-appreciated, but is limited in his attacking contributions by his lack of speed and isn't much more than a holding midfielder. Maurice Edu covers more ground, but is not quite the passer required. Sacha Kljestan might fit the bill, but doesn't yet seem to have Klinsmann's trust and isn't as strong defensively. Mix Diskerud falls into that same category, though Klinsmann can't deny his creative abilities.

A healthy, in-form Holden might be better than most of the above options. Regardless of whether he could crack the starting lineup when completely healthy, his total skill set makes it unlikely he'd be left out of any full-strength USMNT. And while Holden is a central midfielder by trade, he's also versatile enough to play wide when called upon. As Klinsmann has proved time and time again, he values that sort of positional pliability. If Holden is playing consistent minutes heading into May, one can't help but wonder if Klinsmann could be enticed to give him a chance.

For the most part, Holden remained quiet through the latest rehab stint. Whether because he was sobered by the abrupt end to his last healthy run and yet another knee injury, or because the work of coming back overwhelmed everything else, his return to the field this time around is a decidedly less public process. He remains a constant presence on social media, and occasionally provides updates on his recovery, but it's easy to forget he's out there working to revive his dream of making a second consecutive World Cup roster.

Until now.

The signs are positive, as early in the process as Holden appears to be. Ball training, of any type, indicates his return to full training (and from there, a slow reintroduction to actual soccer) is imminent. That doesn't mean he'll be ready in time to figure in Klinsmann's World Cup plans, or to even make a legitimate case for inclusion in Brazil. But it does mean we can begin to wonder.