AVB's spell at Spurs is destined to be short and sweet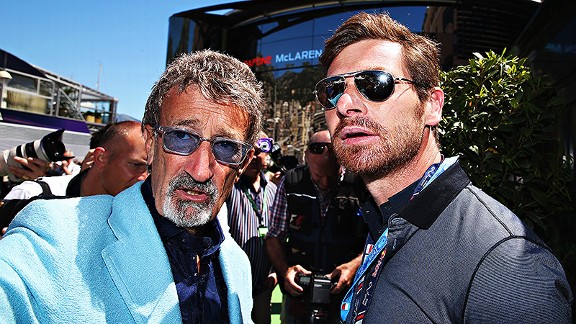 Mark Thompson/Getty ImagesAndre Villas-Boas' interest in auto racing took him to the Monaco Grand Prix, where he hung out with F1 pundit Eddie Jordan, left.
When Paris Saint-Germain started sniffing around Andre Villas-Boas recently, I can't have been the only Spurs fan who found themselves more concerned at the prospect of the club losing their manager than their star player.

Losing Gareth Bale would be a big blow, but Tottenham would at least be compensated with enough money to have a good attempt at creating an all-around stronger squad.

If AVB were to leave, it would be tougher to bounce back, at least in the short term. The club would be in for another season of transition as a new manager imposed his methods and tactics.

-Villas-Boas' 10-year managerial plan

Luckily, Villas-Boas rebuffed PSG's advances. Having never started a second season at any of his former clubs, he needed some stability every bit as much as Spurs do.

I'm not sure anyone should expect AVB to be at Spurs for too long, though. At 35, he's young enough to stay at White Hart Lane for a decade, create a real legacy and still have plenty of time on his side. But unfortunately, the Portuguese thinks a little differently than most football managers.

Villas-Boas intends for his career as a manager to be a brief one. In an interview with the wonderfully named Portuguese newspaper O Jogo, AVB revealed he intends to quit coaching within five or 10 years to fulfill his ambition of competing in the Dakar Rally.

It's an unusual ambition for a football manager to hold, but then Andre Villas-Boas is an unusual manager. He hasn't come from a traditional football background, so we should perhaps not expect him to follow a traditional career path.

Remember that Villas-Boas began his coaching journey at 17 under the then-Porto manager Bobby Robson. That means he's already been doing the job in one form or the other for some 18 years. To put that into perspective, if a professional footballer hung up his boots in his late 30s and then coached for 18 years, he'd find himself in his mid-50s.

So maybe it's not so crazy for AVB to limit his life as a coach to the next decade. The trouble for Spurs, though, is this puts a ticking clock on his football ambitions.

Villas-Boas has spoken about his desire to coach in Brazil. and you can also be sure that such an ambitious man will want a crack at a true European giant at some point in his career.

With that in mind, Tottenham will do well to hang onto AVB until the point when they move to their new stadium. Two or three seasons seem likely to be the limit, especially considering that he popped up on the radar of the likes of PSG and Real Madrid this summer.

I hope he sticks around until that point, because when Spurs finally do move into their new home, they will effectively be a new club.

Right now, Tottenham have the sixth-highest wage budget in the Premier League. That will change once the club increases the gate capacity by almost 25,000. Spurs will then be able to compete with the very biggest clubs in the world for players.

Which in turn will make Tottenham a very attractive prospect for any manager. The timing might not be right for Andre Villas-Boas to harness that potential, but what he can do is to lay very solid foundations for the man who can.