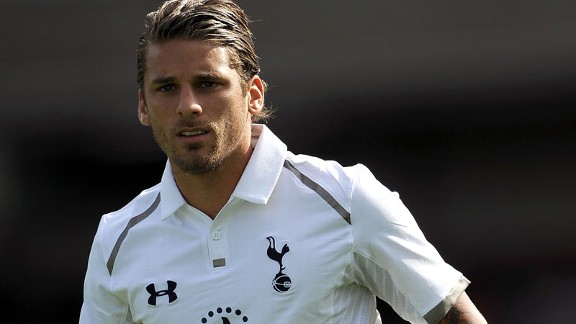 PA PhotosDavid Bentley's Tottenham 'career' was waste of time.
I sometimes feel that the modern Spurs fan (and I include myself in that) needs to have a reality check. Of course it's frustrating when this very good Tottenham side falls just short of what we supporters know it could achieve with just a little tweaking (by little tweaking I mean a decent striker).

It would be agonising if Spurs missed out on a Champions League place again, having spent most of the season in the top four, but only in the same way that I find it agonising when my home WiFi isn't working or I run out of Nespresso capsules. It's a first world problem.

Because these are the best days of my Spurs supporting life. Tottenham have finished in the top five of the Premier League in five of the last seven seasons. In comparison, between 1997 and 2005, the highest the club finished was ninth.

Now those were the days when the moaning Spurs fan really had something to get their teeth into. Mid-table every season, with some truly boring football from some truly terrible players.

So just to put into perspective how lucky we Tottenham supporters are these days, I've picked a team of the worst players that I've seen turn out for the club. This is a side that I'd put my money on the reserves beating these days.

Goalkeeper - Bobby Mimms

Like Heurelho Gomes, but without the spectacular saves to counter-balance the blunders. The nadir of his Tottenham career was when he let in a tame shot from distance go through his legs against QPR. As it was on the plastic pitch at Loftus Road, he couldn't even pretend that the ball had bobbled up.

Right-Back - Paul Staltieri

There's a lot of competition for this spot, with Dean Austin and David Kerslake coming to mind, but I'm going for Staltieri. The Canadian made so many errors in the 2005-06 season that it is he rather than the dodgy lasagne that should be blamed for Arsenal finishing above Spurs that season.

Left-Back - Justin Edinburgh

Again, there's so many contenders. Ben Thatcher, Paolo Tramezzani and Gilberto were all terrible. However, it is Edinburgh who gets the spot for his longevity in the team, despite being utterly useless. Few players as bad as he have made over 200 appearances for the club.

Centre-Back - Ramon Vega

When Vega signed for Spurs, the then manager Gerry Francis compared him to Tony Adams. I can only imagine that Francis meant that he played like he was drunk. A total waste of money, back in the days when £3.75 million was a lot to spend on a player.

Centre-Back - Gary Doherty

There was a debate when Gary Doherty first joined Spurs as to whether he was a better centre-back or striker. Now I'm debating as to whether I should pick Doherty as both a centre-back and a striker in this worst Spurs XI.

Central Midfield - Jason Dozzell

Here's a tip. If you're signing for Spurs, don't say that you're going to be the next Glenn Hoddle, as Jason Dozzell did when Ossie Ardiles wasted a lot of money on him. Dozzell should have instead said that he was going to be the next Andy Gray, which brings us to...

Central Midfield - Andy Gray

Gray looked a decent player at Crystal Palace, but was out of his depth in the more pressurised environment at White Hart Lane. Having won one international cap, this is a player who would also be a contender in my worst ever England XI.

Right Wing - David Bentley

The fact that Bentley is currently on loan at the very club that Spurs signed him from in 2008, shows what a colossal waste of time his Tottenham 'career' has been. It is rumoured that £7 million of the transfer fee Spurs paid, went to his former club Arsenal, which just makes things even more painful.

Left Wing - Andy Sinton

Sinton was another player who looked half-decent at a smaller club, but not good enough at Spurs. He didn't have a huge amount of pace, couldn't dribble, score goals or cross, which is always going to be a bit of an issue if you're a winger.

Striker - Andy Booth

I remember the day well when a friend sent me a text message telling me to check out the Teletext football headlines, because it was a sad day for Tottenham Hotspur. The top headline revealed that Spurs had signed Andy Booth on loan. As is apt for a striker in a worst ever Tottenham XI, he failed to score a goal for the club.

Striker - Grzegorz Rasiak

At least Spurs only loaned Andy Booth. Grzegorz Rasiak was signed on the last day of the 2005-06 transfer window for actual money. Despite being 6' 3" he couldn't win a header, due to an apparent inability to jump. Rasiak also failed to score a single goal for Tottenham.