Midfielder needed to end Spurs' nervy nights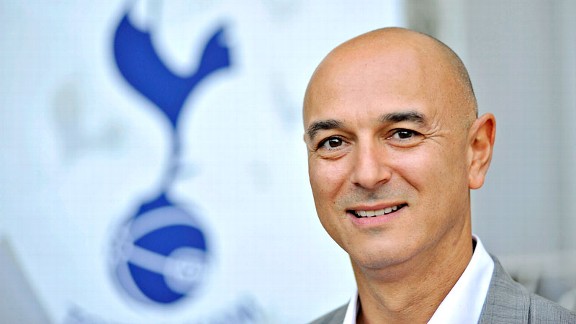 Toby Canham/Getty ImagesDaniel Levy must support Andre Villas-Boas with transfer money in January.
"A week is a long time in politics," so said the former British Prime Minister Harold Wilson. The same is true of football.

Just a week ago I was speculating about the possible consequences if Spurs struggled in their home fixtures against West Ham and Liverpool and whether Daniel Levy would nervously twitching his trigger finger. Instead Tottenham won both matches, jumped back ahead of Arsenal and now sit just three points behind West Brom and Chelsea.

The halfway mark of the season and the January transfer window will soon be upon us. It's fair to assume that Spurs should be within touching distance, if not in the top four, by then, an achievement that should be rewarded by Levy backing Andre Villas-Boas in the transfer market.

Again, it is amazing how things can turn around so quickly in football. A couple of months ago it looked as if Chelsea would be battling against the Manchester clubs for the title. Now they have sacked their manager and replaced him with one that the fans hate.

Spurs were able to finish two places ahead of Chelsea last season and despite their massive spending last summer there's now no reason to believe that it can't happen again. Although having said that, there's always the chance that they will spend a fortune on Radamel Falcao and blow Tottenham out of the water.

All the more reason, then, for Levy to start writing some serious cheques. Spurs won't be in the market for Falcao but with Emmanuel Adebayor off to the African Cup of Nations in early 2013, the purchase of a striker is essential. The other big area that needs to be addressed is central midfield. If it's not going to be Joao Moutinho, who was almost signed in the summer, then it must be omeone like him: a midfielder who can control the flow of the game.

Last night saw Spurs again in a scenario where they took the lead and were then struggling to hold on as Liverpool pushed for an equaliser. Of course, it is natural for a side that is losing to up their game and for the winning side to be put on the back foot, but it's happening far too often for it to be dismissed as just one of those things.

Tottenham's midfield is currently geared towards a swift counter-attack, with Mousa Dembele looking to beat players at pace and feed two lightning fast wingers in Gareth Bale and Aaron Lennon. What's missing is someone who can slow things down when Spurs are winning and simply need to see the game out, or conversely, a player who's able to unlock a defence when opponents are packed behind the ball.

Is Scott Parker that player? I don't think so. Parker is great when it comes to the team retaining possession. He makes himself available to those around him and when he gets the ball, he moves it on quickly and simply. However, the scope of his passing is limited and he becomes less influential closer to goal.

When paired with Sandro, they often find themselves trying to occupy the same positions. For me, Sandro, Parker and Jake Livermore are competing for just one position. I can also see Parker being very high on Harry Redknapp's shopping list at QPR. Given his age, it wouldn't be a total surprise if Spurs cashed in.

Then there's Tom Huddlestone who has the ability but not the mobility. No, Spurs must buy someone. Ajax's Christian Eriksen has been mentioned. He's a wonderful player, but I'm not sure that he is a solution to this central midfield problem. If signed, he'll be competing with Clint Dempsey, Gylfi Sigurdsson and potentially Dembele for the attacking midfielder spot.

Spurs will surely go for Moutinho again having come so close to signing him on transfer deadline day. Maybe this time Levy will start the negotiating process on the first day of the transfer window rather than the last.

An easy way to spot a Spurs fan these days is to see if someone's fingernails are bitten down to the flesh, but with the right January addition, Tottenham will be holding the ball rather than holding on.