Spurs must move on from City mauling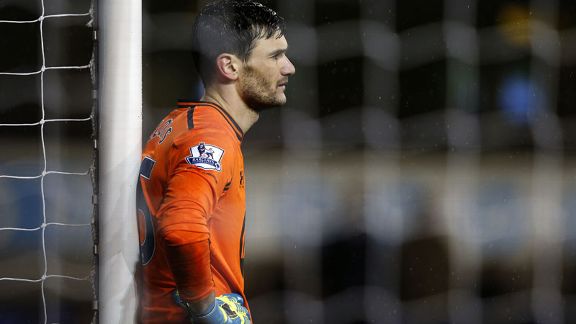 GettyImagesHugo Lloris dismayed Tottenham vs Man City
First things first. Should Michael Dawson's first-half goal been allowed to stand? Probably. Should Manchester City have been awarded a penalty for Danny Rose's tackle on Edin Dzeko five minutes into the second half? Probably not. Should Danny Rose have been sent off? Again, probably not. Was it frustrating that, as so often is the case in Premier League matches, the key decisions all went in favour of the big club? Very.

Now those issues are out the way, we can move on to the one that should most concern Spurs: Did the controversial moments alter the outcome of the game? Only if you believe in miracles. Tim Sherwood was right in his postmatch analysis that City are currently one of the best teams on the planet. Spurs, it has to be said, most definitely are not.

City's 5-1 victory may have been a lot more comfortable than it might have been had Spurs been able to play with 11 men for nearly all the second half, but the gulf in class was apparent from the start. City could have been 3-0 up inside half an hour had they taken their chances, and no one at White Hart Lane could have said they weren't worth the lead.

It's always tempting at times like this to say that City have used Sheikh Mansour's money to buy the title; that the Premier League is no longer a fair competition. Both these things are true. But neither do they deny the brilliance of City. Aguero et al are not prima donnas: their value lies as much in their workrate as their talent. Even before Rose was sent off, it felt as if City were playing with an extra man.

City are masters of closing down the opposition in defence and creating space for one another in attack. On several occasions, Emmanuel Adebayor was surrounded by four City players. City had recognised Adebayor as the key danger man and worked like a pack to neutralise his threat. By contrast, Spurs struggled to get even one player close to Aguero for the 60 minutes he was on the pitch.

Which is not to be said that Spurs played badly; this wasn't a humiliation of the order of the 6-0 loss to City at the Etihad when the team were so badly shell-shocked they abjectly surrendered. For 15 minutes toward the end of the first half, they matched City for commitment and effort and they showed a great deal more fight after the Rose sending off than might have been expected. City's final two goals were as much about Spurs' mental exhaustion as physical fatigue.

This game highlighted a gulf in class. Spurs were not unlucky -- they just weren't good enough. Perhaps Sherwood made a few tactical errors. Playing the inexperienced Nabil Bentaleb rather than the experience of Etienne Capoue was always asking for trouble against the power of City's midfield. Gylfi Sigurdsson didn't look like a left-winger when Andre Villas-Boas played him in that role. He still doesn't. And Michael Dawson's lack of pace is now a liability, and putting him up against Aguero was one of the mismatches of the season.

However, no other team in the Premier League would be good enough to match up if City play this well again. Even Chelsea and Arsenal will struggle against them. Spurs, though, had their limitations exposed. While the team is clearly a lot stronger than most in the division, it's a long way off being among the best. On this performance, a Champions League place looks like a pipe dream.

You can place the blame for this where you like: on Daniel Levy for not opening his wallet wide enough, on Levy and Villas-Boas for not having spent the Gareth Barry dividend shrewdly enough. But the question has to be asked: Are Spurs such a big club with such an obvious commitment to getting better that the best players will necessarily want to sign for them? At the moment, I'd say not.

That Spurs are even still in with a shout of a Champions League place is something of a miracle. Jan Vertonghen, Sandro, Andros Townsend, Paulinho and Younes Kaboul can't return from injury soon enough. Spurs need to forget about the City game as soon as possible. Write it off as a one-off against a team of galacticos they won't have to play again this season.

Getting three points against Hull was always going to be the primary goal. If Sherwood's men manage to achieve that on Saturday, it will have been a good enough week's work.