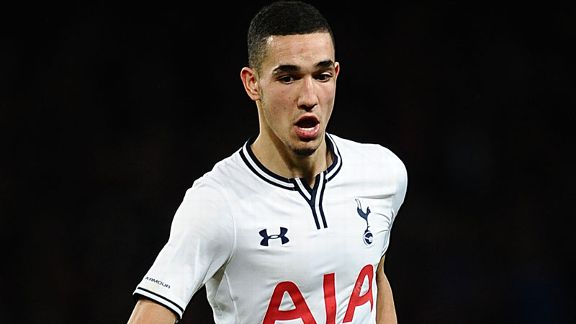 EmpicsNabil Bentaleb: One left-footed player too many for Tottenham's midfield?
Midway through the first half of Spurs' game against Crystal Palace, Nabil Bentaleb struck a long-range shot that hit the intersection of the post and crossbar before bouncing across the face of goal and rolling out for a goal kick. It was Tottenham's one moment of class in what was possibly the team's most inept 45 minutes of the season. If Palace had had more quality up front, along with more self-belief, they would have gone into the interval two goals up.

As it was, Spurs were able to up their game slightly -- mostly by the elimination of stupid errors -- and ran out relatively comfortable 2-0 winners. Tim Sherwood's impressive start to his managerial career marches on with 13 points out of a possible 15. It's a record of which any Premier League manager would be proud, let alone one in his first job.

- Nabil Bentaleb keen to impress

It's Sherwood's influence that brought Bentaleb in to the first team. Andre Villas Boas had certainly given no sign he rated him that highly. Bentaleb's progress suggests Sherwood has a good eye for a footballer. While the youngster struggled against the pace, creativity and sheer numbers of the Arsenal midfield -- as did the more experienced players -- for the most part he has looked comfortable playing at a higher level.

Whether or not his elevation owes as much to Sherwood choosing to give Etienne Capoue the cold shoulder -- some newspapers have reported the manager has been less than thrilled with Capoue's attitude in training -- as his own talent is immaterial. Bentaleb has been given his chance and taken it.

Good as he is, though, Bentaleb's place in midfield does create problems. With Bentaleb playing alongside Mousa Dembele, Spurs have two left-footed players at the heart of midfield. This would be less of an issue if either Dembele or Bentaleb were just predominantly left-footed and could occasionally use their right foot to shoot, cross or pass. But they aren't. They are both almost exclusively left-footed. Both only use their right foot in extremis, which makes defending against them both much easier.

Opponents know that neither player is capable of switching direction; as long as defenders stay locked on the right shoulder of Dembele and Bentaleb, the threat Spurs offer in attack will be far easier to predict and contain.

Nineteen times out of twenty, both Dembele and Bentaleb will go wider and wider towards the left in an effort to create more space for themselves. Providing the opposition can makes sure neither gets the opportunity to shoot and limits their passing options, then any Spurs attack is almost certain to fizzle out.

This is what happened time and again against Crystal Palace. Attacks would slow to a walking pace as Dembele and Bentaleb had few choices other than to pass sideways or backwards. At times it felt like watching Spurs under AVB at the beginning of the season, rather than Sherwood's new free-flowing, attacking Spurs 2.0.

It was no surprise that Spurs' first goal came from a long, hopeful ball from Kyle Naughton that Emmanuel Adebayor managed to knock down for Christian Eriksen to finish. With Spurs' midfield creativity either absent or nullified, the long ball was increasingly the only way likely to break down the Palace defence.

It's unlikely Sherwood will be inclined to break up the Dembele/Bentaleb midfield axis for Sunday's away game at Swansea as neither Sandro nor Paulinho look set to have recovered from injury by then. Their quality -- along with their right feet -- have been much missed.

It's also unlikely the Welsh side will be so profligate in attack or so vulnerable to the long ball as Crystal Palace. If Spurs are going to come away with more than a point, they will need to raise both their creativity and their intensity. Spurs have a week to come up with some ideas. Let's hope they use the week rather better than the one they did before the Palace game.