Chelsea an ideal gauge for Spurs' progress
The empty seats at Villa Park for the Capital One Cup match said everything about the home team's expectations. That the ground was barely a third full long before Jermain Defoe rounded the keeper for Spurs' fourth goal showed that those limited expectations had been more than met. Spurs' season carries on going from strength to strength. In all competitions they have played nine, won eight; goals for: 20, goals against: one. Those inside the club must be pinching themselves every bit as much as the fans.

For the first time in more than a decade, Spurs go into a home match against Chelsea as the bookies' favourite -- albeit only just -- and the game should give a good indication of just how strong the North London team really is. No one can deny there is a reassuring resilience and strength in depth with the current squad but, without diminishing the achievements so far, Spurs have only played one game against top-class opposition. And in that match against Arsenal, they were under par and unthreatening and lost.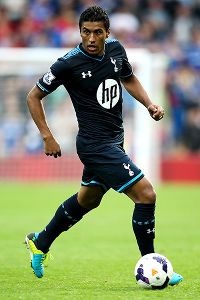 Ben Hoskins/Getty ImagesPaulinho's work rate and performance at midfield have had a positive effect on Spurs' stability.
Since that game, Spurs have looked increasingly impressive as the numerous new players have gradually settled in and adjusted to each others' and Andre Villas-Boas' style of football. Eriksen is the newcomer who has got the most headlines with his eye-catching creativity, but it is Paulinho who has perhaps brought the most stability to the side. The Brazilian got off to a slow-ish start in the first few games but since then he has become the linchpin of the midfield. His late winner against Cardiff was the icing on the cake -- when was the last time a Spurs midfielder was seen poaching inside the 6-yard box in injury time? -- but it is his work rate, much of it unnoticed and unheralded, that has made the most impact.

The Capital One tie against Villa was a case in point. For much of the game, Paulinho seemed efficient and unremarkable, only drawing attention to himself when he popped up at the near post to scramble in a Holtby corner for Tottenham's second goal. But midway through the second half, AVB took him off and sent on Dembele as a substitute. Almost immediately Villa began to take control of the midfield and began to put Spurs under pressure for the only period of the match. Here was a classic example of only appreciating what you've got when he's gone.

Even though Dembele has been out of sorts this season, he has been AVB's first pick in midfield, and he looks likely to start against Chelsea. However, with Sandro coming back to his best, many fans might rather see him partner Paulinho in central midfield. Eriksen, Townsend, Sigurdsson, Soldado, Walker, Dawson, Vertonghen and Lloris all seem -- late injuries permitting -- certain starters. Which is tough on Defoe and Lamela, in particular, as they are both in form. Holtby and Chiriches make up a strong subs bench. AVB's one area of concern is at left-back. Danny Rose's injury against Tromso has exposed a vulnerability, as neither Naughton against Cardiff nor Fryers against Villa looked at all comfortable as his replacement.

The only -- and less than ideal -- alternative is to play Verthongen at left back and put Dawson and Chiriches at centre-back. AVB got some flak for letting Caulker go to Cardiff during the preseason, but allowing Benoit Assou-Ekotto to go on loan to QPR now seems a bigger risk. It's no secret that BA-E and AVB did not always see eye to eye, with fans' favourite Benny not always being quite on message with his manager's seriousness, but he was a gifted left-back and would have done a more than useful job.

Competition for places in the Spurs team is fiercer than it's ever been, but at least AVB now seems to have good idea of what his best team is. Which is more than can be said for Mourinho, who will be anxious to get one over his younger and better-looking compatriot. AVB must be praying that Mourinho decides that Mata's best place is on the bench, as it was the Spaniard who was the pivotal player in Chelsea's 4-2 win at White Hart Lane last season. AVB will also be keen to remind his old employers of the mistake they made in sacking him. It promises to be a tight game Saturday. Come 2.45 in the afternoon we will have a better idea of just how much progress AVB's work-in-progress has made.