Ditch the caution AVB, Spurs favour the brave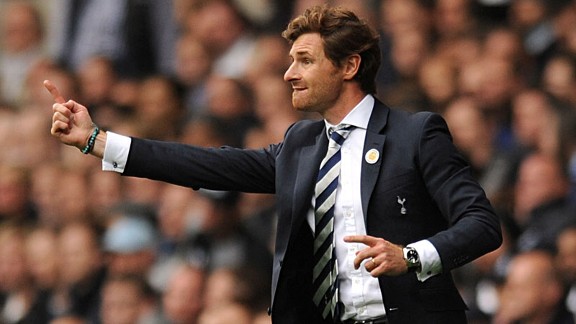 PA PhotosAndre Villas-Boas: Limited by his midfield options
It's official. Spurs are a better team away from home than they are at White Hart Lane. Well, at least on current form.

Tottenham have taken nine points from four away games, compared to eight from five at home. Perhaps it's not surprising considering we have such pace and are dangerous on the break, where at home we sometimes struggle to break through against a side set up to defend, without someone like Luka Modric to pick the lock.

As I wrote in my match preview, Spurs can't always be relied upon to beat the Premier League's strugglers, so I'm delighted that we've come away with a win. The first goal was especially pleasing. A great pass from Tom Huddlestone (who played his best game since coming back from injury), found Bale coming in from the left and he powered in a header from distance.

It was the type of goal which demonstrates why Bale is mentioned in the same breath as Cristiano Ronaldo. Like the Real Madrid star, Bale possesses the height and physicality to be a real threat in the air. Alongside his pace and dribbling ability, it makes for a rare combination.

With Clint Dempsey adding a second, the game looked wrapped up. Indeed it should have been had Jermain Defoe shown as much composure in front of goal today as he has all season.

Having not put the game beyond doubt, we allowed Southampton back into it. Jay Rodriguez grabbed a goal from a corner and we suffered some scary moments in the remaining minutes, before the referee put Spurs fans everywhere out of their misery.

Their goal followed a substitution that saw Huddlestone go off and the more defensive Jake Livermore come on. It was another instance of Andre Villas-Boas seemingly looking to protect our lead rather than go for the killer blow, and it once again came close to backfiring.

To be fair to AVB, the substitution may have come about because Huddlestone is still finding his way back to full fitness. With Scott Parker and Moussa Dembele out injured, Livermore was our only central midfield option.

Yet AVB has been guilty of being overly cautious in the past, pairing the too similar Sando and Livermore on many occasions and having taken off a striker in games we were dominating. As a result Spurs have dropped points against West Brom, Norwich and Panathinaikos in games that we really should have won.

I really wish that Tottenham were the type of team who could shut up shop and leave me safe in the knowledge that a rogue customer wouldn't sneak in, but it just doesn't seem to be in our DNA.

Take our win against Manchester United as an example. In the dying minutes we won a free kick deep into the right side of their half. Any normal team would have dribbled the ball into corner to waste some time. Us? A 60-yard cross-field pass to the opposite wing. It's no wonder that I seemingly aged a decade in that second half.

The pairing of Sandro and Livermore is always likely to invite pressure. They both sit deep and prefer to play short, largely horizontal, passes. So we end up camped in our half, struggling to get forward.

Despite what my Twitter timeline might indicate, it's not the fault of Livermore. I can recall Spurs having very similar problems when Sandro and Parker were on the field together last season.

As I've said, AVB is hampered by the fact that he isn't blessed with attacking riches in central midfield. Still, the old adage that the best form of defence is attack, has always seemed to have been specifically written with Spurs in mind. Have faith and push forward Andre. As a wise man once said, 'To dare is to do'.