Spurs first, England second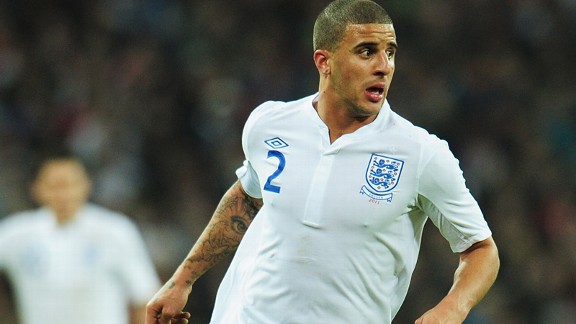 GettyImagesKyle Walker has been called up for England WCQ double header.
A couple of days ago the chairman of the Football Association, Greg Dyke, said he thought England had no chance at the next World Cup in Brazil and that nothing would change in future international tournaments unless Premier League clubs gave more opportunities to English players. Forgetting for a moment that in a previous incarnation as a London Weekend Television executive in 1990 Dyke encouraged the top clubs to turn English football into a financial free-for-all by forming a breakaway Premier League, he clearly has a point.

England are currently 14th in FIFA's world ranking. Some may think that position is a little high -- FIFA has historically been wildly optimistic about the English team's ability -- but it probably just about reflects the status of a team that can almost be guaranteed to produce three uninspiring group games before going out on penalties at the first knock out phase. Watching an England side that frequently looks laboured, out of ideas and would struggle to beat half the teams in the Premier League has become deeply depressing. I wouldn't go to Wembley to see them play, while I'm quite happy travelling across Europe to watch Spurs.

- Brewin: The trouble with Roy Hodgson

England have become a team without identity and with little more than a "Kick it and hope" 4-4-2 mentality. You can blame the managers if you want. You can blame the players if you want. But blaming both is something of a distraction. The manager can only work with what he is given and there just isn't an abundance of English talent in the Premier League; he also only has a few weeks at a time over the course of a season to have any effect.

Now take Spain. There are only two teams in La Liga that have a realistic chance of winning any domestic competition: Barcelona and Real Madrid. The rest rather make up the numbers. But La Liga is stuffed with Spanish players. Is it a coincidence that Spain has been top of the FIFA rankings for the past five years? I don't think so.

Which brings us to this weekend's internationals. After last week's defeat to Arsenal, what the Spurs squad really needed was time together. Time to bed in, get to know each other and create a style of play that suits every player and can unpick opposition defences. Instead, more than half the team has been flying off around the world to join their national teams.

So here's a question for you: What is your hope for all these players on international duty? Is it that they excel for their national team? Or is it that you are more keeping your fingers crossed that they spend most of the time sitting on the bench so that they have as little chance of being fatigued or picking up injuries prior to their returning to White Hart Lane?

I ask because while I would like any Spurs player to do well in a World Cup game, what I would like more is for them to come back fresh and uninjured. And, rest assured, everyone working at White Hart Lane has exactly the same priorities.

I know it's not exactly patriotic. It's not exactly like me, come to think of it, because in every other sport I can think of, I put England's success ahead of club success. But with football I'm completely tribal. It's Spurs first, England second. Would I rather Spurs won the Champions League or England won the World Cup? No contest. Champions League every time.

From a quick poll of other football fans -- not just Spurs supporters -- it would appear my position is fairly normal. But it is one that raises a few moral issues other than club or country. It also makes me complicit in the financial free-for-all of the Premier League. Almost every football fan moans about the cost. The price of tickets, the insane transfer fees; I'm still struggling to work out how Gareth Bale could be worth £87 million. But by buying in to Spurs' Premier League dreams of a top-four finish with a cup or two thrown in for good measure, I've come to realise I've rather forfeited any moral high ground. You can't take all the excitement and benefits of a system while claiming it's actually corrupt and you're actually on the outside of it.

So where do other Spurs fans stand on this? I'm genuinely interested to know. Just say that Hugo Lloris, Jan Vertonghen, Kyle Walker, Paulinho, Christian Eriksen, Andros Townsend, Moussa Dembele and Jermain Defoe all pick up injuries that sideline them for a month and Spurs limp to a draw against Norwich and lose to Cardiff and Chelsea. What then? Will you resignedly accept that it's a price worth paying for the glory of international football? Or will you be cursing the international break under your breath?