Spurs win, but Willian replacement required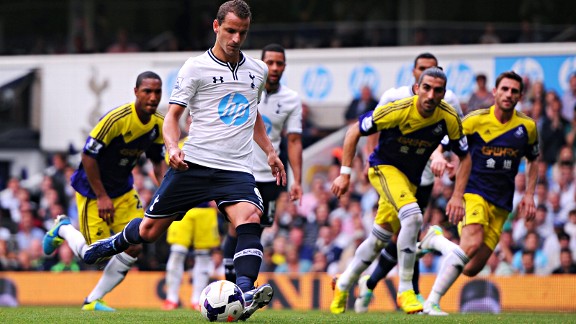 GettyImagesRoberto Soldado has scored two penalties in two Premier League games.
The frustration was beginning to show. The frustration of many season-ticket holders who missed the first 10 minutes after the White Hart Lane computer system had failed to update their new access cards. The frustration of finding yet another opposition goalkeeper in the form of his life, with Swansea's Michel Vorm making several world-class saves -- in particular from a right-foot shot from Moussa Dembele midway through the first half. The frustration of seeing a nailed-on penalty when Jonjo Shelvey tripped Andros Townsend in the area a couple of minutes before the interval given as a free kick outside the area. How often had Spurs seen that happen last season?

And then relief. Townsend made another challenging run into the area and was knocked off the ball once more by Shelvey. It didn't look as clear-cut a penalty as the first challenge, but this time the referee gave it, though chose not to send Shelvey off even though he was already on a yellow card. Soldado put the ball on the spot. Just as he had in the season's opener against Crystal Palace, Roberto Soldado hesitated in his run-up. This time he placed the ball to his right as Vorm dived the other way. 1-0. Soldado had just scored his fourth goal in three games and his second penalty. It's been a long while since Spurs had such a nerveless and reliable spot-kick taker. His £30 million price tag is being repaid a great deal faster than many at White Hart Lane had dared hope.

- Macintosh: No Bale, no problem
- Swansea pay the penalty

Before the goal Spurs had looked in complete command. Etienne Capoue, Dembele and Paulinho had dominated in possession and never allowed the Swansea midfield to settle. Michael Dawson and Jan Verthongen hadn't put a foot wrong at the heart of the defence and Townsend was again impressive on the right flank. He gave Shelvey a game he would rather forget and Aaron Lennon will have his work cut out to get his place back.

Once Spurs had their noses in front, they backed off, allowing Swansea's Michu, Angel Rangel and Chico Flores to press forward. Only a world-class save by Hugo Lloris from a Chico Flores volley kept Spurs ahead. Lloris may not have had the busiest of afternoons, but what interventions he did make were crucial. Assured in the air, a wonderful shot stopper and in command of his area, the French international is one of the more underrated stars of the side.

Understandably, given the midweek trip to Georgia, the tempo flagged in the last 25 minutes. Kyle Walker was a huge threat going forward but once again was caught out of position several times in defence; Dembele faded and was replaced by Gylfi Sigurdsson and Sandro was a late substitute for Townsend. The Brazilian's return provided the stability that had begun to go missing.

So Spurs held on once again for their second league win on the trot. Andre Villas-Boas won't be able to fault the energy and skill levels of his players, but he must be a little concerned that for all his team's creativity and possession, they haven't more to show in the goals column than a couple of penalties. This is a team that ought to be comfortably closing out the last 15 minutes a couple of goals to the good, rather than hanging on to a nervy 1-0 win.

Had the deal to bring Willian to White Hart Lane not been hijacked by Chelsea at the last minute -- there's no love lost between Jose Mourinho and AVB, as the Chelsea manager believes there is only room for one Portuguese Special One -- then Spurs might be more relaxed. Willian was the ideal No. 10, the perfect lock picker to link Soldado and the midfield. There are still eight days to go 'til the transfer window closes; Spurs fans will be waiting anxiously to see if chairman Daniel Levy can pull any late rabbits out of the hat. Erik Lamela from Roma could be a key acquisition.

Still. Two league wins out of two is a wonderful start for a team that is still to get into its stride. The return Europa League qualifier against Dinamo Tbilisi on Thursday should be a formality (spurs lead 5-0), then next up is Arsenal at the Emirates. This could be a very good time to play the north London rivals. Spurs may be work in progress but these are happy days in N17.