Video: Cristiano Ronaldo crunches Gareth Bale at first Real Madrid training session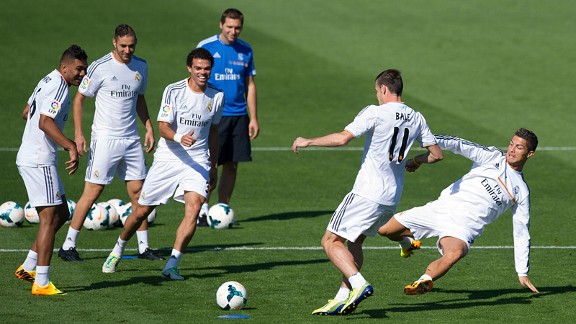 GettyImagesCristiano Ronaldo sticks one on Gareth Bale in training.
Now there's a photo to make Florentino Perez wince: his former world record signing going in hard and late on his current world record signing during their first Real Madrid training session together.

During a lightning quick rondo drill (that's "piggy-in-the-middle" to you or I), Cristiano Ronaldo worked himself up into a lather and flew in, studs-up, at the ankles of Gareth Bale - ankles that happen to be worth approximately £42.5 million each these days.



Thankfully it would appear that Bale escaped without sustaining any serious injuries, which is jolly good news as he's supposed to be making his Madrid debut against Villarreal on Saturday evening.