Jack the Lad rebounds to keep Arsenal on track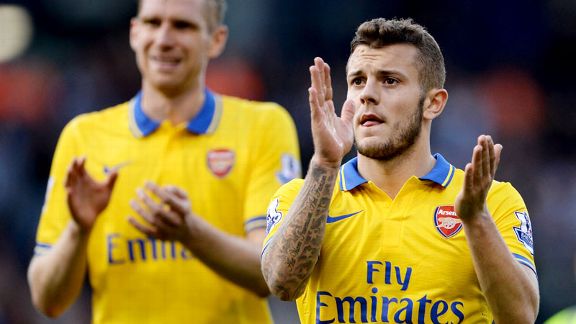 AllsportJack Wilshere rated his form a six-and-a-half out of ten.
WEST BROMWICH, Eng. -- As the supporters celebrated "Jack the Lad," the chant was inevitable.

"He smokes when he wants," came the chorus from the stands. It is safe to assume a certain puritanical French manager did not find himself singing along, but after a week in which Arsene Wenger condemned Jack Wilshere's off-the-field behaviour, this time he was photographed scoring.

Given his much-discussed midweek antics, there is a temptation to say that Wilshere was smoking hot at the Hawthorns. Actually, he wasn't, as those who witnessed his first-half display can testify, but goals can compensate for other failings.

Wilshere's first goal in the Premier League since October 2010 had an importance that extended beyond taking Arsenal back to the top of the division. Better still, it brought praise from Wenger and seemed good for the midfielder's self-esteem after a few weeks in which Mesut Ozil has been installed as the new crown prince, and he has been demoted to the ranks of the courtiers. As Wilshere went over to applaud the travelling supporters before, bare-chested, being the last to leave the pitch, it was with the sense he had reaffirmed his commitment to the cause, and not just with a rash tackle on Claudio Yacob that brought a booking.

- Report: Wenger praises Wilshere's spirit
- Prem wrap: Gunners held, Spurs routed

Out of sorts and out of position on the left flank before the break, he was invigorated and involved by a switch to the right. After misplacing passes early on, his was a very English answer. It entailed drive and determination, trying to change a game through force of personality rather than technical perfection. "He has character," Wenger said. "He kept going, and it was good he was rewarded."

A capacity to make things happen was apparent with a drilled equalizer from 20 yards, albeit one that required a telling deflection from Jonas Olsson after Tomas Rosicky had teed him up. Nevertheless, Wilshere's premier role, Wenger said, is as the fashioner -- not the finisher -- of opportunities.

"I don't think he will ever be a goal scorer," Wenger said after the game. "He is a player who can create chances and provide chances for others. That is as important." And yet another failed to convert the opportunity Wilshere crafted so beautifully. It was a belated reminder of the ability that has given Wilshere the tag of the greatest English talent of his generation: a superb pass over the West Bromwich Albion defence that could, and perhaps should, have led to Olivier Giroud scoring a winner. Instead, Boaz Myhill smothered the striker's shot.

And so the narrative of the perfect comeback was not completed. Yet this was a tale of two Arsenal prodigies, past and present. Before Wilshere levelled, Nicolas Anelka, who provided proof of Wenger's faith in youth in the last millennium, missed two chances to double Albion's lead.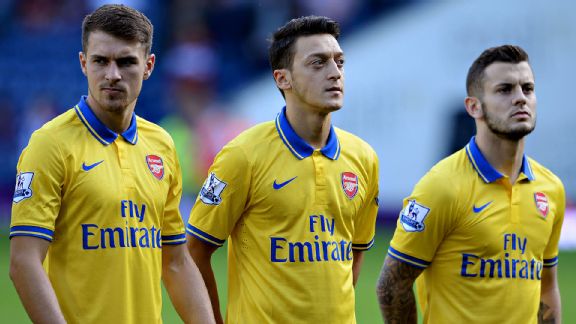 David Price/Getty ImagesAaron Ramsey and Mesut Ozil have overshadowed Jack Wilshere so far this season but the young Englishman stepped up when it mattered vs. West Brom.

With his wastefulness, Wilshere was permitted to turn saviour. Whether that will be enough to preserve his place in the team when everyone is fit is another matter: Ozil's arrival has buoyed the manager, the supporters and the rest of the players. but Wilshere could be forgiven for worrying.

While the season's two headline makers had perhaps their quietest games of the campaign -- Ozil still managed some incisive passing but the seemingly indestructible Aaron Ramsey didn't last an hour -- the reality is that both belong in Arsenal's strongest central trio. So does Mathieu Flamini, the cheaper summer addition who illustrated why he is now the premier defensive midfielder.

Yet in the short term, Wilshere's place is secure. With Theo Walcott, Alex Oxlade-Chamberlain, Santi Cazorla and Lukas Podolski all sidelined, Arsenal have had to become Wenger's wingerless wonders. It means there has been something magnificently illogical about their winning run; they have had to be adaptable. "I am not used to playing on the wing," Wilshere admitted. "It was a tough game for me."

Indeed, the only specialist winger on either side set up the West Brom goal as Morgan Amalfitano crossed for Yacob to open his Albion account. After beating Manchester United eight days earlier, a second major scalp beckoned. As it was, Albion's excellence denied Arsenal a club-record 13th consecutive away win, and Wilshere, rebuked earlier in the week, found Wenger in more understanding mood as his manager laughed away a question if he had given up smoking.

"He is an honest guy, and when he is wrong, he knows it," the Frenchman said. "Today the players don't get away with anything. We got away with more. They know that is the rules of the game and of modern society. He learns quickly."

And so, on the evidence of this season, do Arsenal.

MAN OF THE MATCH: Youssouf Mulumbu
The Congolese is a terrific enforcer. He and Yacob are a fine partnership, and they excelled against Ozil.

WEST BROM VERDICT:
Wenger paid them a glowing tribute. "West Brom confirmed why they won at Manchester United," he said. "They have good players in every position and a huge squad." Indeed, the counterattacking pace of Amalfitano, Saido Berahino and Stephane Sessegnon gives them real menace, and they continue to look solid at the back.

ARSENAL VERDICT:
Their run of five straight league wins was ended, but after going 1-0 down, this was truly a point gained. Rosicky, their match winner at West Brom last season, made an impact after he was introduced. While Wenger's bench isn't as strong as it could be, he still has options.