Three Things: Sunderland vs. Manchester United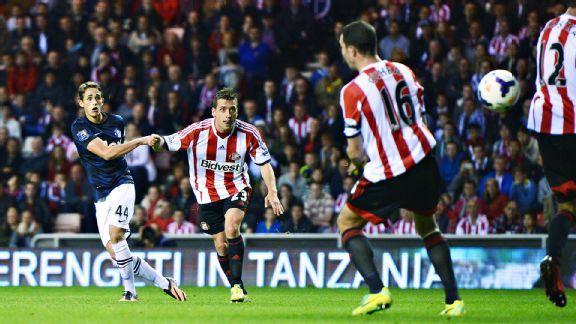 Michael Regan/Getty ImagesAdnan Januzaj's scorching second-half volley earned Manchester United a comeback win at Sunderland.
SUNDERLAND, England -- Three observations from Manchester United's crucial 2-1 win over Sunderland at the Stadium of Light:

Adnan Januzaj graduates from YouTube star

The gliding runs, twisting back and forth -- at times Adnan Januzaj evoked memories of Ryan Giggs with his performance Saturday night.

David Moyes wanted to start Januzaj three or four weeks ago, and having given Premier League debuts to Wayne Rooney and Ross Barkley, he must feel as if he is ushering through another star. The Belgian winger has already made an impact on the United first team and during the course of 90 minutes seemed infinitely better than his more experienced teammate Nani.

Perhaps what is most surprising is the youngster's self-assurance. The atmosphere cultivated at the Stadium of Light was intimidating, especially after Craig Gardner fired home inside 10 minutes with the home side desperate for points. It could easily have overwhelmed an 18-year-old tasked with facing the physically unforgiving Lee Cattermole.

Yet it didn't seem to faze the man Moyes described after the game as a "top, top player." Rescuing a victory for United with two goals, his first saw him hold off the terrier-like Cattermole and calmly usher the ball out wide to Patrice Evra. Providing a further example of his supreme composure just seconds later, he made his way into the box before guiding the Frenchman's low cross into the back of the net.

With his second goal, Januzaj showed all in attendance why they may be witnessing a potentially world-beating talent. For the number of youngsters in attendance came a lesson in volleying from a man who had only recently graduated from childhood. Making a clean connection and with his body over the ball, he gave United the lead and silenced a home crowd that had been hoping for at least a draw.

Januzaj's day was not without some controversy, though. A diving winger has been on the agenda of problems for Moyes lately, and the problem seems to be spreading. Lacking the kind of subtly that Ashley Young applies to his flops, a slalom run from Januzaj at 1-0 ended in him asking for a penalty. The lack of any kind of contact from an opponent made his claims useless and rightly saw him booked by referee Martin Atkinson.

Although after Saturday's performance there may just be a tone of concern creeping into the mind of Moyes -- even if he denied it in his postmatch interviews. The midfielder's new deal stalled when Sir Alex Ferguson departed Old Trafford, according to his agent this week. Having lost Paul Pogba to Juventus in recent seasons, you would imagine the club's negotiators would be loath to lose another starlet reared at the United academy. Barcelona and Bayern Munich are two potential suitors, according to reports.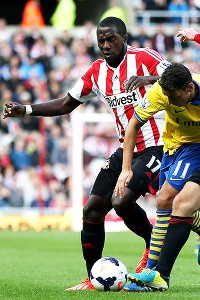 Ian MacNicol/AFP/Getty ImagesJozy Altidore has struggled to get good service this season.
Jozy gets the service

The life of a striker is so often defined by goals. Score regularly and your worries drift away to insignificance, but those periods of barren form are when a player's character comes under its toughest scrutiny.

Unfortunately for Jozy Altidore, he finds himself placed firmly in the latter situation. Still haunted by his goal-shy spell at Hull City, it is often the first reference point for detractors when he clocks up another goalless 90 minutes in red and white.

It seems harsh to burden all the blame with Altidore, however. Had it not been for Atkinson's confusing call against Arsenal, he would have at least one Premier League goal to his name. Equally, if he was gifted better service by those around him, you could easily argue that he would have broken his Premier League duck by now.

For all the superficial elements that cast Altidore as a bulking target to fire the ball at, his time in the Eredivisie proved that he is so much more. He's an intelligent striker, but there are airs of frustration creeping into the striker's body language -- something Kevin Ball said after the Liverpool game that his teammates must help quell.

Altidore's frustration appears to stem from when his new teammates don't give him the ball feet in and around the penalty box. Instead, he is forced to try self-fashioned pop shots from distance, recording an average of just under two shots per Prem game for Sunderland.

On Saturday, his frugality in front of goal hit its lowest ebb. Against United, and for the first time this season, Altidore failed to register a single shot. As the football adage goes, if you don't shoot, you don't score.

With Steven Fletcher set for a spell on the sideline with an injured shoulder, Altidore has inherited the role as the club's best striking talent. It means the necessity to work toward his strengths is vital and in the coming weeks will define success or failure for the Black Cats.

The decline of Nemanja Vidic

The message from Nemanja Vidic on Friday was simple: "We have to perform." Unhappy with back-to-back defeats in the Premier League, Saturday seemed like a case of "do as I say, not as I do" from the Serbian defender. Once an intimidating, aggressive centre-back, his star has somewhat waned in recent seasons.

Some may point to knee injuries taking a toll on a body that is on the wrong side of 30 years old. But for a side with the ambitions of United, sentiment is not allowed.

Although Phil Jones' clearance in the buildup to Gardner's goal was poor, it was Vidic's tangled feet that saw the ball fall so nicely for the Sunderland man to fire home. And his performance in the first half did not pick up from there. His clearances did not invoke confidence, nor did his handling of American forward Altidore.

The bulking frame of Altidore is a one few defenders will relish this season. And for Vidic, a defender used to bossing strikers physically, this match was a harsh lesson in why it might be time to change his approach. The Serb's struggles were typified midway through the first half with Vidic down by the touchline. Brushed off the ball by Altidore like a stack of papers on a desk, Vidic may have been in trouble had it happened in a more dangerous area. Regardless, it proved a prime example that both pace and power will cause problems for the defender.

It also explained why in the second half Jones was the man tasked with marshalling Altidore, a role he performed well. Jones is still burdened by being the jack-of-all-trades, yet he can be proud of his performance against Sunderland. In the rare instances in which he was culpable for mistakes made, he was able to recover and rectify the situation; in particular, his last-ditch tackle on Gardner prevented what could have been a hammer blow of a second goal.