Three Things: Man City vs. Bayern Munich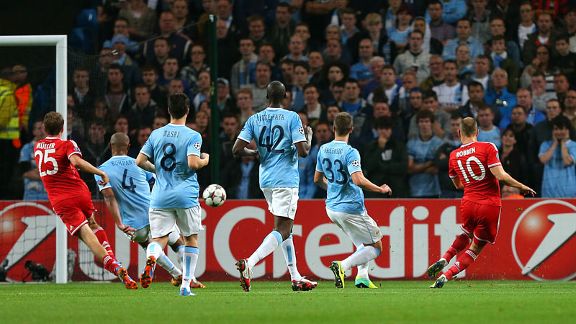 GettyImagesArjen Robben scores the third goal in the demolition in Manchester.
MANCHESTER, England -- John Brewin brings us his three observations from Bayern Munich's 3-1 defeat of Manchester City at the Etihad stadium:

Simply the best?

Pep Guardiola does not like his teams to play with simplicity. His delight in intricacy has made his twiddling with Bayern resemble some kind of conceptual hipster art project at times. However, if there is a group of players in the world game who can deliver results while an experiment is taking place, it is the current European champions.

Guardiola did not take over a team that had climbed every mountain and crossed every river. They want to learn from him, and their display in Manchester ensured City were rinsed. By the end of the first half, Manuel Pellegrini's team were stumbling around like drunks on Piccadilly Gardens.

Philipp Lahm is without parallel as a full-back yet has become a superlative midfield anchorman. Yaya Toure, City's driving force, disappeared in his calm and collected wake.

- Report: Manchester City 1-3 Bayern Munich
- Jolly: Hart failure
- Curtis: Champions of Europe

At Barcelona, Guardiola once fielded nine midfielders, seemingly for the sake of it. Here, Bayern played just two midfielders by trade in Toni Kroos and Bastian Schweinsteiger. The effect was an evisceration of a team regarded by many as the Premier League's strongest, with midfield a particular area of that strength.

Guardiola is not attempting to convert his new team into a Bavarian Barcelona. Instead, he is twisting the winning formula of Jupp Heynckes through positional switches and a greater emphasis on possession. The previous power game remains a vital cog.

Thiago Alcantara was the sole addition he asked for, and he is injured, meaning that while Javi Martinez also recovers from injury, he is working without Spanish compatriots. No matter, City were pulled apart by Der Tiki-Taka and were chasing red shirts in the forlorn fashion United chased blue 10 days ago.

Guardiola prowled the touchline in his usual cool yet visibly tense fashion. He gives his players merry hell. Whenever they looked in his direction, he was to be found pacing, pointing and prompting. They proved highly responsive. Thomas Mueller caused havoc, his constant shifts leaving City's defenders with no one to focus on. Franck Ribery and Arjen Robben's arrowing runs from the flanks into the centre then tore City to ribbons.

Had City's Catalan power brokers got their wish, Guardiola would have been standing where Pellegrini stood. His choice of southern Germany over northwest England -- and west London -- looks to have been a good one. His team looked like anybody's idea of Champions League favourites.

Problems for Pellegrini

Despite his rather resplendent bouffant, Pellegrini does not seem the type to switch the half-time hairdryer into blast mode. Whether his words were carefully chosen or delivered with invective, they had the effect of lifting Manchester City from a torpor. The first half had been a total 1-0 thrashing, but beyond the break, City hunted in packs, and their efforts lifted the home crowd.

Yet within minutes, Bayern recovered their composure, and City lost theirs. Gael Clichy's dallying played Mueller onside. Worse, he stood stock-still while Mueller, not one to pass up an opportunity, rounded Joe Hart and scored. The flag that Clichy hoped for never arrived. Instead, it was pointed at the centre spot.

It was all rather reminiscent of the pain that City suffered in this competition in their past two campaigns. Then, Roberto Mancini took the blame, but this was a far worse performance than under the Italian. And he never actually lost at home in the Champions League, either. Worse, Mancini's first night in his new job at Galatasaray saw him enjoying a creditable 2-2 draw against old foes Juventus. This will have doubled his enjoyment.

Too many City stars went missing; Toure was invisible, Samir Nasri anemic. Sergio Aguero did his best work hunting the ball rather than aiming it at Manuel Neuer, who, until City's late flurry, could have played the evening in his overcoat.

Pellegrini was brought in to City as the expert, the experienced campaigner who took unfashionable clubs into the further reaches. City should, barring disaster, still qualify from an easy group, but they were made to look a huge distance from Champions League contenders.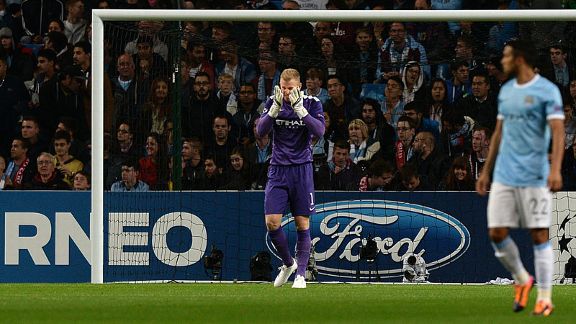 GettyImagesJoe Hart holds his head after letting the ball in.
We need to talk about Joe

Joe Hart must have known what Franck Ribery does when he is given the chance. A cut from the left onto the favoured right foot and smash; the regularity of success of this outcome is the reason that the Frenchman was voted UEFA's European Player of the Year.

The shot was hit with ferocity, but Hart was in the correct position to make a save. His hand reached the ball, but still the net rippled. Hart can no longer be considered to be going through a blip. His form has been -- for the greater majority -- poor since that Kiev evening when Andrea Pirlo Panenka-ed him in a Euro 2012 shootout. Mancini might have been wrong about a lot of things, but he had Hart's fall from grace just about right.

At Parkhead the previous evening, an English goalkeeper pulled off a superlative double save to prevent Barcelona's Neymar and Alexis Sanchez. Celtic's Fraser Forster has to be considered soon by his country; his Champions League performances have far outstripped England's No. 1 'keeper in the last year. Roy Hodgson is hugely unlikely to take such a drastic decision in the must-win qualifiers with Montenegro and Poland, but beyond that, Forster has to be given a chance. Hart is simply not playing well enough to be undroppable. Concentration and confidence are lacking. City and England must find competition for him or pay the price.

Bayern could sense his discomfort, too. In the first half, they tried to get a shot in whenever they came within a 25-yard range. Hart could thank both luck and some determined defenders that he was not exposed again. Yet when Bayern's third arrived, he was again guilty on the near post. This time it was Robben, a converse Ribery as a player with one foot and a usual course of action. Hart failed the test once again.