Three Things: Arsenal vs. Crystal Palace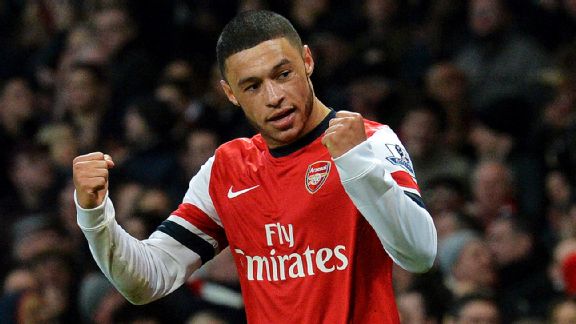 Ben Stansall/AFP Photo/Getty imagesAlex Oxlade-Chamberlain provided two brilliant moments in an otherwise average Arsenal performance.
LONDON -- Thanks to a brace from Alex Oxlade-Chamberlain, Arsenal returned to the top of the Premier League. Here are three things from their 2-0 win over Crystal Palace ...

Arsenal set a new trend, Cazorla sets the benchmark
The lingering argument is that Arsenal's title challenge will return to the pattern of recent seasons, but there does seem to be a rather different trend emerging in this campaign.

This was the third home league game in a row in which they began with a rather tepid first half and invited a few suggestions they might slip up, only to claim another comfortable 2-0 win. It was the perfect way to begin banishing the admitted farce of the Kim Kallstrom story: with a formidable display of fortitude.

- Mangan: Ox fires Arsenal top
- Report: Arsenal 2-0 Palace

Arsenal have undeniably developed the right rhythm for a title race, right down to how they managed these opponents. If such professional 2-0 wins are beginning to feel any way routine, however, the move which first secured it was anything but. It was a moment of magnificent vision and elegance -- if also outright opportunistic in nature.

Throughout the first half, Crystal Palace's defensive structure had held impressively firm. They had barely wavered, and Arsenal were getting increasingly frustrated. Just a minute into the second half, perhaps still a little lax after the break, an opening presented itself. Cazorla expertly picked it out with a divine ball, and left Alex Oxlade-Chamberlain to lift it over Julian Speroni.

No new striker, no problem
The resurgent form of Cazorla is, by now, nothing to be really remarked upon. It was said on these pages two weeks ago, after the Spaniard had provided a match-winning performance against Fulham, that he was conforming to another impressive trend of Arsenal's campaign. Just when the fine form of one creative playmaker starts to wane, another steps in. First it was Mesut Ozil straight after his arrival, then Aaron Ramsey, then Jack Wilshere and now Cazorla.

The other encouraging aspect for Arsenal, however, is that the kaleidoscopic sharing of responsibility now seems to be applying to their game-changing goal-scorers too. In each of their past five league games, a different player has provided the key first strike. Going back to the Cardiff match on New Year's Day, there was Nicklas Bendtner, then Jack Wilshere against Aston Villa, Cazorla himself, Olivier Giroud and now Oxlade-Chamberlain.

The young winger stepped into the breach in more ways than one, scoring his first goal since December 2012 before quickly adding his second. Given all of the questions about Wenger's failure to sign another forward -- not to mention the fact it would be asking an awful lot of Giroud to return to his early-season scoring rate -- sustaining this could be the key to the challenge.

The Crystal Pulis effect
For all the perceptions about Arsenal and Tony Pulis, not least after a number of controversies between the parties over the past few years, there is a rather surprising stat. The Crystal Palace manager has never secured a positive result at the Emirates. So much for all the old accusations of Arsenal being unable to handle the physicality.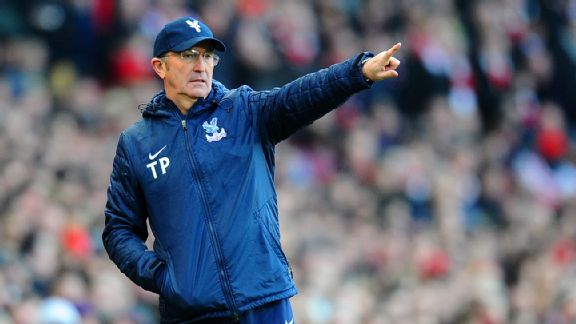 Mike Hewitt/Getty ImagesTony Pulis has infused Palace with an impressive sense of resilience but it wasn't enough at the Emirates.

For his part, this was a rather different Pulis team to the stereotype of Stoke. Without the same kind of muscularity up front, they were still defensively solid but much sleeker than the hugely aerial side he used to oversee. Rather than punt the ball high and long, his midfielders were more prepared to play it low and fast. They also initially caused Arsenal some real problems -- not least the industrious Emirates old boy, Marouane Chamakh.

It would be tempting, of course, to relate that requirement for greater nuance to the fact Palace eventually lost some of their concentration, which cost them the game. But it would also be unfair to be overly critical. Palace are a transformed team from a few weeks ago, and probably the finest defensive unit in the bottom half of the table. They actually have the ninth best defensive record in the entire league in the time since Pulis took over. Even after they went behind, too, they still caused Arsenal problems.

On this evidence, they shouldn't have too many problems themselves in navigating the otherwise volatile relegation battle.