Johnson stars as Sunderland see off Fulham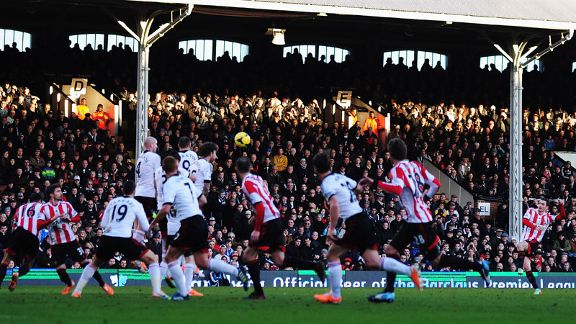 AllsportWith his first Premier League treble, Johnson shone in his first league start since December 7.
LONDON -- It's stormy, volatile, congested and completely unpredictable in the Premier League basement. Struggling sides are suddenly claiming results where they should not while teams supposedly on the crest of a wave are losing at home.

"Don't look down" should be the lesson taken by the many teams now involved in the Premier League's relegation battle from this open game at Craven Cottage, which Sunderland ended up winning 4-1.

For a good 15 minutes when Gus Poyet's side led 2-1, it genuinely looked as if a lively Fulham team were on the verge of what have been a hugely creditable equaliser and comeback.

That would have been somewhat harsh, however, on an impressive Sunderland who certainly don't look like a side sitting on the bottom of the table.

Compact, clever and supremely cutting on the break, the Black Cats are an increasingly awkward outfit for anyone to play. Following this result, they now have just one defeat in the last nine games in all competitions, a run which may well mark the proper beginning of a rise.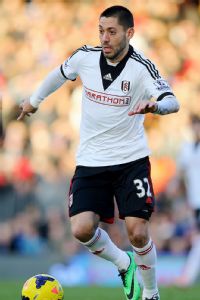 Clive Rose/Getty ImagesIn his first league start for the club since May 2012, Dempsey was unable to inspire Fulham.
Fulham's returning Clint Dempsey, by contrast, still looks somewhat short of the level you would expect. Starting, he barely contributed in the 79 minutes he played, other than the odd shot from distance.

However, at the end of a week in which Jurgen Klinsmann bemoaned the low number of MLS loanees wanted by European clubs, Jose Altidore at least had a significant impact coming off the bench.

It was his 69th-minute pass which began the beautiful move for what Fulham boss Rene Meulensteen called "the defining moment" of the match. It was part of what may well prove a defining performance for Adam Johnson, because there could be no disputing the game's dominant and most decisive figure.

That flowing attack fed the winger for the second goal of his eventual hat-trick, but was also the strike that best summed up his scything elegance. With the game in the balance, and Fulham pushing forward, Johnson surged onto Ki Sung-Yueng's delightful slide-rule pass to slip the ball past the hapless David Stockdale.

Finally coming into form after his departure from Manchester City, the 26-year-old's supreme display brought talk about a World Cup call-up -- and laughter from Poyet about the idea of Johnson doing damage to his native Uruguay later this year in Brazil.

Even that, for the Sunderland manager, would come with a positive.

"If Johno goes to the World Cup," said Poyet, "we are in the Premier League."

On the evidence of this, there can be no denying that the winger is capable of radically lifting the overall level of this Sunderland.

Poyet, meanwhile, also went to great lengths to discuss exactly why that is the case, declaring this statement performance was the consequence of considerable work on the training ground, both with Johnson and the team as a whole.

"It's a great afternoon for Adam," Poyet explained. "He's been like that for the last few weeks. I always believe there is a responsibility on the player, that they need to take responsibility, but there are certain players that need a certain style of football.

"I think it's the way the team has been playing. Johno has characteristics that he needs to play for a team that has the ball, that give him the ball at the right time, that give him the space to go and break. Depending on the system, players play. The players that play in any system are unique.

"You give options, try your best to put him in the right positions. It's not easy. We started passing it and the last two or three weeks we were working better and the team has been more and more solid."

Pointing out he has only been in charge at the Stadium of Light for three months, Poyet nevertheless noted the improvements he has observed:

"I saw a few things today that we've been doing for a while, working for five or ten minutes in a game, but today 90."

It is precisely because a team like Fulham are going through a similar process, however, that the league's bottom half is so unpredictable. As Meulensteen insisted afterwards, his side did not play that badly and there was evidence of evolution.

"In general, the way we want to play is improving," claimed the Fulham boss. "You look at the stats, you can't deny that."

That is further proven by the fact Fulham were the better team in the opening part of the game, during which they had chances to go ahead. Sunderland stayed creditably compact, though, and then maximised their luck.

After 29 minutes, the visitors were awarded a free-kick that Johnson gracefully curled into the top corner, although Stockdale really should have done better: as Meulensteen lamented, it was "saveable".

Three minutes before the break, with the game still in flux, a Ki strike from a set-piece bounced around the penalty area before ending in the back of the net. It was unfortunate for Fulham but, paradoxically, not undeserved for Sunderland.

"The one we're all talking about," Meulensteen said, "something we need to get out of our system, is conceding those goals."

Fulham did look full value to score two of their own after half-time, though, and seven minutes into the period, they halved the deficit when Steve Sidwell turned in a Damien Duff corner.

For the next 17 minutes, the home side surged but, because they are incomplete and such a work in progress, their main flaws were inevitably exposed. When they had to risk, they were punished. Sunderland broke and Johnson finished brilliantly.

Poyet's side finished the game even better. With six minutes left, Altidore drew a foul from Philippe Senderos in the box and Johnson promptly completed his hat-trick from the penalty spot.

The bottom half of the table had crunched again. Sunderland are 19th but just a point from safety, while Fulham are floating just the relegation zone. There are five points between 12th and 20th and, afterwards, Meulensteen lamented another lost chance to pull clear.

"Well, it's similar to what it was the last week or two weeks... we've got a challenge on our hands. We've kept reminding ourselves [and] don't think we've turned a corner. If we would have won, we would have jumped to 12th or 13th. It's that tight, that's why you take it game by game."

Poyet meanwhile, is finally seeing improvement from his side. As such, he can't help looking up:

"I'm going to be watching the table every two minutes. Being at the bottom is not nice. Results today brought eight teams [closer]... it's going to be tense."

And, no doubt, turbulent.