Is Van Persie better than last season?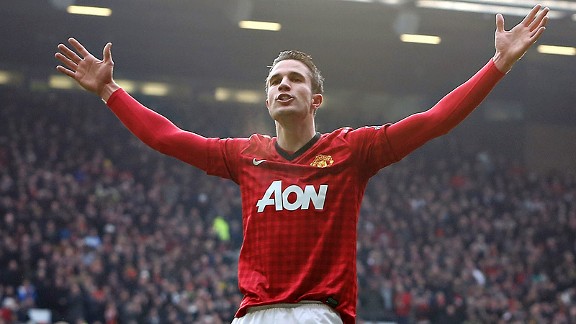 Tom Purslow/Getty ImagesRobin van Persie has scored 17 Premier League goals for Man United
Quite how Robin van Persie appears to have got even better this season remains something of a mystery. In a near flawless campaign for Arsenal last term, the Dutchman picked up more goals and assists than he made appearances, despite starting 37 times and coming on once more.

So when he made his summer move to Old Trafford in search of more silverware, questions were asked as to whether, in a team where he may well have a significantly smaller portion of the limelight, Van Persie could achieve the personal highs he managed at the Emirates. With 17 goals and six assists in just 22 Premier League appearances so far, he seems to be continuing at the same breakneck speed he ended last term. So, has RVP improved this season? Or has, as one might more reasonably expect, the quality around him got better to such a degree that he is merely reaping the rewards? Here, we use WhoScored.com's statistics to delve deeper into the striker's performances.

Van Persie's role at Old Trafford is very much the same as it was at Arsenal. He is not one of the many strikers at United that will have their attacking powers sacrificed to fit into the formation that Sir Alex Ferguson opts for in a particular game. Wayne Rooney, Javier Hernandez and Danny Welbeck meanwhile, will all be moved into wider or deeper roles when needs be. Nonetheless, Van Persie's involvement in build-up play, as it was at Arsenal, is far from a peripheral onlooker there to simply finish moves off. He averages 44.6 touches per game at United this season, the exact same he had in the 2010/11 season, and only slightly fewer than the 46.2 he averaged last season. In that sense, then, his game has remained the same.

The shots have had to be shared out, though. Having taken 4.6 shots per game in the Premier League last season, Robin van Persie has had 3.7 per game this term, and yet his goals per game this season (0.77) has remained almost constant compared to last (0.79). Accordingly, his conversion rate this term is up to 20.7%, an impressive return of a goal less than every five shots; only slightly worse than Dzeko (21.2%) and Michu (21.0%) amongst the Premier League's top scorers. Maintaining a conversion rate of 17.2% over a whole season - as van Persie did last term - was certainly something of an achievement for a near-ever present player, and yet he has improved on that this time around.

A part of that may well be to do with the service he has received. With Rosicky and Ramsey occupying the attacking-midfield role in almost every league game last season, Arsenal lacked the creative spark that United have with either Rooney or Kagawa in behind the striker. Furthermore, on the wings neither Walcott or Gervinho are famed for consistent delivery from crosses, while the likes of Antonio Valencia will provide more chances for his team-mates. Valencia has put in 20 accurate crosses in the Premier League this season, which ranks him seventh (excluding corners) despite the fact that the Ecuadorian has missed six games already. In this category last term, in a combined total of 63 games, Walcott and Gervinho made just 21 accurate crosses, with the latter managing just 3 in 28 appearances. Clearly, Van Persie's service has improved with his move.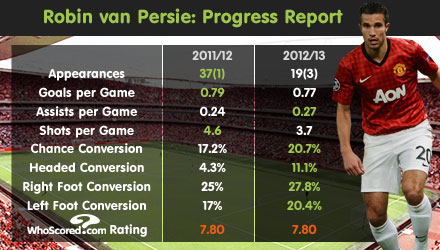 Other / WhoScored.com
As a result, the talismanic forward's conversion rates have improved across the board, with the striker having scored 11.1% of his headed attempts, 20.4% with his left foot and 27.8% of his right-footed shots, each up from respective values of 4.3%, 17% and 25% last term.

Interestingly, though, Van Persie has hit the target with fewer of his shots (42.7%) than he did last season (47.1%) or even the season before that (44.3%), but when he does hit the target, a great deal more of them are going in; 48.6% this season compared to just 36.6% last year and 41.8% the year before. Maybe the striker goes for the very corner of the goal these days, and thus ends up missing the target more often?

Whatever the explanation, the fact of the matter is that fewer goalkeepers are keeping out Van Persie's shot this season, and Manchester United are scoring more goals as a result. There was a degree of risk in signing the Dutchman - though that was to do with his injury record rather than his ability - and it has paid off for United to have taken that gamble. RVP is enjoying playing around better players and he, and United, are reaping the benefits.

*All stats courtesy of WhoScored.com