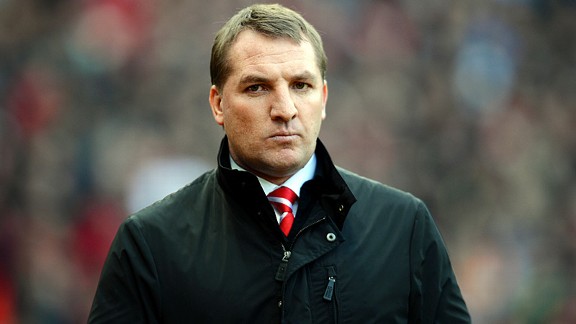 Andrew Yates/AFP/Getty ImagesLiverpool manager Brendan Rodgers has struggled with tactics in the first halves of matches this season.
It's peculiar that a disappointing first half, followed by a positive showing after the break, is consistently regarded as a 'promising' display -- even if it ends in defeat. Perhaps the improvement points the way forward for future matches, but is it any easier to recreate a second-half performance than a first-half performance?

- Forren set for Liverpool trial

For Brendan Rodgers' Liverpool, this type of performance is becoming familiar. The display in the 2-1 defeat at Old Trafford was a microcosm of Rodgers' debut campaign for Liverpool so far -- a dreadful opening, then a hint of promise without significant evidence of genuine progression. In a more literal sense, the manner in which Liverpool struggled to turn their dominance of the final 30 minutes into an equalising goal sums up their profligacy in front of goal -- Daniel Sturridge's performance suggested that, much like Luis Suarez, he'll score a fair amount of goals but needs a number of chances to do so.

There was clearly a reason for Liverpool's dramatic second-half improvement. In the first half, with Liverpool standing off the Manchester United defence, and closing down only in midfield, Suarez received little support. He was forced to drop away from Nemanja Vidic and Rio Ferdinand when he would have preferred to be running at them, terrifying the tricenarian duo with his acceleration. But Liverpool failed to offer him service, and the Uruguayan was constantly isolated.

The introduction of Sturridge, in place of Lucas Leiva, changed things. He was an extra striker, although Liverpool actually shifted to a 4-2-3-1 system, as Stewart Downing and Raheem Sterling stayed wide, and Suarez positioned himself deeper. "When he played at Ajax he played in behind as a number ten, in between the lines," recalled Rodgers last week -- and although Suarez's most prolific spell in Holland came when playing on the right, he showed experience of having played that role on Sunday. With Sturridge's pace in behind and Suarez's deeper positioning, United's defence were stretched, and it was amazing that Sir Alex Ferguson didn't introduce another holding midfielder to sit on Suarez until the final 15 minutes, when Phil Jones replaced Shinji Kagawa.

"We were disappointing in the first half, too tentative," acknowledged Rodgers. "In the second half the ability to fight was much better and we were much more aggressive in our play and attitude, and we should have got something." The statistics support his reading of the game -- Liverpool had one shot in the first half, and 12 in the second half. His attack-minded substitution was a key factor.

Rodgers has made clever halftime switches before. In his first Merseyside derby, with the score 2-2 at the break, he was concerned with Marouane Fellaini and Nikica Jelavic's aerial threat -- so shifted formation to introduce another centre back, Sebastian Coates, in place of Suso. Meanwhile, Jonjo Shelvey replaced Nuri Sahin.

Liverpool were now in a 3-5-2, and had three centre-backs picking up Everton's front two. Meanwhile, Sterling moved central to join Suarez, and Liverpool broke two-versus-two, the pace on the break causing Phil Jagielka and Sylvain Distin all kinds of difficulties. Sterling wasted a one-on-one, and Suarez wrongly had a last-minute goal disallowed for offside. Liverpool should have won, partly thanks to Rodgers' halftime switch. "In the second half we were better, we had to change it tactically and that gave us more defensive stability against the long ball, and more bodies on the counterattack," Rodgers summarised.

Rodgers made the reverse switch away at Chelsea. He started with a back three against just one striker, meaning Liverpool retained the ball in deep positions, but offered little penetration. At halftime, 1-0 down, he brought on Suso for Sahin and changed the positioning of four players -- Sterling, Andre Wisdom, Jose Enrique and Glen Johnson. Chelsea were now 4-2-3-1.

Similar to at Old Trafford, Liverpool were a greater attacking threat: three shots in the first half, six in the second -- and a point in a 1-1 draw. "In the first half we were a bit slow in our penetration, we made too many passes in order to get it forward, and our tempo was slow," Rodgers said. "But in the second half the players were fantastic. [The change of formation] gave us three up front, and that loose player. If there's any blame for the first half, it's me." Presumably for wrongly starting with a back three.

Rodgers has even changed formation, with the use of a substitution, before halftime. With a home match against Wigan still goalless after 37 minutes, he wanted to move from a 4-2-3-1 to a 4-3-3. A subtle change, but one that required a substitution: Suso off, Henderson on. "I always try to use my intuition and what I feel is best for the team at that moment," said Rodgers. "Suso had some nice touches, he nearly scored, but that's a part of the game. I just felt that I'd flip the triangle around. We were playing two and one [in midfield], and it wasn't so good for us when we didn't have the ball. Then I just flipped the triangle round and had two players going to join in, and that seemed to work well."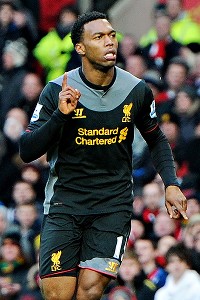 John Powell/Getty ImagesDaniel Sturridge's arrival to Liverpool has given manager Brendan Rodgers a new option in attack.
It's surprising that Rodgers' substitutions have been so successful, for two reasons. First, because he doesn't have a particularly impressive squad -- until the arrival of Sturridge and Fabio Borini's return, Liverpool had amazingly few attacking options. Usually, you'd think that would make consistent use of the bench difficult, and Rodgers acknowledges he needs more options. "We're 24 points behind United now," says Rodgers. "But we're not 24 points behind in terms of quality; the points difference is due to the squad. Once we close the gap in the squad in the coming transfer windows, I've got great faith in the fact that we'll be able to challenge."

- Rodgers: We matched United for quality

Second, it's surprising because Rodgers doesn't cast himself as a reactive manager. He demands his side sets the tempo, is in control and imposes their short passing on the game, regardless of the opposition tactics. His influences are Spain and Holland -- proactive, positive footballing philosophies -- and he concentrates firmly upon possession.

Certainly, a coach can simultaneously be a fine tactician and encourage possession football, but Rodgers' Liverpool currently excel at things Rodgers doesn't necessarily want. A few games into the season, it became obvious that Liverpool were more dangerous when attacking with pace and determination, rather than following interminable passing buildups. Now, it seems they're best when Rodgers reacts to opposition tactics, rather than concentrating on their own style.

Whether this should prompt a shift in Rodgers' thinking or is merely a reflection of a squad not fully in tune with their manager's philosophy is up for debate. Regardless, there is only so long Rodgers can talk about the promise of second-half displays before fans question why he isn't making the right decisions from the start.

Michael Cox is a freelance writer for ESPN.com. He runs zonalmarking.net.