Why can't Juan Mata and Jose Mourinho just get along?
It would have been an enormous shock for Juan Mata last summer, when he realised he had been deemed unsuitable for the strategy of the incoming Chelsea manager, Jose Mourinho.

Not only had Mata been consistently exceptional throughout his first two seasons in English football, he'd also thrived under three different managers -- and, arguably, in four very different systems.

The first system was under Andre Villas-Boas, an ideologue who refused to compromise his major beliefs during his period at Chelsea. This involved a high defensive line, and transferring the ball quickly into attack. Mata had a huge responsibility -- he arrived as the main playmaker for a club who'd been without a player of his creative potential for years, arguably since Gianfranco Zola in the pre-Abramovich days.

The Spaniard generally started on the left flank in a 4-3-3, drifting into the middle and playing fine through-balls to Daniel Sturridge, who cut inside from the opposite side. When that system failed, Mata was even more central to Chelsea's Plan B: Villas-Boas switched to a 4-2-1-3, and put Mata centrally, behind the front trio.

Chelsea managers don't last long, of course, and next came Roberto Di Matteo, who presided over two very separate eras in a tactical sense. In his first half-season, the Italian's focus was in the Champions League, where Chelsea played extremely deep before swiftly counter-attacking.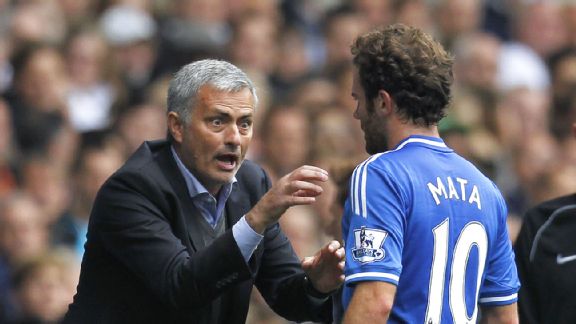 Ian Kington/AFP/Getty ImagesJose Mourinho and Juan Mata haven't been able to see eye to eye since the manager's return to Chelsea.
Mata's importance declined, but he nevertheless contributed regularly -- he managed ten assists in 20 games under Di Matteo in 2011/12, culminating in his corner setting up Didier Drogba in Munich, for the most important goal in Chelsea's history. He was also Man of the Match in the FA Cup final victory.

The next season, Di Matteo was forced to become more proactive, more attacking and more adventurous. Eden Hazard and Oscar arrived, but Mata remained in the side. The three rotated, in a fluid, flexible system that relied on integrated movement, but lacked width.

Mata took a while to get into his stride, having competed in both the European Championships and the Olympics that summer, but soon found form – and became Chelsea's star man. His performances that autumn were sensational; he simultaneously dictated play and provided goals. In wins against Arsenal and Tottenham, to name just two, he was Chelsea's best player.

Next came Rafael Benitez, who wanted more structure and discipline. The wide players were much deeper, and Mata had even more creative responsibility as the No. 10. He stepped up to the plate -- recording 13 goals as well as 20 assists, including both in Chelsea's Europa League win.

All this, of course, while gradually playing a greater role in Spain's national side, based solely around tiki-taka. Mata was creative, prolific, consistent -- and, perhaps more than anything else, adaptable. So, why has Mata not prospered under Mourinho?

Put simply, Mata fits into neither the central role, nor a wide role, in Mourinho's new side. Benitez afforded Mata plenty of position freedom, and instead transferred the defensive responsibilities to the wide players. "Juan was playing as the No. 10, and the team was playing with two lines of four," remembers Mourinho. Mourinho wants to press higher, a process explained neatly by Sebastien Chapuis:

"The idea is to play always in a high block, recover the ball very, very fast, have the ball the ball and build well, have the control of the game, be proactive and not reactive," Mourinho told Sky Sports in November.

While capable of defending his zone when fielded wide, Mata isn't a presser. Certainly not when compared to Oscar, for example, who first made his name at Chelsea with a fine performance in the 2-2 against Juventus last season -- not merely because he scored two superb goals, but because he harried Andrea Pirlo out of the game. In this system, Oscar makes more sense as the No. 10, and Mourinho's preference makes sense.

"I'm not ready to change Oscar's position," said Mourinho. "Oscar is a No. 10, he's a player that gives us creativity but at the same time when we want to press up, Oscar is a runner, Oscar is a player capable of pressing."

Mata has never been previously asked to press as a No. 10, and nor is he a pacey winger that will track his full-back up and down the line, and spring forward on the break. In that role, Hazard, Andre Schurrle and Willian are all superior.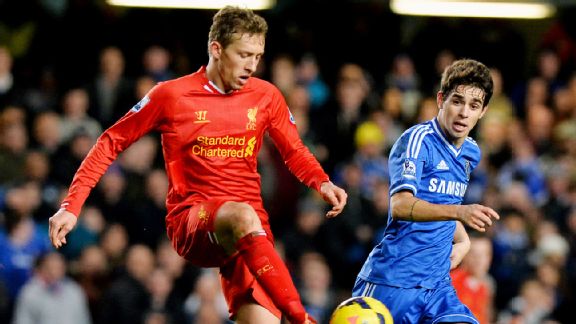 Ben Stansall/AFP/Getty ImagesJose Mourinho prefers Brazilian playmaker Oscar to Juan Mata due to his willingness to track back and defend.
Now Chelsea require attackers with tremendous energy reserves, it's tempting to question whether Mata is suffering from burnout. He's played a summer tournament for the past five years: the Confederations Cup in 2009 and 2013, plus a World Cup, a European Championships, an U21 Championships and an Olympics in the intervening period. It's fantastic that Mata loves playing so much, that he plays in the U21s and the Olympics even as a World Champion, but under Mourinho's system, perhaps it's more of a problem.

Unfortunately for Mata, Chelsea's first two league defeats of the season, against Everton and Newcastle, came when the Spaniard was played in his favoured No. 10 role. Not only did Everton and Newcastle win, they fully deserved to win -- they dominated midfield, and Mourinho would point to Mata's under-performance as a contributing factor.

Although widely acknowledged to have fallen out of favour, Mata has actually started 11 of Chelsea's 20 Premier League games -- eight in the centre, three on the right. His return of zero goals and two assists isn't good enough, especially in a side that lacks a regular goalscoring striker. In fairness, it's tough to reduce a player's role in the side, then expect him to perform consistently thereafter.

Mata still possesses incredible talent. The problem is, however, that he doesn't have an obvious escape route. Chelsea would be extremely unwise to sell him to a Premier League club, there's no clear place for him at either Barcelona or Real Madrid, while the likes of Bayern and PSG are overloaded with attacking players. He's also been linked with a move to Atletico Madrid, but the style of Diego Simeone's side -- based primarily around relentless running and tough tackling -- hardly solves his problem.

Italy is a more realistic destination -- but of the rumoured destinations, Napoli would struggle to accommodate both he and Marek Hamsik, and Inter are currently a side in transition.

Perhaps Mata is a victim of the recent shift towards energetic, tenacious midfielders than pure technicians, but he's hardly an anachronism, having played a key in so many trophy victories in recent years. Most managers would love a player in his mould.

With no obvious move on the cards this January, Mata might be best off remaining at Chelsea until the summer. A player of his calibre deserves a club determined to build their side around him.