With fatigue affecting Giroud, is it time for Wenger to spend?
The period leading up to the January transfer window was supposed to be the time when Olivier Giroud proved that Arsenal didn't need another centre-forward. Instead, the Frenchman is currently going through his leanest goalscoring form -- seven starts -- since joining the club in the summer of 2012.

Giroud's all-round game continues to impress, and Arsenal have learnt to make the most of his excellent link-up play, which he demonstrated when setting up Lukas Podolski's fine strike against West Ham.

However, as the goalscoring of midfielders Aaron Ramsey and Mesut Ozil has naturally dipped since their fine opening to the season, Arsenal need goals from a more traditional source and Giroud has not scored since netting into an open goal after an Artur Boruc blunder and converting a penalty against Southampton on November 23.

Arsene Wenger always retains great faith in his players, even those not regularly picked for the starting XI. He will continue to insist that Nicklas Bendtner is a valuable member of his first-team squad, and the Dane scored on his only league start this season, against Hull City.

Nevertheless, it's impossible to ignore the fact Wenger tried to sign another centre-forward in the summer, with very public moves for both Gonzalo Higuain and Luis Suarez, who have both been in magnificent form this season. Giroud's overall form -- he has nine goals in all competitions -- is unlikely to have convinced his manager that the striking situation is now sorted.

Giroud is an untypical Arsenal centre-forward. He's the type of player many would have generally considered a perfect 'Plan B' for Arsenal throughout much of the last decade: big, strong and one who positions himself solidly in the penalty box. In fact, he was initially signed, according to Wenger at the time, to offer an alternative to Robin van Persie, rather than as a replacement for him.

- Cross: Arsenal's attacking options
- Mangan: Gunners back on top

Giroud's attributes work nicely, though, with a midfield packed full of goalscoring potential. Last season, four Arsenal players reached double figures in the Premier League, which was only the fourth time a club has ever managed this.

Theo Walcott (14), Santi Cazorla (12) and Podolski's (11) goalscoring meant Arsenal shared the goals around nicely, and Giroud's unselfish link-up play, as well as his own contribution of 11 goals, was invaluable.

Arsenal are now more of a cohesive attacking unit than in van Persie's final season, when the goalscoring was too dependent upon a sole striker and Giroud remains a player who fits into the team's style, albeit in an unusual way.

The lack of goalscoring has become an issue, however. In recent matches Giroud's lack of pace, especially over the first five yards, has been obvious, although not in the typical sense: no-one is expecting him to be sprinting in behind defences to reach through-balls. That's not his game, and it's what Walcott does, anyway.

However, Giroud's lack of acceleration seems to compromise his style. His runs in the box are often excellent, generally towards the near post to reach low crosses and cut-backs, but he forever seems two yards away from being in the position to finish the chance.

In his defence, it's impossible to separate this weakness from the fact he's started 25 of Arsenal's 26 league and Champions League games this season. Tiredness negatively affects a player's top speed, the time it takes him to reach it and the frequency with which he can attempt sprints in the first place. He needs a rest but Arsenal don't have a realistic replacement in the squad.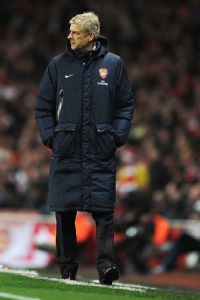 Stuart MacFarlane/Arsenal FC/Getty ImagesWill Wenger splash the cash next month?
It's often said that Wenger rarely signs players in January, which isn't strictly true. The likes of Jose Antonio Reyes, Andrei Arshavin, Emmanuel Adebayor, Abou Diaby, Nacho Monreal, Theo Walcott, and Emmanuel Eboue have arrived in the year's first month over the last decade. Wenger is reluctant to spend money in general, but his perceived dislike of mid-season strengthening is something of a myth.

The question, however, is what type of player Wenger goes for. Ideally, he would purchase a player capable of leading the line on a regular basis -- big clubs should look to improve their first-choice options, rather than strengthen their reserves. Wenger would want a different style of striker, though, and a quicker and more ruthless player might harm Arsenal's build-up play and affect the form of midfielders.

So who should Arsenal target? The likes of Suarez and Higuain will not move in January, and nor will players still involved in the European Cup, which rules out the likes of Diego Costa, Zlatan Ibrahimovic or Robert Lewandowski, for example, without even beginning to consider whether these players would be open to a switch to North London. It's difficult see where Wenger could find a genuinely top-class striker capable of making an immediate impact at the Emirates.

Even options from within the Premier League seem less promising than last summer. The likes of Christian Benteke and Michu, for example, have dipped in form but would still command a hefty fee. Meanwhile, the terms of Loic Remy's Newcastle loan probably prevent QPR from selling him mid-season.

There's no point in Wenger committing to a long-term contract with a type of forward Arsenal don't really need. An expensive recruit must offer a significant improvement on, or a real stylistic alternative to, Giroud.

Realistically, there are probably two types of options. The first is for Wenger to invest serious money in a reasonably young and extremely talented forward, who will prove useful over a number of years and not just this season.

For example, if the Gunners boss rates someone like Kolbeinn Sigthorsson of Ajax highly, that move would make sense, although it would mean continuing with Giroud as first-choice for the rest of the campaign.

The alternative is a short-term move on a more established centre-forward. If Dimitar Berbatov is unhappy at Fulham, could a six-month loan move make sense for all parties? He's not the ideal Arsenal striker but would be a superior alternative to Bendtner as a back-up, give Giroud a breather, and allow time for thought about a longer-term purchase in the summer.

Barring a shock move -- an audacious raid for someone like Radamel Falcao or Mario Balotelli -- it seems unlikely Arsenal will truly replace Giroud this January. The key to their chances of winning the Premier League, therefore, is the Frenchman returning to form.

Furthermore, Wenger must be careful not to undermine him with much-publicized but ultimately fruitless transfer bids.