How to solve a problem like Wayne Rooney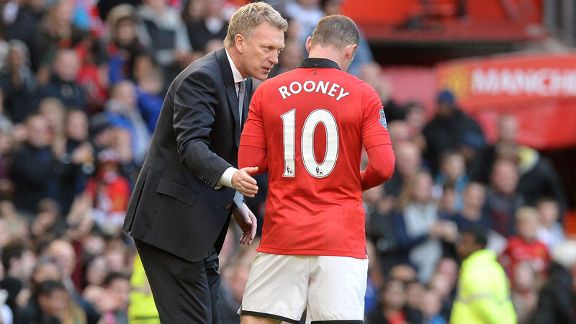 PA PhotosWayne Rooney may be forced to sacrifice himself for the good of the team.
Roy Hodgson and David Moyes have a common problem -- even if of late he has gone under the guise of the solution. But for Wayne Rooney's goals, England might not have qualified for the 2014 World Cup. But for his all-round input, Manchester United's undistinguished start to the season would surely have been far worse. After a summer of speculation about his future, a fitter, happier and more prolific Rooney has been in a rich vein of form this season.

Yet while his two managers are reaping a reward for building a team around the Merseysider, there is an underlying issue. Play Rooney in his preferred position, as a No. 10 or a second striker, and they are likely to prosper against limited opposition. Against the finest teams, they are liable to struggle, partly because of the tactical difficulties it creates.

Consider the evidence of four pivotal games for club and country over the past four seasons (and while it is a small sample size, other matches offer further evidence): England's meetings with Germany in the 2010 World Cup and Italy in Euro 2012; Manchester United's Champions League final against Barcelona in 2011; and their Premier League defeat to Manchester City in September. Each, in its own way, was a chastening setback, an unwanted reminder of the size of the gulf that needs bridging if they are to be the best.

It is not actually a question so much of Rooney's individual performance (though he played well in both games for his club and poorly in the two for his country) as the overall implications for his team. Rooney's various managers, whether Fabio Capello, Sir Alex Ferguson, Hodgson or Moyes, only started with two central midfielders. In each case, it was at least one too few. Italy chose four, in a diamond formation, and had 68 percent possession; England's most common successful passing combination, infamously, was between goalkeeper Joe Hart and target man Andy Carroll. Barcelona, too, had 68 percent possession. Even if it wasn't reflected in the scoreline, it was probably the most comprehensive defeat Ferguson ever suffered.

While City only fielded two central midfielders against United, as Bayern Munich showed them, 4-4-2 can only work against 4-4-2 at elite level. When the traditional English formation is pitted against a team with a numerical advantage in midfield, it tends to come off second best. Rooney's two teams are further hampered: by the national team's age-old inability to retain the ball and by United's underpowered midfields (Michael Carrick and Ryan Giggs against Barcelona; Carrick and Marouane Fellaini versus the turbo-charged City). It means they require company in the middle of the pitch.

One school of thought is that Rooney can be the third man. He likes to drop deep to collect the ball, has a famous fondness for tracking back to help his left-back and, when at his sharpest, has considerable stamina. Against Stoke and Aston Villa last season, he performed creditably as an orthodox central midfielder. Those, however, were also inferior opponents.

And it is not a question of effort. This is about tactical discipline, not about proving a force of nature. If Ferguson and Hodgson felt Rooney could pick up the opposing anchor midfielder, Sergio Busquets and Andrea Pirlo respectively, their plans backfired. On each occasion, a consistent presence was required around the pivot to prevent him from controlling the game. A supposedly deep-lying forward wasn't the answer.

As footballing formations become stretched from three tiers to four, there has been a crossover of players from different departments. Those who occupy the No. 10 position can be divided into two groups: those who are forwards first and foremost, and those who, in attitude and skill set, are essentially midfielders. Rooney falls into the former category, and they tend to be the most prolific. Footballers such as Mesut Ozil, Cesc Fabregas, David Silva, Toni Kroos and, when he is used there, Yaya Toure are essentially attacking midfielders, likelier to get involved in play and exhibiting a greater affinity with the men behind them.

And that, in the marquee matches, is what is needed. It is a role that requires an emphasis on retaining possession and an understanding of the positioning. England were appalling tactically against both Germany and Italy; United were little better against Barcelona and City. Huge swaths of space were opened up either in front of or behind their midfield because, with Rooney operating just off a front man, their formation was in effect 4-4-2, not the 4-4-1-1 their respective managers might claim.

Indeed, England's cavalier approach against Montenegro and Poland meant they played 4-2-4. As a short-term ploy, it was an entertaining success. At the World Cup, it would be a kamikaze approach. It means that, to prevent a similar problem to the Germany debacle and the Italy embarrassment, Hodgson should sacrifice a striker, leave Rooney alone up front and bolster the midfield.

At United, Moyes' decision for the season-defining contests is further complicated by presence of Robin van Persie. If Rooney's favourite role is as the No. 10, his second preference is to operate as the main striker. Running the flanks, the task he accepted selflessly in 2009 to allow Cristiano Ronaldo to operate through the middle, comes a distant third.

Yet that is in United's best interests for a select few games a year. The only other way to accommodate three central midfielders and two strikers is to copy Brendan Rodgers' lead: he plays Luis Suarez and Daniel Sturridge as a partnership in a 3-5-2 system. But, like Hodgson, Moyes' management has been built around a back four, so to select a defensively solid 4-3-3 or 4-2-3-1 means Rooney has to be moved in the summit clashes. Otherwise, the chances are that history will repeat itself and a pair of central midfielders will be outnumbered and outclassed again. For club and country alike, the lessons of the past are clear.