In modern football, the vast majority of top-class European clubs agree on the basic principles of attacking play. It's extremely rare to see a half-decent side knock a long ball from defence, and it's become increasingly uncommon to witness relentless crossing from wide.

Instead, top-level football is about short passing, through-balls, and exploiting pockets of space either side of the opposition defence. There are certain qualities you unquestionably require to play this way: patient midfield passers to initiate the buildup, incisive creators capable of penetration and quick forwards who can sprint beyond defences.

However, you also want intelligent movement, in order for players to locate space for themselves and create space for teammates. Movement remains the most underrated quality in attacking play -- it's less obvious than raw speed, less quantifiable than reliable or incisive passing, but it can be equally important. Oscar was Chelsea's best player against Hull on the opening weekend of the season because of his contribution without the ball, rather than his (considerable) quality in possession.

- Palmer: Papering over cracks
- McAleer: Creative kingpin

A friend of mine -- a statistics-obsessive who fancies himself as football's answer to Billy Beane -- is convinced that football's widely available stats, based around contributions in possession, offer only a small insight into the quality of attacking play. He remains convinced that the game-changing metric will be about space and movement, a measure that continually tracks the distance between an attacker and his nearest opponent, then produces an average figure assessing how much space he enjoys when his side are in possession.

If and when such a statistic becomes available, you can be assured Mesut Ozil will come out looking rather good. The first time I watched him play for Real Madrid at the Bernabeu, I was struck by his spatial awareness and his inventive movement -- how he consistently makes untracked runs away from opponents, but also away from teammates.

There are certain features you only appreciate fully when watching a top-class footballer in the flesh. The extent of Cristiano Ronaldo's superhuman leap. Andres Iniesta's amazing change of direction in possession, combined with his quick right-left-right slalom past opponents. Frank Lampard's seamless ability to let lateral passes from the left flank run across his body with his back to goal, before turning and charging into space on his right foot. Falcao's amazing knack of always moving in the exact opposite direction to everyone else in the penalty box, inevitably reaching rebounds quicker than others. Lionel Messi's ludicrous capability to be sprinting at full pelt, charging past opponents on his way into the penalty box, desperate to get himself into a goal-scoring position, before coming to a sudden, brilliantly-timed stop to find room to shoot.

Ozil's spatial awareness is in that category. It is more impressive when you can view the whole pitch at once, when you can properly assess the gaps and the channels and the pockets of space, when you're following the ball but have to turn your head to track Ozil's movement in the opposite direction. Opponents never seem comfortable with Ozil's positioning -- he can find the space between them all, he helps attacks flow on with the ball, and without the ball.

"There are lots of thick footballers out there," former Manchester United defender Gary Neville wrote in his autobiography. "Players with huge talent when the ball is at their feet, but no real understanding of where to move or how best to link with their teammates."

Neville's example of the opposite was Zinedine Zidane, the man who Ozil considered his idol. "For me, he was the perfect player," says the German. When Ozil was a kid, "everyone tried out Zinedine Zidane's tricks but I found I could do them quite easily." Clearly, the admiration didn't run both ways, considering Zidane is now Real's sporting director, and must have had some level of influence in Ozil's departure.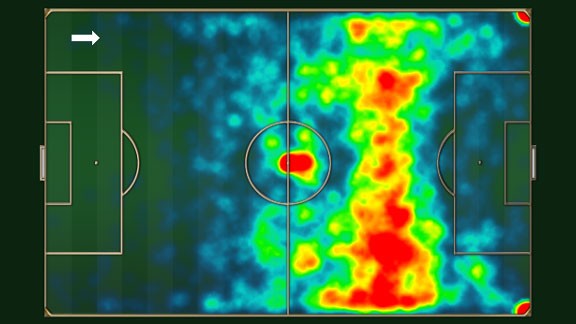 Other / ESPNA heat map showing Mesut Ozil's touches in La Liga during his three seasons at Real Madrid.
Football has changed in the decade since Zidane's peak; it's simultaneously faster and more structured. Teams have become more compact without the ball, protecting their defence more keenly -- especially in central positions, where managers are determined not to allow opponents freedom in the "red zone," that dangerous square of space between the two centre-backs and the two central midfielders. Number tens are forced to be more inventive with their movement, drifting from flank to flank, then up to the striker, then back into the midfield.

Ozil specialises in his drifts out wide, partly because of the tactical situation at his previous two clubs. At Werder Bremen, as Raphael Honigstein put it in the Guardian back in 2009, "Operating behind the strikers, he's both a playmaker and an auxiliary winger; his intelligent runs provide the width that should be missing in Thomas Schaaf's diamond formation."

That is quite a task, but Ozil did something similar at Real Madrid. There, he played in a team featuring two wingers who wanted to cut inside: Cristiano Ronaldo from the left onto his right foot, Angel Di Maria from the right onto his left. Ozil made unusual, arcing runs around the outside, to maintain the balance. "My team-mates know me as a player who is not selfish," says Ozil.

At Arsenal, he'll probably drift both ways again -- Santi Cazorla always drifts inside from the left, and should interchange positions regularly with Ozil, while right-sided attacker Theo Walcott increasingly makes direct runs into a centre-forward position, giving Arsenal pace in behind but leaving the right flank bare. Ozil can drift across to cover.

That lateral balance is particularly important, not merely for stretching the play when trying to break down opponents, but for remaining in a good defensive shape, even in possession. At Barcelona, Pep Guardiola insisted upon his attackers making a reverse run to compensate for the movement of a team-mate, ensuring the side was evenly-distributed in order to press quickly. It prevents the opposition from immediately charging into an obvious gap on the break, something Arsenal can be vulnerable to, particularly in the space behind Walcott, a contributing factor in Bacary Sagna's recent struggles.

Put simply, Ozil might be the best 'off-the-ball' player in world football. Complementing an attacker's ability out of possession is often regarded as damning them with faint praise, the equivalent of teenage boys sniggering that their mate's new girlfriend 'has got a great personality', the way Elvis Costello once wryly observed that Morrissey 'writes great song titles'.

But Ozil has recorded more assists than any other footballer in Europe's major five leagues over the past half-decade -- his off-the-ball ability can hardly be masking any shortcomings in possession when he's Europe's most prolific deliverer of the final pass. Arsenal have signed an exceptional footballer.