Mario Balotelli's Azzurri rise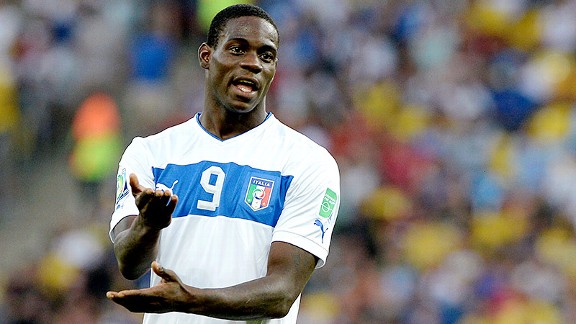 Claudio Villa/Getty ImagesThe growth in Mario Balotelli's game since returning to Serie A is starting to shine through with Italy.
Over the past three years, Mario Balotelli has become one of the most-discussed footballers in the world. However, among the stories involving grass allergy, car crashes, dart throwing, bib problems, fireworks and visits to women's prisons, coverage of his actual footballing ability has been minimal.

In his new-look, technical Italian side, Cesare Prandelli invested great faith in Balotelli from the outset. Immediately after his appointment in the wake of Italy's embarrassing performance at World Cup 2010, Prandelli handed Balotelli his debut against the Ivory Coast.

On a personal level, representing the Azzurri is extremely important to Balotelli -- we shouldn't forget that he rejected a Ghana call-up at 16 in order to wait for Italian recognition. That was a brave move considering Balotelli was, at that stage, not yet recognised as an Italian citizen, because his biological parents were both Ghanaian. This was a strange situation considering Balotelli had been born in Palermo, and spent his entire life in Italy.

"I am Italian, I feel Italian, and I will forever play with the Italian national team," he said when officially declared an Italian citizen, the day after his 18th birthday. There's a determination, desire and single-mindedness about Balotelli's attitude at international football, a mood not always replicated at club level, when he has drifted in and out of games, sometimes appearing disinterested.

After some inconsistent early performances for Italy, Balotelli has been excellent over the past 12 months. Prandelli used him as a starter at Euro 2012, despite the fact Balotelli had only scored one international goal up until that point -- and the striker rewarded Prandelli with three goals at that tournament, including two excellent strikes in the momentous 2-1 semifinal victory over Germany. Since then, Balotelli has scored five more international goals, often at crucial moments. His current record of nine goals from 23 starts is highly impressive.

Balotelli's relationship with Roberto Mancini at Manchester City was fascinating, but Mancini wasn't the ideal coach to pin Balotelli down to a particular role in the Manchester City side. The Italian tactician enjoyed success at City, winning both the Premier League and the FA Cup, but there was sometimes a strange shapelessness about his sides, which were often a haphazard result of the individuals favoured at a particular time.

It's difficult to definitively state what Sergio Aguero's role at City was under Mancini, and you could argue the same about Carlos Tevez over the past two seasons. City had a stunning array of individuals, but little cohesion or balance. Balotelli was fielded alongside various partners and sometimes used wide-left, but Mancini could never fully convert his raw potential into a tangible, reliable piece of his jigsaw.

Since moving to Milan, Balotelli has been played in the same position each week by Max Allegri: upfront, at the centre of Milan's 4-3-3. There have been no experiments out wide, no complications by using different partners. His goal return has been excellent -- 12 goals from 12 starts and one substitute appearance, although half of these strikes have been from penalties, situations where Balotelli is astonishingly composed.

Balotelli's return to Italy has evidently been beneficial to his happiness and enthusiasm for football, especially considering he's wearing the Rossoneri shirt he always dreamt of, even in his days with Milan's great rivals Inter. However, we shouldn't underestimate the importance of him being played consistently in the same role each week. He's no longer a loose bundle of attributes and is instead a well-rounded, efficient centre-forward.

His development into a consistent lone striker for Milan has encouraged Prandelli to use Balotelli in that position at international level, too. Previously a fan of a 4-3-1-2 or a 3-5-2, more recently Prandelli has favoured a 4-3-3 or a 4-3-2-1 system, with two runners supporting Balotelli. Italy's shape against Mexico on Sunday was a combination of the two formations, with Emanuele Giaccherini drifting out wide to the left, and the less effective Claudio Marchisio remaining more central. Either way, Balotelli was the main man.

His performance upfront demonstrated how fearsome he's become. From the outset, he was clearly in the mood -- he attempted four shots within the opening 15 minutes and charged across the pitch energetically to help win possession. Overall, he shot seven times, of which four were on target. The other 26 players only managed five on target between them.

However, Balotelli has always been a keen shooter. The more outstanding feature of his performance against Mexico was his varied positioning and movement, which demonstrated a maturity and intelligence in his play. One of the simplest but most dangerous qualities a lone striker can boast is the ability to move either way -- to receive short passes into feet between the lines, and also to spin in behind, to collect balls sent over the top. It sounds simple, but not many centre-forwards are outstanding at both aspects.

In the first half, Mexico's defenders stood off Balotelli as he collected short passes to feet -- from there, he constantly turned and shot from long-range. Jose Manuel de la Torre instructed his centre-backs to stick tighter in the second half, but Francisco Rodriguez was uncomfortable when forced to turn and run, while his centre-back partner Hector Moreno was cautioned just two minutes into the second half. Later, Moreno was fortunate not to be dismissed for bringing down Balotelli, as the striker attempted to reach Andrea Pirlo's classic chip over the top of the Mexican defence.

The Mexican centre-backs didn't know how to position themselves -- when they stuck tight, Balotelli ran in behind. When they let him wander free, Balotelli was a threat from range. Essentially, he was playing two roles simultaneously -- as a number 10 collecting the ball to feet, and as a number nine charging in behind the defence. It was the perfect lone striker performance.

His well-taken goal meant Balotelli was deservedly the game's match-winner, and while he's performed impressively for the Azzurri previously, this was something different. His all-round display against Mexico confirms Balotelli's transformation into a player Prandelli can base his entire side around.